William Morris:
The Well at the World's End.
Hammersmith: Kelmscott Press, 1896.
Quarto. ca. 287 × 205 mm. [8], 496 Seiten. Mit vier großen Holzschnitten nach Sir Edward Burne-Jones, diese mit breiten Umrahmungen. Zahlreiche kleinere und spaltenhohe Randleisten, Initialen sowie die Druckermarke Nr. 2.
Handgefertigter flexibler Original-Pergamenteinband mit sechs hellgrauen Seidenbindebändern, goldgeprägter Rückentitel in Golden type, fast unbeschnitten, gebunden von J. & J. Leighton.
Eins von nur 350 Exemplaren auf handgeschöpftem Bütten; Gesamtauflage 358 Exx. Zweispaltiger Satz in Chaucer type mit rot gedruckten Kapitelüberschriften; der erste Titel in Troy type. Dies ist das erste Buch, das zweispaltig in Chaucer type gesetzt wurde mit Ornamenten zwischen den Spalten, auch sind die Initialen hier erstmals zu Initialwörtern geworden, was später beim "Chaucer" wiederholt wurde. "The Well at the World's End", der Titel geht auf eine alte schottische Ballade zurück, brauchte zu seiner Fertigstellung länger als irgendein anderes Buch der Kelmscott Press. Ursprünglich hatte Morris den Graphiker Arthur J. Gaskin gebeten, die Illustrationen zu zeichnen, doch entschied er sich schließlich gegen diese und bat wieder Burne-Jones darum, dessen Zeichnungen wie gewohnt von Harcourt Hooper, Morris' Nachbarn in Hammersmith, in Holz gestochen wurden.
¶ "This book, delayed for various reasons, was longer on hand than any other book. It appears in no less than twelve lists, from that of Dec. 1892, to that of Nov 26, 1895, as 'in the press'. Trial pages, including one in a single column, were ready as early as September 1892, and the printing began on Dec. 16 of that year. The edition of 'The Well at the World's End' published by Longmans was then being printed from the author's manuscript at the Chiswick Press, and the Kelmscott Press edition was set up from the sheets of that edition, which, though not issued until October 1896, was finished in 1894. The eight borders and the six different ornaments between the columns appear here for the first time, but are used again in 'The Water of the Wondrous Isles', with the exception of two borders." (Cockerell). "... ['The Well at the World's End'] stands out as the crowning prose masterpiece of his creative life ... [a] level of which even Morris himself could attain more than once in a lifetime". (Sparling: The KP & WM, pp. 106 & 107; cf. Vallance, p. 371 sqq. mit ausführlicher Besprechung).
Aus der Bibliothek von William Michael Rossetti, mit seinem Eintrag auf dem vorderen fliegenden Blatt: "W. M. Roſsetti | from S. C. Cockerell | 1897", etwas tiefer: "See the note in Sidonia the Sorcereſs | (Kelmscott Preſs) | W.M.S. | 1904". Die Bemerkung in 'Sidonia' lautet: "W. M. Rossetti, from S. C. Cockerell, 1897 - After my Brother's [D. G. R.] death a painting by Wm. Morris, named Queen Genevere, remained in my hands - my Brother's property. Then it got mislaid for a long while - On its recovery I assented to the request of M's Trustees that it might be handed over to them - they then, thro' Mr. Cockerell, presented me with this Kelmscott Press Book, and 2 others. W. M. R. 1904". Cf. Catalogue Henry Sotheran & Co: From William Michael Rossetti's Library. N°° 1478 (Recuyell ... Troye), 1479 (Sidonia) & 1480 (Well). Gestochenes Exlibris auf vorderem Spiegel: "Ex libris James Stewart Geikie, M.D.". Einbandrücken stellenweise leicht berieben bzw. angestaubt. Innen sehr frisch.
One of 350 copies on paper of an edition of 358. Printed in Chaucer type in black and red. Four woodcuts by Sir Edward Burne-Jones; woodcut title and facing page with full woodcut page-borders, numerous woodcut initials. The gothic lettering of the engraved titles was designed by Morris. Original limp vellum, gilt title on spine, uncut. Spine slightly rubbed, otherwise a very good copy. From the library of William Michael Rossetti, with the following inscription in his own hand: "W. M. Roſsetti | from S. C. Cockerell | 1897", and: "See the note in Sidonia the Sorcereſs | (Kelmscott Preſs) | W. M. S. | 1904". The inscription refers to the miniature saga over the ownership of what is often described als Morris's only completed oil painting "La Belle Iseult", also sometimes known as "Queen Guenevere". "It is likely that the painting hung in Red House though not in Queen Square. In 1874 it was claimed as his own by Madox Brown's son Oliver and in that year Rossetti offered him £20 for it as 'an early portrait of its original, of whom I have made so many studies myself'. The painting then came into the hands of William Michael Rossetti who, on the death of his wife Lucy (Oliver Madox Brown's half sister), 'found it in a cupboard in her room'. It was returned to Jane Morris in exchange for three Kelmscott Press books." Ray Watkinson in the V & A William Morris exhibition catalogue (G.10, p 103).
Peterson A39 – Scott 105 – Forman 164 – Latham 43 – Cockerell 39 – Tomkinson 117,39 – Ransom 329,39 – Walsdorf 39 – Coupe 20.1 – Bibliographien – der Text – elektronisches Faksimile.
Für mich eines der schönsten Werke dieser Presse, nicht so überladen wie der Chaucer, die Illustrationen erhalten durch die einfache Seitenumrahmung optisches Gewicht. Nebenher bemerkt, selbst das Lesen dieses leicht mystischen Abenteuerromans verschafft Vergnügen.
Der oben erwähnte Tausch betraf dieses Gemälde. "This is the only completed easel painting that William Morris produced. It is a portrait in medieval dress of Jane Burden, whom Morris married in April 1859. The picture has been identified in the past as Queen Guenevere, partly owing to the fact that Morris published his first volume of poetry, The Defence of Guenevere, in March 1858. However, recent research has established convincingly that the picture is intended to represent Iseult mourning Tristram's exile from the court of King Mark." (Frances Fowle)

"Furthermore, it is told of Ralph of Upmeads that he ruled over his lands in right and might, and suffered no oppression within them, and delivered other lands and good towns when they fell under tyrants and oppressors; and for as kind a man as he was in hall and at hearth, in the field he was a warrior so wise and dreadful, that oft forsooth the very sound of his name and rumour of his coming stayed the march of hosts and the ravage of fair lands; and no lord was ever more beloved. Till his deathday he held the Castle of the Scaur, and cleansed the Wood Perilous of all strong-thieves and reivers, so that no high-street of a good town was safer than its glades and its byways. The new folk of the Burg of the Four Friths made him their lord and captain, and the Champions of the Dry Tree obeyed him in all honour so long as any of them lasted. He rode to Higham and offered himself as captain to the abbot thereof, and drave out the tyrants and oppressors thence, and gave back peace to the Frank of Higham. Ever was he true captain and brother to the Shepherd-folk, and in many battles they followed him; and were there any scarcity or ill hap amongst them, he helped them to the uttermost of his power. The Wood Debateable also he cleared of foul robbers and reivers, and rooted out the last of the Burg-devils, and delivered three good towns beyond the wood from the cruelty of the oppressor." — Chapter 32.
Als Zugabe zur Beschreibung die Abbildung eines Schreibens von William Michael Rossetti: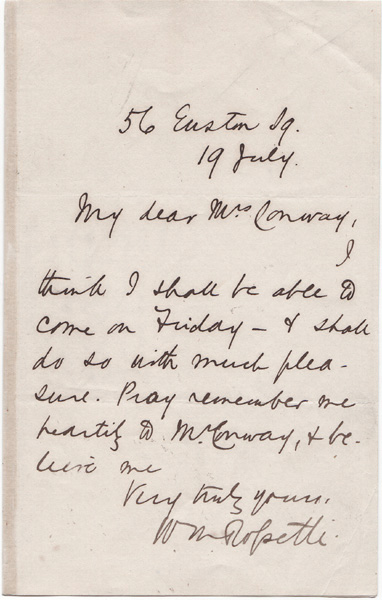 William Michael Rossetti: Autograph letter signed "W. M. Rossetti", to Mrs. Conway. 56 Euston Sq[uare], 19 July, no year.
183 × 114 mm. [1], [2 blank], [1] pp.
Folded leaf.
William Michael Rossetti (1829-1919), writer, editor and critic, accepts an invitation: "I think I shall be able to come on Friday - & shall do so with much pleasure."
Remains of mount at left margin, not touching the text; owner's entry on last page: some words about Rossetti.