Frederick Startridge Ellis:
Syr Isambrace.
Hammersmith: Kelmscott Press, 1897.
Octavo. ca. 208 × 139 mm. [4 weiße], [4], 41, [3 weiße] Seiten. Mit einem Holzschnitt-Frontispiz nach Sir Edward Burne-Jones, dieser und der Titel mit breiten Rahmen; eine 10- und siebenundsechzig 3-zeilenhohe Initialen, Druckermarke Nr. 1.
Handgefertigter Original-Halbleinwandband mit in Chaucer type gedrucktem Titel auf Vorderdeckel, fast unbeschnitten. Gebunden von J. & J. Leighton.
Eins von nur 350 Exemplaren auf handgeschöpftem Bütten; Gesamtauflage 358 Exx. Gedruckt in rot und schwarz in Chaucer type. Herausgegeben von F. S. Ellis nach der von J. O. Halliwell gedruckten Ausgabe, die einer Handschrift in der Bibliothek der Lincoln Cathedral folgt.
¶ "Edited by F. S. Ellis after the edition printed by J. O. Halliwell from the MS. in the Library of Lincoln Cathedral, with some corrections. 8vo. Chaucer type. In black and red. Borders 4a and 4, and a woodcut designed by Sir Edward Burne-Jones. 350 on paper at twelve shillings, 8 on vellum at four guineas. Dated July 14, issued Nov. 11,1897, Published at the Kelmscott Press. Bound in half holland.
This is the third and last of the reprints from the Camden Society's volume of Thornton Romances. The text was all set up and partly printed by June, 1896, at which time it was intended to include 'Sir Eglamour' in the same volume."
— William Morris & Sidney C. Cockerell: A Note by W. M. on His Aims in Founding the Kelmscott Press. p. 55.
Peterson A48 – Scott 110 – Tomkinson 120,48 – Cockerell 48 – Doheny Coll. VI,2349 (mit Abb.) – Ransom 331,48 – PDF – Bibliographien.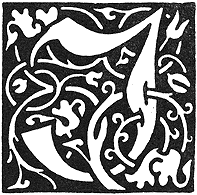 hesu Crist, Lorde of hevene kynge,
Graunte us alle his dere blyssynge,
And hevene unto oure mede!
Now, hende in haule, and ye worlde here
Of eldirs that byfore us were;
That lyffede in arethede;
I wille yow telle of a knyghte,
That bothe was stalworthe & wyghte;
And worthily undir wede:
His name was hattene syr Ysambrace,
Swilke a knyghte als he was
Now lyffes nowrewhare in lede. (...)

A fulle riche kynge thane was syr Ysambrace,
And coverde he hase alle his myscas,
He lyffes nowe fulle richely;
Ilkane of his sonnes he gafe a lande,
Durste na mane agayne thame stande,
Whare so that thay solde fare.
Thay lyffede and dyed with gud entent,
And sythene alle tille hevene thay went,
Whenne that thay dede ware.
Praye we now to hevenes kynge,
He gyffe us alle his dere blessynge
Nowe and evermare!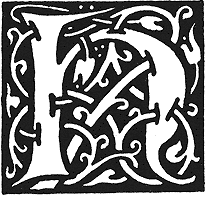 ende in halle and ye wole her
Off eldres that before us wer
 That lyfede in are thede.
Jhesu Cryst, hevene kynge,
Geve hem alle hys blessyng
 And hevene unto oure mede.
I wold yow telle off a knyght
That was bothe hardy and wyght
 And doughty man of dede.
Hys name was callyd Sere Ysumbras;
So doughty a knyght as he was
There levyd non in lede. (...)

Thenne was the kyng Ser Ysumbras
Off more welthe thenne evere he was,
 Thre londes hadde he thare.
Everylkon he gaf a land
And corownyd hem with hys owne hand,
 Whedyr so they wolden fare.
They levyd and deyde in good entente,
Unto hevene here soules wente
 Whenne that they dede ware.
Jhesu Cryst, hevene Kyng,
Geve us ay Hys blessyng
 And schylde us from care.
Harriet Hudson: Four Middle English Romances: Sir Isumbras, Octavian, Sir Eglamour of Artois, Sir Tryamour.
Kalamazoo, Michigan: Medieval Institute Publications, 2006.