Algernon Charles Swinburne:
Atalanta in Calydon: A Tragedy. By Algernon Swinburne.
Hammersmith: Kelmscott Press, 1894.
Quarto. ca. 290 × 211 mm. [8], 81, [1], [6 weiße] Seiten. Mit Holzschnittitel, verschiedenen Randleisten, sowie zahlreichen Initialen.
Handgebundener flexibler Original-Pergamentband (292 × 218 × 13 mm) mit eingeschlagenen Vorderkanten, olivgrünen Seidenbindebändern, goldgeprägter Rückentitel. Gebunden von J. & J. Leighton. – In modernem, handgefertigtem Klappkasten mit hellbeigem Lederrücken (310 × 233 × 35 mm), darauf in Goldprägung Verfasser und Titel.
Eins von nur 250 Exemplaren, Gesamtauflage 258 Exemplare. Das einzige Buch der Kelmscott Press mit griechischen Typen, diese sind von Selwyn Image entworfen, die er 1892 mit Hilfe von Emery Walker anhand einiger Manuskripte des zehnten Jahrhunderts und anderer Werke aus der British Library schuf.
Eins der sechs Bindebänder fachmännisch ersetzt, kleiner roter Sammlerstempel auf dem Vortitel, Kopfschnitt kaum merklich angestaubt, sonst sehr gut. Ein sehr schönes, wohlerhaltenes Exemplar.
One of 250 copies on paper of an edition of 258. Printed in Troy type in black and red, argument and speakers in margins in Chaucer type; and the only Kelmscott book with Greek uncial type, designed by Selwyn Image. Woodcut title with full woodcut page-border, numerous woodcut initials. Original limp vellum, gilt title on spine, uncut. One of the six silk ties skilfully replaced with matching material, small red owner stamp on the halftitle, else a fine copy. In a solander box.
¶ "Certainly one of the loveliest examples of even your incomparable press" (Swinburne). "I like the look of the volume very much" (Morris). "The book was sold out within a few weeks of publication" (Petersen).
¶ The first edition of "Atalanta in Calydon was published in March 1865 by Edward Moxon & Co. in an edition of at least 500 copies in a cream binding with a gold 'roundel' design by Dante Gabriel Rossetti. It drew on a story in Ovid and Apollodorus, and although there was disagreement as to whether as a tragedy Atalanta was truly Greek, reviews were favourable and some went as far as to hail Swinburne as a new poetic talent of the first magnitude." — Oxford Dictionary of National Biography, Rikky Rooksby.
Wise 14 – Peterson A25 – Tomkinson 113,25 – Cockerell 25 – Franklin 190 – Ransom 327,25 – Bibliographien.
Kathryn L. Beam ⮵
"Swinburne the Antitheist
In a letter to the American poet and critic E. C. Stedman (1833-1908), Swinburne relates that he was 'brought up a quasi-Catholic,' and that in his youth he experienced 'well-nigh to unaffected and unashamed ecstasies of adoration when receiving the Sacrament.' His break with Christianity occurred while he was at Oxford. There, under the influence of the free-thinker John Nichol (1833-1894), Swinburne not only lost his faith but developed a profound hostility toward Christianity and God. As his works and letters attest, he held that the Christian Church was a corrupt institution that wrought social ills and exploited the suffering of Jesus. In lashing out against theism, Swinburne portrays God as the epitome of cruelty, the argument being that if God is seen as the master of the universe then he must be evil, for existence at its core is almost nothing but fleetingness and pain.
Swinburne's articulation of his anti-Christian and antitheistic views testifies to his thorough knowledge of the Bible, which he exploited in attacks that are notable for their intellectual sophistication and daring.


Swinburne. Atalanta in Calydon. London: Moxon & Co., 1865.
Though this play, which first brought Swinburne fame, concerns itself with a Greek myth, critics have shown that the God referred to in the pages above is clearly the Christian one. The speaker is the chorus whose diatribe obliquely presages the tragic events that are to occur. God is here called the 'the supreme evil,' the merciless deity that destroys hope and life." — Kathryn L. Beam: Swinburne, A Radical Victorian, pp. 12 & 14.
Selwyn Image ⮵
Golden type hätte wohl eher zum Text und zu Selwyn Images eleganzfreier griechischer Type ohne Akzente und Spiritus, die gleichdicke Striche und Stummelserifen aufweist, gepaßt. Nichts an dieser langweiligen Schrift erinnert an ein Schreibwerkzeug oder eine schreibende Hand. Morris scheint dies Unförmige für archaisch gehalten zu haben.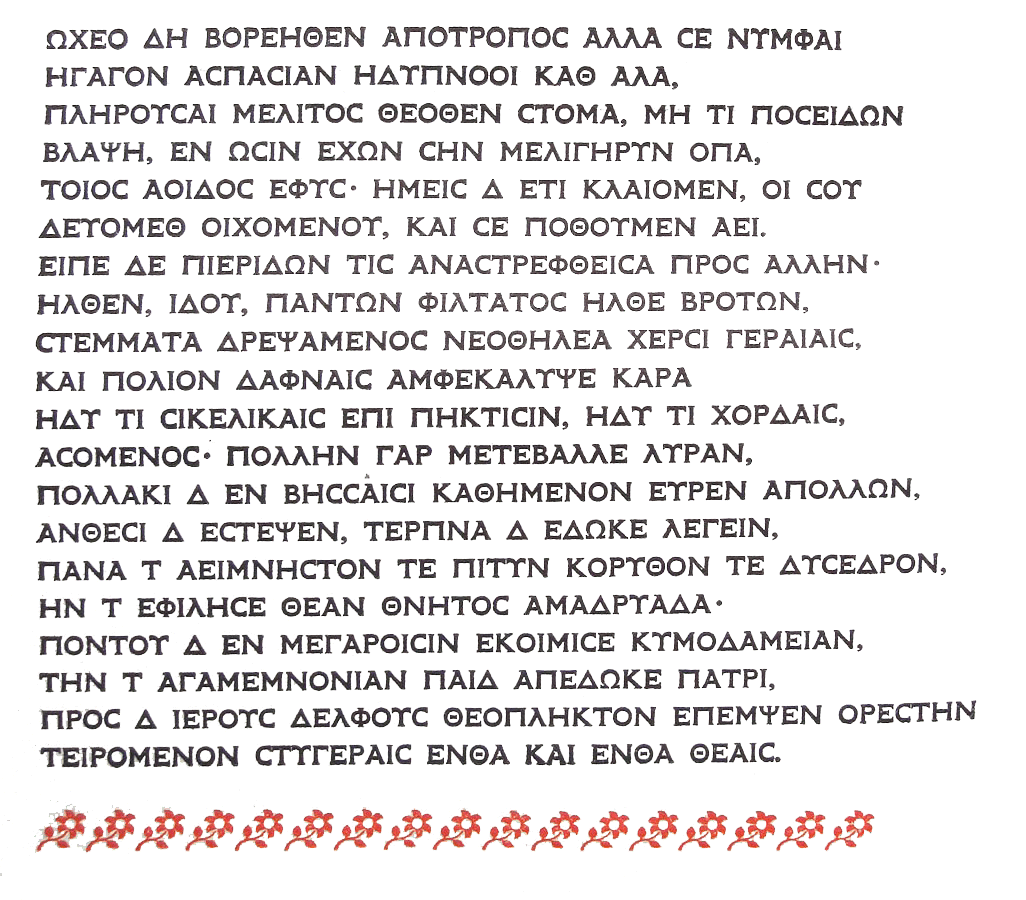 ᾬχεο δὴ Βορέηϑεν ἀπότροποσ' ἀλλά σε Νύμφαι
ἤγαγον ἀσπασίαν ἡδύπνοοι ϰαϑ' ἅλα,
πληροῦσαι μέλιτος ϑεόϑεν στόμα, μή τι Ποσειδῶν
βλάψῃ, ἐν ὠσὶν ἔχων σὴν μελίγηρυν ὄπα.
τοῖος ἀοιδὸς ἔφυς· ἡμεῖς δ' ἔτι ϰλαίομεν, οἵ σου
δευόμεϑ' οἰχομένου, ϰαί σε ποϑοῦμεν ἀεί.
εἶπε δὲ Πιερίδων τις ἀναστρεφϑεῖσα πρὸς ἄλλην·
ἦλϑεν, ἰδοὺ, πάντων φίλτατος ἦλϑε βροτῶν,
στέμματα δρεψάμενος νεοϑηλέα χερσὶ γεραιαῖς,
ϰαὶ πολιὸν δάφναις ἀμφεϰάλυψε ϰάρα,
ἡδύ τι Σιϰελιϰαῖς ἐπὶ πηϰτίσιν, ἡδύ τι χόρδαις,
ᾀσόμενος· πολλὴν γὰρ μετέβαλλε λύραν,
πολλάϰι δ' ἐν βήσσαισι ϰαϑήμενον εὗρεν Ἀπόλλων,
ἄνϑεσι δ' ἔστεψεν, τερπνὰ δ' ἔδωϰε λέγειν,
Πᾶνα τ' ἀείμνηστόν τε Πίτυν Κόρυϑόν τε δύσεδρον,
ἥν τ' ἐφίλησε ϑεὰν ϑνητὸς Ἁμαδρύαδα·
πόντου δ' ἐν μεγάροισιν ἐϰοίμισε Κυμοδάμειαν,
τήν τ' Ἀγαμεμνονίαν παῖδ' ἀπέδωϰε πατρὶ,
πρὸς δ' ἱεροὺς Δελφοὺς ϑεόπληϰτον ἔπεμψεν Ὀρέστην,
τειρόμενον στυγεραῖς ἔνϑα ϰαὶ ἔνϑα ϑεαῖς.
Das Sammeln der Kelmscott-Drucke fing zögerlich als privates Vergnügen an, als ich sie mir noch nicht leisten konnte und statt dessen einige der Chiswick Press mit Texten von Morris erwarb. Später folgten die echten, interessanter immerhin als die Doves-Drucke in ihrer typographischen Eintönigkeit und teilweise durch Illustrationen bereichert. Als es viele Jahre später dann zum Verkauf kam, schmerzte es nicht mehr, ich hatte sie lang genug betrachtet.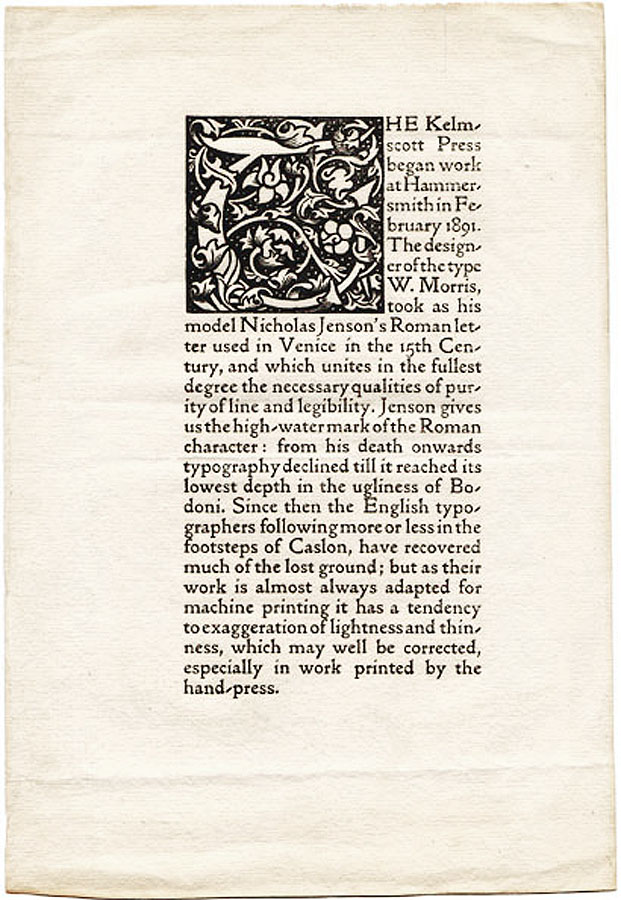 Atalanta ⮵
Atalanta, in Greek legend, the name of two Greek heroines. (1) The Arcadian Atalanta was the daughter of Iasius or Iasion and Clymene. At her birth, she had been exposed on a hill, her father having expected a son. At first she was suckled by a she-bear, and then saved by huntsmen, among whom she grew ​up to be skilled with the bow, swift, and fond of the chase, like the virgin goddess Artemis. At the Calydonian boar-hunt her arrows were the first to hit the monster, for which its head and hide were given her by Meleager. At the funeral games of Pelias, she wrestled with Peleus, and won. For a long time she remained true to Artemis and rejected all suitors, but Meilanion at last gained her love by his persistent devotion. She was the mother of Parthenopaeus, one of the Seven against Thebes (Apollodorus iii. 9; Hyginus, Fab. 99). (2) The Boeotian Atalanta was the daughter of Schoeneus. She was famed for her running, and would only consent to marry a suitor who could outstrip her in a race, the consequence of failure being death. Hippomenes, before starting, had obtained from Aphrodite three golden apples, which he dropped at intervals, and Atalanta, stopping to pick them up, fell behind. Both were happy at the result; but forgetting to thank the goddess for the apples, they were led by her to a religious crime, and were transformed into lions by the goddess Cybele (Ovid, Metam. x. 560; Hyginus, Fab. 185). The characteristics of these two heroines (frequently confounded) point to their being secondary forms of the Arcadian Artemis. — Encyclopædia Britannica, Eleventh Edition, Cambridge: University Press, 1910. Vol. II, pp. 822-823.