John Milton:
Vol. I: Gestochenes Frontispiz: Portrait von John Milton, "...Ætat 62." und "Engraved by Holl".

Gestochener Titel: PARADISE LOST BY JOHN MILTON "Designed by E. F. Burney Engraved by Landseer & Neagle" untertitelt: "Outstrech'd he lay, on the cold ground, and oft / Curs'd his creation. Book X, line 851." Published by J. Mawmann, and the other Proprietors / 1817.

Haupttitel: PARADISE LOST, BY JOHN MILTON. TO WHICH ARE PREFIXED, THE LIFE OF THE AUTHOR, AND A CRITICISM ON THE POEM, BY SAMUEL JOHNSON, LL.D. | LONDON: PRINTED FOR F. C. AND J. RIVINGTON; J. NICHOLS AND (...) / 1817. Verso: Printed by P. HAMILTON, Weybridge, Surrey.

Vol. II: Vortitel: PARADISE REGAINED. Verso: Printed by p. Hamilton, Weybridge, Surrey.

Gestochenes Frontispiz, "E. F. Burney del - J. Fittler sculp."

Haupttitel: PARADISE REGAINED, BY JOHN MILTON. WITH SELECT NOTES SUBJOINED TO WHICH IS ADDED, A COMPLETE COLLECTION OF HIS MISCELLANEOUS POEMS, BOTH ENGLISH AND LATIN. | LONDON: PRINTED FOR F. C. AND J. RIVINGTON; J. NICHOLS AND SON (...) / 1817.
London: Mawmann et al., 1817.
Vol. I: Octavo. 203 × 115 mm. [2] Bll.; xlviii Ss.; 384 Ss. – Lagenkollation: o2; a-c8; B-Z8, 2A-2B8.
Vol. II: Octavo. 202 × 116 mm. [3] Bll.; 432 Ss. (die ersten vier Seiten mit kleinen römischen Ziffern paginiert, auf Seite 130 folgt ein Blatt Stahlstich) – Lagenkollation: o2+1; B-Z8, 2A-2E8.
Die Einbände beider Bände sind bis auf das Motiv des Fore-edge Paintings gleich: Rotes, langnarbiges Schafsmaroquin der Zeit mit fünf erhabenen Bünden auf dem Rücken, wobei das zweite Feld jeweils Verfasser und Titel, das fünfte die Bandzahl trägt; die restlichen sind mit gleicher, reichlicher Rückenvergoldung aus Einzelstempeln, die sich symmetrisch zum Mittelpunkt des Feldes hin ausrichten, gefüllt. Die Vergoldung der Deckel besteht aus einem Rahmen von drei Linien, einem inneren Rahmen aus zwei weiter voneinander entfernteren Linien, einer Doppellinie in Blinddruck sowie Eckornamenten. Steh- und Innenkantenvergoldung, die Kapitale mehrfarbig handgestochen. Vorsätze aus braunem Papier. Goldschnitt über je einem Fore-edge Painting in schönen frischen Farben: Vol. I: "View of the Thames at Deptford". Vol. II: "View of Shipping at Woolwich".
Provenienz: 1. Eingeklebtes Etikett auf vorderem Spiegel oben: "Sold by H. GODWIN, Bookseller, / N°. 24 Milsom Street, Bath." - 2. Ein Eintrag auf dem vorderen fliegenden Blatt verso über eine Schenkung an W. L. Phelps datiert Aug. 3, 1867. In Band I auf p. 384 ein gestochenes Schlußstück: "E. F. Burney delin. - Wm Bromley Sculp."
¶ Der Stahlstich in II nach fol. K1 ist bezeichnet: "E. F. Burney del. - J. Fittler sculp." und gehört zu Samson Agonistes.
¶ Edward Francis Burney (also known as Edward Francisco Burney) was born in Worcester in 1760. He was part of a notably creative family: his father was a dancing-master and his brother was a musician, while the music historian Charles Burney (1726–1814) was his uncle and the novelist Fanny Burney (1752–1840) was his cousin.
Burney studied at the Royal Academy Schools from 1777, and while there made two fine drawings (now in the RA collection) of the Antique School where he would have drawn from plaster casts. He began exhibiting at the RA in 1780, continuing to do so until 1803.
His work includes portraits of his family and friends, history paintings, and illustrations to literary works (including Fanny Burney's Evelina). Burney's drawings also provide valuable records of 18th century social life, whether the hang of the 1784 RA exhibition or the Eidophusikon of P. J. de Loutherbourg (a miniature theatre using pictures and sound to create the illusion of changing nature). Burney died in London in 1848.
— RA Collection: People and Organisations
David Harrison Stevens: Reference Guide to Milton. N.Y.: Russell & Russell, 1930, 19672. p. 15, n°. 120 – Lowndes 1864 IV, 1556 – nicht bei Brunet, Graesse, Ebert – Die Ausgabe ist nach Stevens und Lowndes in zwei Bänden komplett.
---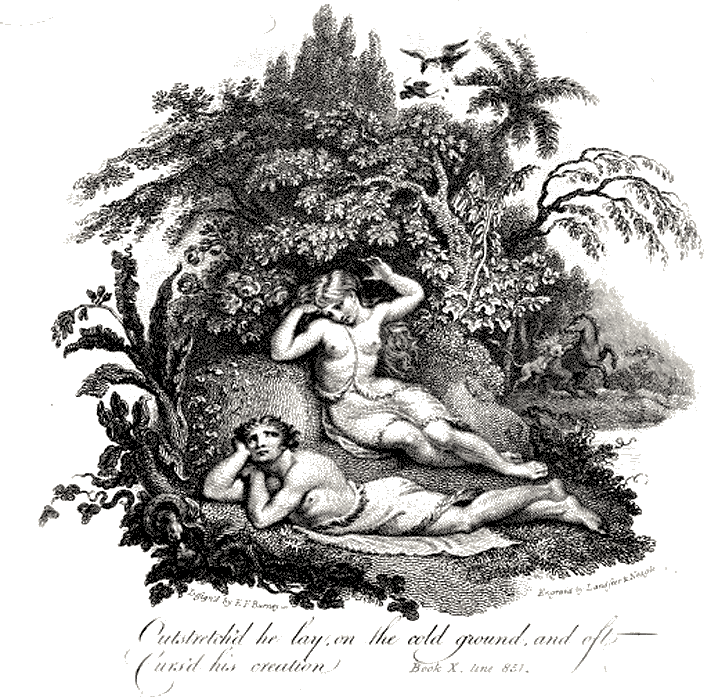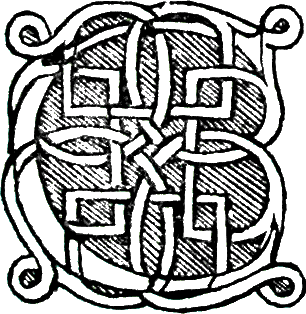 an he make deathless death? That were to make
Strange contradiction, which to God himself
Impossible is held; as argument
Of weakness, not of power. Will he draw out,
For anger's sake, finite to infinite,
In punished Man, to satisfy his rigour,
Satisfied never? That were to extend
His sentence beyond dust and Nature's law;
By which all causes else, according still
To the reception of their matter, act;
Not to the extent of their own sphere. But say
That death be not one stroke, as I supposed,
Bereaving sense, but endless misery
From this day onward; which I feel begun
Both in me, and without me; and so last
To perpetuity;—Ay me! that fear
Comes thundering back with dreadful revolution
On my defenceless head; both Death and I
Am found eternal, and incorporate both;
Nor I on my part single; in me all
Posterity stands cursed: Fair patrimony
That I must leave ye, Sons! O, were I able
To waste it all myself, and leave ye none!
So disinherited, how would you bless
Me, now your curse! Ah, why should all mankind,
For one man's fault, thus guiltless be condemned,
It guiltless? But from me what can proceed,
But all corrupt; both mind and will depraved
Not to do only, but to will the same
With me? How can they then acquitted stand
In sight of God? Him, after all disputes,
Forced I absolve: all my evasions vain,
And reasonings, though through mazes, lead me still
But to my own conviction: first and last
On me, me only, as the source and spring
Of all corruption, all the blame lights due;
So might the wrath! Fond wish! couldst thou support
That burden, heavier than the earth to bear;
Than all the world much heavier, though divided
With that bad Woman? Thus, what thou desirest,
And what thou fearest, alike destroys all hope
Of refuge, and concludes thee miserable
Beyond all past example and future;
To Satan only like both crime and doom.
O Conscience! into what abyss of fears
And horrours hast thou driven me; out of which
I find no way, from deep to deeper plunged!
Thus Adam to himself lamented loud,
Through the still night; not now, as ere Man fell,
Wholesome, and cool, and mild, but with black air
Accompanied; with damps, and dreadful gloom;
Which to his evil conscience represented
All things with double terrour: On the ground
Outstretched he lay, on the cold ground; and oft
Cursed his creation; (...)

Die Einbandabbildung stammt aus Katalog zwei; leider verzichtete ich damals auf Photographien der Fore-edge Paintings.
Carl J. Weber:
Fore-Edge Painting. A Historical Suvey of a Curious Art in Book Decoration.
New York: Harvey House, Inc., 1966.
Mit einem Farbfrontispiz sowie 34 s/w Abbildungen.
Als Ersatz die Abbildung eines anderen Fore-edge Paintings: