Johann Christian Klotz - Johann Ernst Graberg:
Q· B· V· Disputationem ex historia literaria de libris auctoribus suis fatalibus pro loco in amplissimo philosophorum ordine benevole sibi concesso in celeberrima ad Albim Academia M· Io· Christianus Klozius Mulhusanus respondente Ioanne Ernesto Grabergio Longo-Salissensi SS· Th· Et Phil· St A· D· III· Cal· Ianvarii A· R· G· MDCC XXVIII. Defendet.
Wittenberg: "Literis Gerdesiae, Vidvae", i. e. Christian Gerdes' Wittwe, 1728.
Quarto. 201 × 162 mm. 30, [2] Seiten.
Geheft mit Rückenstreifen.
Johann Christian Klotz (1701-1776) und Johann Ernst Graberg (um 1728-1734) beschreiben mit Quellenangaben diejenigen Werke, die ihrem Autor zum schlimmen Schicksal gereichten, unter den genannten Verfassern: Mariana, Urban Grandier, Paulus Sarpius, Berhardinus Ochinus, Ludovicus Elias Dupinus, Jo. Henricus Horbius, Johann Lyser, Isaak Peyrer, Quesnell, Balthasar Bekker, Hieronymus Magius, Nikolaus Beckmann, Trajanus Boccalinus, Roger Rabutin, Heinrich Cornelius Agrippa, Michel Servet, Caspar Peucer, George Buchanan, Nicolaus Frischlin, Henricus Stephanus, Ubertus Folieta, Hieronymo Vechietto, Christian Wolff. Die Rezeptionsgeschichte des Negativen: Mißgunst, Streit, Zensur, Index.
Wohlerhalten.
First edition. Wrappers, very good.
Erste Ausgabe.
Wenigstens eine Disputation wollte ich selbst in diesen erlesenen Kreis aufnehmen,
quod bene vertat.
Eine angemessene Gelegenheit, Michel Servets zu gedenken
Johann Lorenz von Mosheim - Heinrich von Allwoerden:
Historia. Michaelis. Serveti. Qvam. Praeside. Io. Lavr. Moshemio. (...) A. O. R. MDCCXXVII. D. XIX. Decembris. Placido. Doctorvm. Examini. Pvblice. Exponit. Avctor. Henricvs. Ab. Allwoerden, Stadensis. Theol. Cvltor.
Helmstedt: "Stanno. Bvchholtziano", i. e Sebastian Buchholtz, 1727.
Quarto. 199 × 163 mm. [14], 238, [2] Seiten. Mit Holzschnittzierleiste über dem Textbeginn. Geheft mit Rückenstreifen.
An Fakten reichhaltige Biographie Servets (1511-1553), mit Auszügen seiner Briefe, samt Abdruck von Dokumenten in hochdeutscher, niederdeutscher und französischer Sprache. "Michael Servetus has the singular distinction of having been burned by the Catholics in effigy and by the Protestants in actuality" (Roland H. Bainton: "Hunted Heretic. The Life and Death of Michael Servetus". Boston, 1953. p. 3).
¶ "Servet ist Gegner der aristotelischen Scholastik. In der Medizin, die er als Entdecker des Lungenkreislaufs gefördert hat, wendet er sich gegen den Arabismus. Seine Schrift 'De trinitate erroribus' bestreitet die Wesenstrinität und nimmt an ihrer Stelle drei Dispositionen des einen unteilbaren und ewigen Gottes an" (Ziegenfuß/Jung II,520). Cf. Encyclopedia of the Renaissance V,453-454.
Nur minimal gebräunt, sonst wohlerhalten. Es fehlt das Portraitfrontispiz. Selten.
Erste Ausgabe. Schottenloher II,19895 - Osler 854 - Waller 17756 – Bibliographien.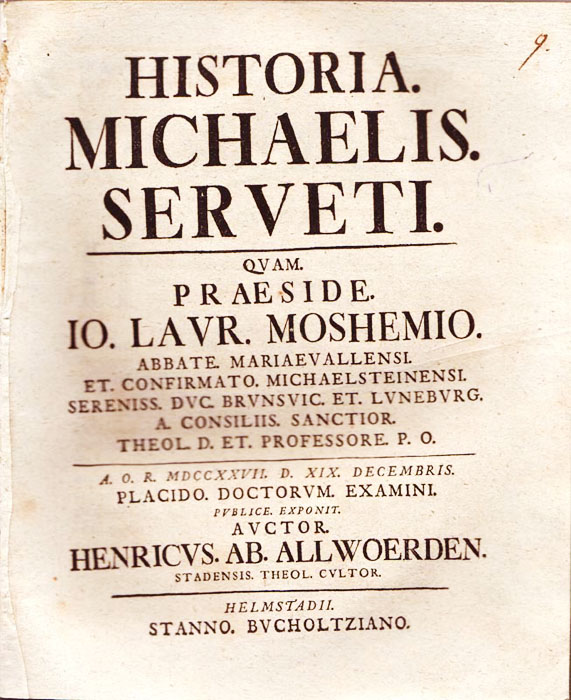 ">

Johann Lorenz von Mosheim:
Neue Nachrichten von dem berühmten Spanischen Arzte Michael Serveto, der zu Geneve ist verbrannt worden.
Helmstedt: Christian Friederich Weygand, 1750.
Quarto. 238 × 179 mm. 108 Seiten. Holzschnittdruckermarke auf Titel, Holzschnittzierstück und -initialrahmen auf Seite 3.
Handgefertigter Pappband der Zeit, bezogen mit Kiebitzpapier, Reste eines Rückenschildes.
¶ Die erste maßgebliche Arbeit über Servet in deutscher Sprache. Ab p. 87 "Beylagen und Urkunden" mit XVI, den Genfer Prozeß betreffenden Dokumenten. Miguel Servetos (Miguel Serveto y Reves, 1511-1553) Andenken steht uns als Mahnmal, scharf von jenem Feuer Calvins erhellt: gegen unnützen Prunk, für die Schlichtheit des Menschen Christus; gegen die Dogmen der Wahrheitspächter, für die Meinungsfreiheit in religiösen und mehr noch in naturwissenschaftlichen Angelegenheiten.
Einband an den Kanten und Gelenken berieben, innen nur leicht gebräunt, sonst gut. Selten.
Erste Ausgabe. Fulton/Stanton p. 94 - Waller 17771 - Blake 314 - Osler 857 - Gardner 1750. Nicht bei Caillet – Bibliographien.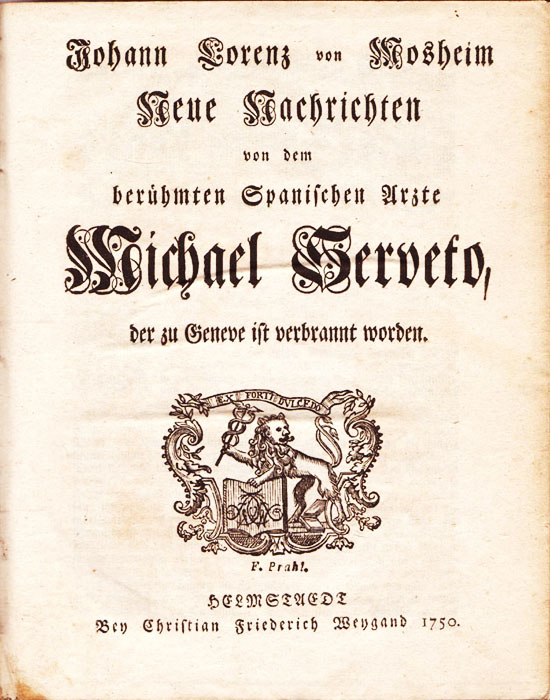 "The physician and religious thinker Miguel Servet (Michael Servetus, 1511–1553) wished to find common ground between Christians, Jews, and Muslims but considered the doctrine of the Trinity as a major stumbling block. His critique of the orthodox teaching on the Trinity in his works On the Errors of the Trinity (De Trinitatis erroribus, 1531) and Restitution of Christianity (Christianismi restitutio, 1553) was universally condemned by Catholics and Protestants alike. Like the Anabaptists, Servet also rejected infant baptism, arguing that only a mentally mature person could choose to undergo this sacrament. Since baptism was considered not simply as a sacrament of salvation but also as a ceremony integrating an individual into Christian society, the Anabaptist view was considered an attack on social stability. After the Inquisitor of Lyon found Servetus guilty of heresy, he fled to Geneva, which he hoped would be more hospitable. Here he was denounced by Jean Calvin, condemned by the city council, which claimed disciplinary powers in such cases, and burned on 27 October 1553. His works were placed on the Venetian Index in 1549 and 1554, the Paris Index of 1556, the Portuguese Index of 1551, the Spanish Index of 1551 and 1559, and the Roman Indices of 1554, 1559, and 1564."
— Grantley McDonald: Censorship in the Renaissance, p. 14. In: Marco Sgarbi & al.: Encyclopedia of Renaissance Philosophy. Springer, 2020.

Calvin to William Farel: "... after he [Servet] had been recognized, I thought he should be detained. My friend Nicolas summoned him on a capital charge, offering himself as a security according to the lex talionis. On the following day he adduced against him forty written charges. He at first sought to evade them. Accordingly we were summoned. He impudently reviled me, just as if he regarded me as obnoxious to him. I answered him as he deserved (...) of the man's effrontery I will say nothing; but such was his madness that he did not hesitate to say that devils possessed divinity; yea, that many gods were in individual devils, inasmuch as a deity had been substantially communicated to those equally with wood and stone. I hope that sentence of death will at least be passed on him; but I desired that the severity of the punishment be mitigated."
— August 20, 1553. In: Jules Bonnet: Letters of John Calvin. Carlisle, Pennsylvania: Banner of Truth Trust, 1980. pp. 158-159.