Robert Hoe - Anderson:
Catalogue of the Library of Robert Hoe of New York. [Four volumes, complete].
New York: Anderson Auction Co., 1911-1912.
Octavo. Part I: colour frontispiece, xii, 321, [1] pp.; frontispiece, [4], (323)-605, [1] pp. — Part II: frontispiece, xii, 285, [1] pp.; frontispiece, [4], 287-583, [1 blank] pp. — Part III: frontispiece, vii, [1 blank], 238, [1], [1 blank] pp.; frontispiece, [4], (241)-471, [1 blank] pp. — Part IV: frontispiece, viii, 249, [1] pp.; frontispiece, [4], 251-541, [1] pp. — With 121 b/w plates.
Contemporary brown morocco-backed boards, spines gilt with title. Covers covered with cloth.
Four volumes with 3538 + 3621 + 3412 + 4017 lots: Americana, Illuminated Manuscripts, Incunabula, Historical Bindings, English and French Original Editions, Modern Luxury Editions, Modern Master Bindings, etc. Each part with a separate index, and an index to binders and bindings. Of the total of 121 plates in the eight volumes set, 37 are of bindings. Priced throughout.
With the holograph signatures of the auctioneers and antiquarian booksellers in vol. I: Anderson, Quaritch, Maggs, Hill, Rosenbach, Ferguson, Rose, Widener, Sondheim, etc.
First edition. Taylor/Barlow 13 – Howard-Hill 388. Unikat.
Die Signaturen von Menschen, die täglich bessere und bedeutendere Werke in ihren Händen hielten als wir.
"On the evening of January 23, 1884, New York printing press manufacturer and book collector Robert Hoe invited to his home eight fellow bibliophiles to discuss the formation of a club devoted to the book arts. Although the nine men differed in age, occupation and social position, they shared the opinion that the arts of printing and typography in late 19th-century America were in need of reform." — Grolier Club.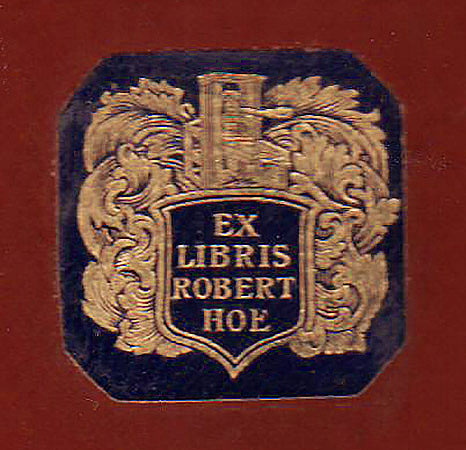 Zwei Bücher aus Hoes Bibliothek, die dieser unbedeutende Antiquar einst anbot: