Hermes Trismegistos – Gabriel Du Préau:
DEVX | LIVRES DE MER-|CVRE TRISMEGISTE HER-|més tres ancien Theologien, & excellant Philozo-|phe, L'vn de la puiſſance & ſapience de Dieu. | L'autre de la volonté de Dieu. Auecq'vn | Dialogue de Loys Lazarel, poëte | Chrestien intitulé le Baßin | d'Hermés. | Le tout traduit de Grec en francoys par Gabriel du | Preau, natif de Macouſſis pres montl'hery.

Kolophon fol. X7v: Imprimé par Estienne Groulleau, Libraire | demeurant à la rue Neuue noſtre Dame à | l'enſeigne ſaint Ian Baptiſte. | 1557.
Paris: Estienne Groulleau, 1557.
Octavo. 154 × 100 mm. [12], 167 Blätter. – Lagenkollation: â8, ê4, A-X8 (-fol. X8 weiß). Mit Holzschnittdruckermarke auf dem Titel, zahlreichen Holzschnittinitialen und Holzschnittleiste zu Textbeginn.
Dunkelbraunes französisches Maroquin des 18. Jahrhunderts mit glattem, leicht gerundetem Rücken, der durch goldgeprägte Fileten in fünf Felder eingeteilt ist, auf zweitem Feld ein rotes, goldgeprägtes Titelschildchen, die anderen mit goldgeprägten Stempeln: mittig je ein fleurales Ornament, in den Ecken kurze, gepunktete Linien. Steh- und Innenkantenvergoldung, handgestochene zweifarbige Kapitale, Vorsätze aus roséfarbener Seide.
Zweite, überarbeitete Ausgabe dieser französischen Übersetzung; die erste, nur auf lateinischen Vorlagen beruhende erschien 1549. Sie umfaßt Corpus Hermeticum I-XIV, Asclepius und Lazarellis Crater Hermetis. Eine der frühesten Übersetzungen in eine der europäischen Volkssprachen überhaupt: Auf Ficinos berühmte lateinische Übertragung, Erstdruck 1471, folgte 1548 Tommaso Bencis (Bensi, 1427-1470) italienische Version des Poimandres, kurz darauf die französische durch Gabriel du Préau. Erst 1650 folgte eine englische, 1706 die erste deutsche.

¶ Du Préau ist sich bereits 1549 in der ersten Ausgabe seiner Übersetzung der textlichen Probleme bewußt, die das Corpus Hermeticum bietet: « car les latins sont si fort corrumpuz et si vicieusement imprimez qu'il y a presques autant de fautes que de bon motz », und er bedauert den Mangel an griechischen Handschriften. Zudem sei der Text unvollständig überliefert, so fehle zum Beispiel der Beginn der zweiten Abhandlung. Er bemerkt dazu: « Je me suis semblablement aidé de troys exemplaires en divers lieux inprimez, l'un à Venise l'autre à Paris, l'autre à Basle, lesquelz en maints lieux se contrarient: ou certes ay tousiours usé de celuy qui m'a semblé approcher au plus pres du sain & entier sens de l'Autheur. Ou ie laisse a penser, combine i'ay eu en cela l'esprit vexé & tormenté. »

¶ Du Préau benutzte für diese neue Ausgabe des Jahres 1557 neben der griechischen Editio princeps drei verschiedene lateinische, zu Venedig, Paris und Basel gedruckte Werke, bei denen es sich wohl um eine venezianische Ausgabe der Ficino-Übersetzung (1481, 1491 oder 1493), eine zu Paris oder Venedig gedruckte Ausgabe jener des Lefèvre d'Etaples, die das Corpus Hermeticum sowie den Asclepius und den Crater Hermetis enthält, sowie die Baseler von 1532 desselben Herausgebers handelt.
¶ Du Préaus Bemerkung 'le tout traduit de Grec' auf dem Titel vorliegender Ausgabe von 1557 kann sich nur auf seine Übersetzung von CH I-XIV – nicht auf den Asclepius – beziehen, da die vom Humanisten Adrianus Turnebus, Adrien Turnèbe, anhand eines griechischen Manuskriptes edierte, 1554 zu Paris erschiene Editio graeca princeps Ἑϱμού του Τϱισμεγίστου Ποιμάνδϱης. Ἀσϰληπιού Ὅϱοι πϱος Ἄμμονα Βασιλέα. Mercurii Trismegisti Poemander, seu de potestate ac sapientia divina (Adams H346) griechisch nur CH I-XVIII enthält und im zweiten Teil lateinische Texte wie Ficinos Übersetzung des Pœmander sowie Æsculapii definitiones ad Ammonem regem, siehe die vier letzten Abbildungen oben.

¶ Griechische bzw. koptische Fragmente des Asclepius wurden erst später entdeckt wie z. B. ein größeres Fragment in den Naǧ-Ḥammādī-Codices, VI,8, mit Asclepius 21-29.

¶ Der Widmung an den königlichen Rat Jacques de Basordan, ff. a2r-a3v, folgt eine Biographie des Hermes samt Argumentum, das auf dem Ficinos basiert, ff. a4r-a7v. Einem lateinischen Widmungsgedicht an den Leser schließt sich das Inhaltsverzeichnis an.

¶ "Also, heLefèvre d'Etaples, as well as Gabriel du Préau, rfm included in the same volume with the Pimander and the Asclepius, a most extraordinary work which had been written before 1494 by Ludovico Lazzarelli4.2.1447 San Severino – 23.6.1500, "Italian humanist, poet, Christian hermetist, and pioneer of Christian kabbalah (...) It is in 1481 that Lazzarelli met the strange apocalyptic prophet Giovanni da Correggio (ca. 1451?-after 1503): an event that proved decisive for the rest of his life. (...) In 1482 Lazzarelli produced a beautiful manuscript containing the complete 'philosophical' hermetica in Latin, and offered it as a gift to his beloved teacher. Its first part contained Marsilio Ficino's Pimander (1471), that is to say, Corpus Hermeticum I-XIV. The second part contained the Asclepius. The third part contained a Latin translation of the remaining three tracts of the Corpus Hermeticum (nowadays known as C.H. XVI-XVIII), which Lazzarelli had discovered in a manuscript different from the one used by Ficino, and which had not been translated into Latin before. (...) Lazzarelli's concept of spiritual regeneration is described in his most important hermetic work, called 'A Dialogue on the Supreme Dignity of Man, entitled the Way of Christ and the Mixing-Bowl of Hermes'. Mostly referred to as the Crater Hermetis, and written probably between 1492 and 1494, it is one of the purest examples of hermetic-christian syncretism known to us." — Wouter J. Hanegraaff: Dictionary of Gnosis and Western Esotericism. Leiden: Brill, 2006. p. 679 sqq., a most enthusiastic and exaggerated Hermetist. This was the Crater Hermetis, which was modelled on one of the regeneration treatises of the Hermetica (Corpus Hermeticum IV) and which describes in most excited language the passing on of the regenerative experience from a master to a disciple. In his valuable study of this work, P. O. Kristeller has suggested that it is meant to allude to Christ's inspiration of His disciples with His spirit, now interpreted as the Hermetic experience which can be repeated in modern times by an inspired Hermetist. (…) There are Cabalistic, as well as Hermetic, elements in the Crater Hermetis and its allied documents."
— Frances Yates: Giordano Bruno and the Hermetic Tradition, London: Routledge and Kegan Paul, 1964, p. 171.

¶ "In 1505 the first-named edited at Paris a recent work entitled, The Basin of Hermes, by Lodovico Lazzarelli together with the Pimander and Asclepius of Hermes Trismegistus. Lazzarelli was also the author of a work on alchemy, thus illustrating the fact that theosophy and chemistry have been historically associated. The Crater Hermetis was reprinted at Paris in 1522, and in 1557 in French translation, attesting the popularity then of such mystical philosophy. Kristeller has recently shown that Lazzarelli became a disciple of the wandering magician or prophet, Giovanni Mercurio, whose sensational appearance at Lyons is recorded by Trithemius and Surius. To him Lazzarelli addressed three prefaces, hitherto unpublished, to Hermetic writings. In these he spoke of himself as 'Lodovicus Enoch Lazarellus Septempedanus, once a poet but now by new rebirth the son of true wisdom.' He therefore appears to be the author of a Letter of Enoch describing how Giovanni Mercurio rode through the streets of Rome on April 11, 1484, on horseback wearing a crown of thorns, and his appearance on another occasion before the college of cardinals."
— Lynn Thorndike: A History of Magic and Experimental Science. VI. New York: Morningside Heights, Columbia University Press, 1941. pp. 437-438.

¶ "Du Préau's book also contains abundant commentaries of his own, some of which were designed to establish parallels between the narrative of creation according to Moses and that of C.H. I."
— Antoine Faivre in: Wouter J. Hanegraaff: Dictionary of Gnosis and Western Esotericism. Leiden: Brill, 2006. p. 535.

¶ Gabriel Du Préau, Dupréau oder Prateolus (1511-1588), war Doktor der Theologie an der Sorbonne und ein entschiedener Gegner der Reformation; cf. Jöcher III,1755.
Einband stellenweise berieben, etwas fleckig, der vordere fliegende Vorsatz entfernt, Titel mit sauber überklebtem Stempel, zwei weitere Blätter mit Resten eines Stempels; ohne das letzte weiße Blatt. Sonst von wenigen kleinen Flecken abgesehen frisch und sehr gut erhalten, in einem dekorativem Einband. Schöner Druck in Antiqua mit zierlichen Marginalien in Kursive. Sehr selten.
18th-century dark-brown morocco, spine gilt; slightly rubbed in places, slightly stained. Small repair to title, stamp on two leaves, otherwise fine. Scarce French translation of CH I-XIV, Asclepius, and Lazarelli's Crater Hermetis, basing on the former Latin editions of Ficino and of Lefèvre d'Etaples and on the 1554 editio princeps of the Greek text.
Hoffmann II,212 – Schweiger I,134 – Graesse III,251 – Caillet II,5095 – Rosenthal 449 – Duveen 290 (mit Kollation) – F. van Lamoen: Hermes Trismegistus – Pater philosophorum no. 54, das Exemplar der Bibliothèque Nationale – Brunet III,1648 – Ebert 9488 – BM STC 223 nur mit Ausg. 1549 – nicht bei Adams – Bibliographien – PDF des Buches – PDF der gr. ed. princ. 1554.
Die Abbildungen stammen aus Angebotschreiben des Jahres 2008, sie sind bearbeitet und geben nicht den Originalzustand wieder, jene des Inhaltsverzeichnisses sind der besseren Lesbarkeit wegen im Schriftblock etwas vergrößert. Die vier letzten Abbildungen geben Titel, fol. α2r, erste Seite des gr. sowie des lat. Textes der Ausgabe 1554 wieder.
Wouter J. Hanegraaff ⮵
Gabriel du Préau's French translation of the Corpus Hermeticum, published in 1549, was based upon three different editions of Ficino's Latin translation, and du Préau notes himself that these contradicted one another in so many respects that it made him quite nervous. The hierarchy of types of knowledge in c.h. ix.10 has vanished in Du Préau as it had in Ficino. In the translation of c.h. x.5, the original idea that perfect knowledge requires 'suppression of the senses' is even changed by du Préau into its opposite: he writes that we need to apply all our senses to the task! Perhaps most interesting is the case of c.h. xiii.3: du Préau does re-insert the final line that was omitted in Ficino's translation, and his French version can be rendered as follows:
What shall I say, my son? I do not know what to say, except that I beheld a true spectacle and vision that it pleased God to reveal to me by a special grace. So that I am now translated into an immortal body, such as that I am no longer who I was before. I am made into the likeness of God's thought [la divine pensée] that was recently shown to me. It is a mystery, my son, that one should not teach just like that, nor publish rashly and unthinkingly. Learn this, therefore, and see it clearly through the appearance of that element that has been created and formed, through which this mystery can easily be seen and known through one's eyes. You see that because of this element I do not take into account the first species that I have, since I have an altogether different colour, texture, or limit than before. For I am now withdrawn from all those things. At present you see me with your corporeal eyes, my son, but if you are attentive with body and gaze to that on which you meditate, you no longer see with such eyes but with [in]eternal ones.
What we see here is that the passage is interpreted in terms of a vision given to Hermes by God through a special act of grace, and as an allusion to a Christian understanding of interior rebirth or regeneration. Du Préau added a marginal note of explanation to emphasize that point:
He [Hermes] shows how the process of regeneration must take place, through some vision that he showed him [= Tat, presumably]: note that just as he seems to be other than he was, without his body changing into a different species than before, it is thus that must happen this regeneration through the son of God taking on a human body, under which his divinity is hidden, as says St. Paul in Romans 5:2.
As for the passage in c.h. xiii.11, du Préau rendered it quite nicely as follows:
I now see it well, my father, and understand it not through the gaze of my mortal eyes but through the power and virtue of my understanding working through its interior forces. I am now in heaven, in earth, in the water, in the air, in all animals, in all trees, in all bodies, both when they were made and after they will cease to exist, and finally in every place.
Note that the original reference of being 'before the womb, in the womb, after the womb', with its hint of transmigration or reincarnation, has been silently removed: the pupil now experiences himself as being present in 'all bodies'. In sum, I would say that du Préau's translation reflects a certain degree of progress in interpretation of the Hermetic message: although it is thoroughly Christianized, we can at least see now that a process of interior "rebirth" is taking place.
— Wouter J. Hanegraaff: How Hermetic was Renaissance Hermetism? In: Aries – Journal for the Study of Western Esotericism 15 (2015). pp. 200-202.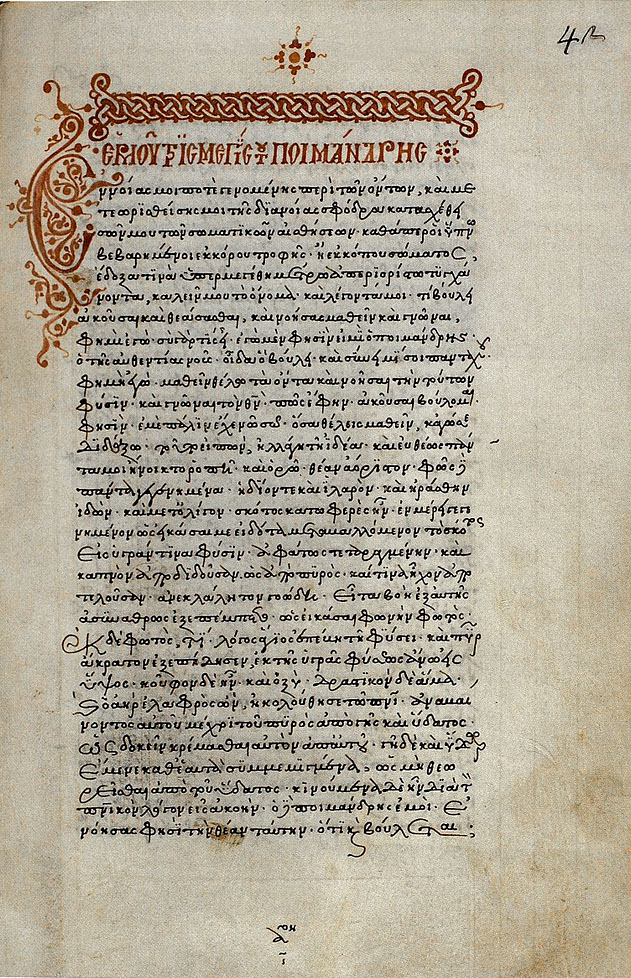 Ἀσϰληπιοῦ πϱὸς Ἄμμωνα βασιλέα

— The Definitions of Asclepius unto King Ammon ⮵
Of Asclepius to the King ⮵
The Encomium of Kings — About the soul's being hindered by the passion of the body ⮵
The Discourse on the Eighth and Ninth ⮵
"My father, yesterday you promised me that you would bring my mind into the eighth and afterwards you would bring me into the ninth. You said that this is the order of the tradition."
"My son, indeed this is the order. But the promise was according to human nature. For I told you when I initiated the promise, I said, 'If you hold in mind each one of the steps.' After I had received the spirit through the power, I set forth the action for you. Indeed, the understanding dwells in you; in me (it is) as though the power were pregnant. For when I conceived from the fountain that flowed to me, I gave birth."
"My father, you have spoken every word well to me. But I am amazed at this statement that you have just made. For you said, 'The power that is in me'."
He said, "I gave birth to it (the power), as children are born."
"Then, my father, I have many brothers, if I am to be numbered among the offspring."
"Right, my son! This good thing is numbered by ... (3 lines missing) ... and [...] at all times. Therefore, my son, it is necessary for you to recognize your brothers and to honor them rightly and properly, because they come from the same father. For each generation I have called. I have named it, because they were offspring like these sons."
"Then, my father, do they have (a) day?"
"My son, they are spiritual ones. For they exist as forces that grow other souls. Therefore I say that they are immortal."
"Your word is true; it has no refutation from now on. My father, begin the discourse on the eighth and the ninth, and include me also with my brothers."
"Let us pray, my son, to the father of the universe, with your brothers who are my sons, that he may give the spirit of eloquence."
"How do they pray, my father, when joined with the generations? I want to obey, my father."
(2 lines missing) ... "But it is not [...]. Nor is it a [...]. But he is satisfied with her [...] him [...]. And it is right for you to remember the progress that came to you as wisdom in the books, my son. Compare yourself to the early years of life. As children (do), you have posed senseless, unintelligent questions."
"My father, the progress that has come to me now, and the foreknowledge, according to the books, that has come to me, exceeding the deficiency - these things are foremost in me."
"My son, when you understand the truth of your statement, you will find your brothers, who are my sons, praying with you."
"My father, I understand nothing else except the beauty that came to me in the books."
"This is what you call the beauty of the soul, the edification that came to you in stages. May the understanding come to you, and you will teach."
"I have understood, my father, each one of the books. And especially the ... (2 lines missing) ... which is in [...]."
"My son, [...] in praises from those who extolled them."
"My father, from you I will receive the power of the discourse that you will give. As it was told to both (of us), let us pray, my father."
"My son, what is fitting is to pray to God with all our mind and all our heart and our soul, and to ask him that the gift of the eighth extend to us, and that each one receive from him what is his. Your part, then, is to understand; my own is to be able to deliver the discourse from the fountain that flows to me."
"Let us pray, my father: I call upon you, who rules over the kingdom of power, whose word comes as (a) birth of light. And his words are immortal. They are eternal and unchanging. He is the one whose will begets life for the forms in every place. His nature gives form to substance. By him, the souls of the eighth and the angels are moved ... (2 lines missing) ... those that exist. His providence extends to everyone [...] begets everyone. He is the one who [...] the aeon among spirits. He created everything. He who is self-contained cares for everything. He is perfect, the invisible God to whom one speaks in silence - his image is moved when it is directed, and it governs - the one mighty power, who is exalted above majesty, who is better than the honored (ones), Zoxathazo a oo ee ooo eee oooo ee oooooo ooooo oooooo uuuuuu oooooooooooo ooo Zozazoth.
"Lord, grant us a wisdom from your power that reaches us, so that we may describe to ourselves the vision of the eighth and the ninth. We have already advanced to the seventh, since we are pious and walk in your law. And your will we fulfill always. For we have walked in your way, and we have renounced [...], so that your vision may come. Lord, grant us the truth in the image. Allow us through the spirit to see the form of the image that has no deficiency, and receive the reflection of the pleroma from us through our praise.
"And acknowledge the spirit that is in us. For from you the universe received soul. For from you, the unbegotten one, the begotten one came into being. The birth of the self-begotten one is through you, the birth of all begotten things that exist. Receive from us these spiritual sacrifices, which we send to you with all our heart and our soul and all our strength. Save that which is in us and grant us the immortal wisdom."
"Let us embrace each other affectionately, my son. Rejoice over this! For already from them the power, which is light, is coming to us. For I see! I see indescribable depths. How shall I tell you, my son? [...] from the [...] the places. How shall I describe the universe? I am Mind, and I see another Mind, the one that moves the soul! I see the one that moves me from pure forgetfulness. You give me power! I see myself! I want to speak! Fear restrains me. I have found the beginning of the power that is above all powers, the one that has no beginning. I see a fountain bubbling with life. I have said, my son, that I am Mind. I have seen! Language is not able to reveal this. For the entire eighth, my son, and the souls that are in it, and the angels, sing a hymn in silence. And I, Mind, understand."
"What is the way to sing a hymn through it (silence)?"
"Have you become such that you cannot be spoken to?"
"I am silent, my father. I want to sing a hymn to you while I am silent."
"Then sing it, for I am Mind."
"I understand Mind, Hermes, who cannot be interpreted, because he keeps within himself. And I rejoice, my father, because I see you smiling. And the universe rejoices. Therefore, there is no creature that will lack your life. For you are the lord of the citizens in every place. Your providence protects. I call you 'father', 'aeon of the aeons', 'great divine spirit'. And by a spirit he gives rain upon everyone. What do you say to me, my father, Hermes?"
"Concerning these things, I do not say anything, my son. For it is right before God that we keep silent about what is hidden."
"Trismegistus, let not my soul be deprived of the great divine vision. For everything is possible for you as master of the universe."
"Return to ⟨praising⟩, my son, and sing while you are silent. Ask what you want in silence."
What he had finished praising, he shouted, "Father Trismegistus! What shall I say? We have received this light. And I myself see this same vision in you. And I see the eighth, and the souls that are in it, and the angels singing a hymn to the ninth and its powers. And I see him who has the power of them all, creating those ⟨that are⟩ in the spirit."
"It is advantageous from now on, that we keep silence in a reverent posture. Do not speak about the vision from now on. It is proper to sing a hymn to the father until the day to quit (the) body."
"What you sing, my father, I too want to sing."
"I am singing a hymn within myself. While you rest yourself, be active in praise. For you have found what you seek."
"But is it proper, my father, that I praise because I am filled in my heart?"
"What is proper is your praise that you will sing to God, so that it might be written in this imperishable book."
"I will offer up the praise in my heart, as I pray to the end of the universe and the beginning of the beginning, to the object of man's quest, the immortal discovery, the begetter of light and truth, the sower of reason, the love of immortal life. No hidden word will be able to speak about you, Lord. Therefore, my mind wants to sing a hymn to you daily. I am the instrument of your spirit; Mind is your plectrum. And your counsel plucks me. I see myself! I have received power from you. For your love has reached us."
"Right, my son."
"Grace! After these things, I give thanks by singing a hymn to you. For I have received life from you, when you made me wise. I praise you. I call your name that is hidden within me: a o ee o eee ooo iii oooo ooooo ooooo uuuuuu oo ooooooooo ooooooooo oo. You are the one who exists with the spirit. I sing a hymn to you reverently."
"My son, write this book for the temple at Diospolis in hieroglyphic characters, entitling it 'The Eighth Reveals the Ninth.'"
"I will do it, my ⟨father⟩, as you command now."
"My ⟨son⟩, write the language of the book on steles of turquoise. My son, it is proper to write this book on steles of turquoise, in hieroglyphic characters. For Mind himself has become overseer of these. Therefore, I command that this teaching be carved on stone, and that you place it in my sanctuary. Eight guardians guard it with [...] of the Sun. The males on the right are frog-faced, and the females on the left are cat-faced. And put a square milk-stone at the base of the turquoise tablets, and write the name on the azure stone tablet in hieroglyphic characters. My son, you will do this when I am in Virgo, and the sun is in the first half of the day, and fifteen degrees have passed by me."
"My father, everything that you say I will do eagerly."
"And write an oath in the book, lest those who read the book bring the language into abuse, and not (use it) to oppose the acts of fate. Rather, they should submit to the law of God, without having transgressed at all, but in purity asking God for wisdom and knowledge. And he who will not be begotten at the start by God comes to be by the general and guiding discourses. He will not be able to read the things written in this book, although his conscience is pure within him, since he does not do anything shameful, nor does he consent to it. Rather, by stages he advances and enters into the way of immortality. And thus he enters into the understanding of the eighth that reveals the ninth."
"So shall I do it, my father."
"This is the oath: I make him who will read this holy book swear by heaven and earth, and fire and water, and seven rulers of substance, and the creating spirit in them, and the ⟨unbegotten⟩ God, and the self-begotten one, and him who has been begotten, that he will guard the things that Hermes has said. And those who keep the oath, God will be reconciled with them and everyone whom we have named. But wrath will come to each one of those who violate the oath. This is the perfect one who is, my son."
Κόϱη ϰόσμου — The Virgin of the World ⮵
Tabula Smaragdina ⮵
Hans Dieter Betz ⮵
To say it in brief, the author of the 'Poimandres', on the one hand, restates anew the old Egyptian complaint that the divine creation, in particular the creation of the human race, was a failure and that the present condition of life is the result of that failure. On the other hand, he intends to show that the deity has provided a way out of that failure. These goals are revealed by a didactic dialogue between the god Poimandres and an initiate, in which a vision of the creation myth is received by the initiate and then interpreted in dialogue with the god. The vision, which is narrated by the initiate, is actually a re-vision of an older cosmogonic myth. In the dialogue, therefore, the reader is led through what appears to be theological reflection on the major issues of the Hermetic doctrine of fall and redemption. (...)
Apart from the narrative framework (§§ 1-3, 27-29) and the concluding hymn (§§ 30-31), the dialogue between Poimandres and the initiate constitutes the upper literary level in the tractate. The sayings in §§ 18-21, derived from Greek philosophy, provide the key elements of 'self-knowledge' (γνῶσις) which lead to the questions of cosmology and anthropology pursued in the dialogue (cf. § 3: Μαϑεῖν ϑέλω τὰ ὄντα ϰαὶ νοῆσαι τὴν τού των φύσιν ϰαὶ γνῶναι τὸν ϑεόν). This question, in turn, raises the issue of theodicy, an issue that is deeply embedded in both Egyptian and Greek thought. Proceeding from this basis, the older Egyptian creation myth is then examined.
This examination takes two steps: (a) the recalling of the myth by way of an ecstatic vision. This re-visioning of the myth, then, constitutes the narrative of the cosmogony, anthropology, and eschatology; (b) the dialogue critically reinterpretes the myth in accordance with gnostic concerns. These gnostic concerns are identified with redemptive γνῶσις, so that the old Delphic maxim 'Know yourself,' now reformulated in several versions, serves to express the basic concern of gnosticism and also contains the basic outline of the tractate as a whole. Accordingly, also the older creation myth is re-narrated in such a way that it corresponds to the reformulated philosophical maxims.
— Hermetism and Gnosticism: The Question of the "Poimandres" In: Søren Giversen & al.: The Nag Hammadi Texts in the History of Religions. Copenhagen: Det Kongelige Danske Videnskabernes Selskab, 2002. pp. 89 & 91.
Da ursprünglich auf Griechisch verfaßt, ging man davon aus, Ποιμάνδϱης sei von den Wörtern Hirte und Pflug, ποιμήν und ἀνήϱ, abgeleitet. Neuere Studien belegen, daß dies von koptisch "P-eime-nte-rē" herrühren könne, was "Kenntnis von Ra" oder "Ra verstehen" bedeute.
"The name 'Poimandres' occurs twelve times in C. H. I but only twice elsewhere in the Hermetica, in C. H. XIII.15. However, XIII.19 may imply a derivation from poimaino ('to be a shepherd'), adding poimēn ('shepherd') to anēr ('man') to produce Poimandrēs. This derivation finds support from those who see links between C. H. I and the Shepherd of Hermas, a Christian apocalypse of the mid-second century which contains a vision resembling in some details the opening of C. H. I. (...) Since early in the century, however, others have sought a Coptic origin for the name. Scott II, 15-16, on the advice of F. L. Griffith, proposed p-eime-n-re, 'the knowledge of Re,' which accords with section 2, below, if nous ('mind') is taken as equivalent to eime ('knowledge') and Re, the sun god, is authentia ('sovereignty'). Along the same lines, Marcus (1949), pp. 40-3, suggested peimentero, an abbreviated form meaning 'the reason of sovereignty.'"
— Brian P. Copenhaver: Hermetica. The Greek Corpus Hermeticum and the Latin Asclepius in a New English Translation. Cambridge University Press, 1995. p. 95.
"As was pointed out a number of times at the beginning of the twentieth century, this Greek etymology of the word is linguistically unacceptable. The form Poimandros would be possible in this sense, as would Poimandr or perhaps Poimenanōr, but not what we have in our texts: Poimandrēs. That leaves us in a very awkward situation. The etymology of Poimandres as 'shepherd of men' provides a rich and appropriate meaning which, what is more, 'is supported in the Hermetic tradition itself'; but at the same time this etymology is excluded on basic linguistic grounds. It is only natural that many scholars have turned a blind eye to the problems and continued to embrace the Greek etymology — linguistic objections notwithstanding. And yet in fact, as we will see, there is no need to ignore anything. Paradoxically, admitting that the Greek etymology is untenable does not mean we have to abandon it: all it does mean is that for the real etymology of the word we have to look elsewhere. The Hermetica as a whole are plainly a product of Greek culture in Egypt. This naturally raises the possibility that the word Poimandres is Egyptian in origin." – "According to him (Frances Llewellyn Griffith, 1925, rfm) the name is a Greek version of what in Coptic would be P-eime n-rē, 'The knowledge of Re'. With one small exception which we will come to in a moment, this etymology is linguistically faultless. The initial p- is, as mentioned earlier, to be expected. As for the alternation between Coptic ei and Greek oi, even if there were no other factors involved — which, as we will soon see, there were — it would be unexceptionable. Not too much is known about how later Egyptian in its various stages and in various places was actually pronounced; but what is clear is that in the interchanges between Egyptian and Greek there was a fundamental overlap between the vowel-sounds ei and oi, and specific examples of Coptic ei corresponding to Greek oi do in fact exist. And finally, use of the closing syllable rēs when transliterating Egyptian names ending with the godname Re into Greek is — as also mentioned earlier — routine and well attested. The one improvement that needs making to Griffith's etymology has to do with the form of the genitive n-rē, 'of Re'. In fact Coptic had an alternative form of the genitive to the simple n-, and this alternative form, nte-, is preferable here for two reasons."
— Roelof van den Broeck, Cis van Heertum: From Poimandres to Jacob Böhme. Gnosis, Hermetism and the Christian Tradition. Leiden: Brill, 2000. pp. 45 and 47.
"To sum up then, Poimandres was an actual contemporary Graeco-Egyptian divinity with a living cult, a cult of which the author of CH I was himself a fervent devotee. The name Ποιμάνδϱης was not an ad hoc coinage of the author of CH I to lend personality to a hypostasis of God, but rather a further Hellenization of the earlier, still more purely transcriptional Greek forms of the throne-name of the god-king Amenemhet III. The advocates of Coptic derivation hypotheses were right in positing an Egyptian origin for the name, and Griffith was correct in proposing that -ϱης transcribed Rc – Isidoros' Egyptian informants knew this too ('Sesoōsis ... gave him the beautiful name of the brilliant Sun'). But the rest is wrong, and the name actually antedates the evolution of Coptic by some two thousand years."
— Howard M. Jackson: A new proposal for the origin of the hermetic god Poimandres. Zeitschrift für Papyrologie und Epigraphik, 128. 1999. pp. 95–106.
Griechischer Text ⮵
Gustav Parthey: Hermetis Trismegisti Poemander, Berlin: Nicolai, 1854;
Richard Reitzenstein: Poimandres. Studien zur griechisch-ägyptischen und frühchristlichen Literatur, Leipzig: Teubner, 1904;
Walter Scott: Hermetica, The Ancient Greek and Latin Writings which contain Religious or Philosophic Teachings, ascribed to Hermes Trismegistus, 1, Oxford: Clarendon Press, 1924;
Charles Harold Dodd: The Bible and the Greeks, London: Hodder and Stoughton, 1935;
Arthur Darby Nock mit frz. Übers. von André-Jean Festugière: Hermès Trismégiste, 4 Bände. Paris: Les Belles Lettres, 1945-1954.
Übersetzungen ⮵
"Φημὶ ἐγώ, Σὺ γὰϱ τίς εἶ; Ἐγὼ μέν, φησίν, εἰμὶ ὁ Ποιμάνδϱης, ὁ τῆς αὐϑεντίας νοῦς· οἶδα ὃ βούλει, ϰαὶ σύνειμί σοι πανταχοῦ."
"Tum ego, quisnam es? inquam.
Sum, inquit ille, Pimander, mens diuinæ potentiæ, at tu uide quid uelis; ipse uero tibi ubique adero."
— Marsilio Ficino: Pimander.
"Then said I, 'Who art Thou?' 'I am,' quoth he, 'Poemander, the mind of the Great Lord, the most Mighty and absolute Emperor: I know what thou wouldest have, and I am always present with thee.'"
— John Everard: The Divine Pymander of Hermes Mercurius Trismegistus, London, 1650.
"aio ego: Tu vero quis es? Ego equidem, inquit, sum Poemander, mens eius qui dominus est, novi quid velis et tecum sum ubique."
— Gustav Parthey: Hermetis Trismegisti Poemander. Berlin: Nicolai, 1854. p. 2.
"And I do say: Who art thou? He saith: I am Man-Shepherd (Poemandres), Mind of all-masterhood; I know what thou desirest and I am with thee everywhere."
— G. R. S. Mead.
« Et moi je dis: ‹ Mais toi, qui es-tu? › — ‹ Moi ›, dit-il, ‹ Je suis Poimandrès, le Noûs de la Souveraineté absolue. Je sais ce que tu veux, et je suis avec toi partout ›. »
— André-Jean Festugière: Hermès Trismégiste I, deuxième édition. Paris: Les Belles Lettres, 1960.
"'Who are you?' said I. He said, 'I am Poimandres the Nous of the Supreme. I know what you wish and I am with you everywhere.'"
— Clement Salaman, Dorine van Oyen, William D. Wharton and Jean-Pierre Mahé: The Way of Hermes. New Translations of The Corpus Hermeticum and The Definitions of Hermes Trismegistus to Asclepius, p. 17.
"Who are you?" I asked.
"I am Poimandres," he said, "mind of sovereignty; I know what you want, and I am with you everywhere."
— Brian P. Copenhaver: Hermetica. The Greek Corpus Hermeticum and the Latin Asclepius in a New English Translation. Cambridge University Press, 1995. p. 1.
"Who are you, I asked.
I am Pœmandres, the perceiveration of authority, knowing your desires and eachwhere with you."
— David Myatt: Corpus Hermeticum. Eight Tractates I, III, IV, VI, VIII, XI, XII, XIII. Translation and Commentary.
Νοῦς
⮵
νοῦς, m (genitive νοῦ); second declension (Attic),
contracted form of νόος (–ος, –ου, –ῳ, –ον, –ε).
"νόος
1. mind, perception, Hom., etc.; νόῳ heedfully, Od.; παϱὲϰ νόον senselessly, Il.; σὺν νόῳ wisely, Hdt.; νόῳ λαβεῖν τι to apprehend it, id=Hdt.; νόῳ ἔχειν to keep in mind, id=Hdt.
2. νοῦν ἔχειν means
 a. to have sense, be sensible, Soph., Ar., etc.; πεϱισσὰ πϱάσσειν οὐϰ ἔχει νοῦν οὐδένα to aim too high has no sense, Soph.
 b. to have one's mind directed to something, ἄλλοσ᾽ ὄμμα, ϑἀτέϱᾳ δὲ νοῦν ἔχειν id=Soph.; δεῦϱο νοῦν ἔχε Eur.
3. the mind, heart, χαῖϱε νόῳ Od.; so, νόος ἔμπεδος, ἀπηνής Hom.; ἐϰ παντὸς νόου with all his heart and soul, Hdt., etc.
4. one's mind, purpose, τί σοι ἐν νόῳ ἐστὶ ποιεῖν; what do you intend to do? id=Hdt.; ἐν νόῳ ἔχειν, c. inf., to intend, id=Hdt.; νόον τελεῖν Il.
II. the sense or meaning of a word or speech, Hdt., Ar."
— Liddell and Scott: An Intermediate Greek-English Lexicon. Oxford: Clarendon Press, 1889.
Ἀναξαγόϱας

— Anaxagoras ⮵
Nikolaus von Kues: De filiatione Dei ⮵
David Myatt ⮵
"Perceiveration. νοῦς. The conventional interpretation here is 'mind', as if in contrast to 'the body' and/or as if some fixed philosophical and abstract principle is meant or implied.
This conventional interpretation is in my view incorrect, being another example of not only retrospective reinterpretation but of using a word which has acquired, over the past thousand years or more, certain meanings which detract from an understanding of the original text. Retrospective reinterpretation because the assumption is that what is being described is an axiomatic, reasoned, philosophy centred on ideations such as Thought, Mind, and Logos, rather than what it is: an attempt to describe, in fallible words, a personal intuition about our existence, our human nature, and which intuition is said to emanate from a supernatural being named Pœmandres.
In addition, one should ask what does a translation such as 'I am Poimandres, mind of sovereignty' [vide Copenhaver] actually mean? That there is a disembodied 'mind' which calls itself Pœmandres? That this disembodied 'mind' is also some gargantuan supernatural shapeshifting being possessed of the faculty of human speech? That some-thing called 'sovereignty' has a mind? I incline toward the view that the sense of the word νοῦς here, as often in classical literature, is perceiverance; that is, a particular type of astute awareness, as of one's surroundings, of one's self, and as in understanding ('reading') a situation often in an instinctive way. Thus, what is not meant is some-thing termed 'mind' (or some faculty thereof), distinguished as this abstract 'thing' termed 'mind' has often been from another entity termed 'the body'.
Perceiverance thus describes the ability to sense, to perceive, when something may be amiss; and hence also of the Greek word implying resolve, purpose, because one had decided on a particular course of action, or because one's awareness of a situation impels or directs one to a particular course of action. (...)
Translating νοῦς as perceiverance/perceiveration thus places it into the correct context, given αὐϑεντίας - authority. For 'I am Pœmandres, the perceiveration of authority' implies 'What [knowledge] I reveal (or am about to reveal) is authentic,' so that an alternative translation, in keeping with the hermeticism of the text, would be 'I am Pœmandres, the authentic perceiveration.' [The English word authentic means 'of authority, authoritative' and is derived, via Latin, from the Greek αὐϑεντία] eachwhere. An unusual but expressive (c. 15th century) English word, suited to such an esoteric text. The meaning here is that, like a guardian δαίμων of classical and Hellenic culture, Pœmandres is always close by: eachwhere with you."
— David Myatt: Corpus Hermeticum. Eight Tractates I, III, IV, VI, VIII, XI, XII, XIII. Translation and Commentary.

Asclepius, The Perfect Sermon

Michael Psellus: Dialogue between Timothy and Thracian on the Operation of Dæmons


Ἡϱόδοτος · Ἱστοϱίαι

— Herodotus ⮵
Πλούταϱχος · Πεϱὶ Ἴσιδος ϰαὶ Ὀσίϱιδος

— Plutarch: De Iside et Osiride ⮵
Richard August Reitzenstein: Poimandres. Studien zur Griechisch-Ägyptischen und frühchristlichen Literatur ⮵
Eine theologische Literatur unter dem Namen des Hermes Trismegistos hat sicher schon gegen Anfang des zweiten Jahrhunderts n. Chr. bestanden. Tertullian, vielleicht nach Soran, bezeugt De anima (c. 33 und 2) Traktate über die Unsterblichkeit der Seele, deren Verfasser Hermes, der Lehrer Platos in Ägypten, gewesen sei; der Name Trismegistos begegnet bei ihm Adv. Valent. 15. Denselben Namen kennt Philon von Byblos (Eusebios Praep. ev. I p. 36 d); Schriften unter diesem Namen erwähnt Athenagoras. (p. 37, 24 Schwartz); das von Hippolyt benutzte Lehrbuch der Peraten (V 2, 14 p. 196, 5 Cruice) endlich nennt als irdische Abbilder des orphischen Μήν die großen Theologen Βουμέγας, Ὀστάνης, Ἑϱμῆς Τϱισμέγιστος, Κουϱίτης, Πετόσιϱις, Ζωδάϱιον (?), Βηϱωσός, Ἀστϱαμψοῦχος, Ζωϱοάστϱης. Nun ist Gott Thot (Hermes) für den Ägypter seit uralter Zeit der Lehrer aller geheimen Weisheit und Verfasser heiliger Schriften. Die Versuche, ägyptischen und griechischen Glauben einander zu nähern, beginnen unmittelbar mit der Zeit der Ptolemäerherrschaft. Wie man dabei frühzeitig dem Orpheus ägyptische Lehren, so hat man seit frühster Zeit den Propheten und Weisen Ägyptens griechische Lehren untergeschoben, oder sie doch in griechischer Sprache und nach griechischen Begriffen reden lassen. Es wäre wunderbar, wenn der Spender aller Weisheit und Gotteserkenntnis dabei keine Rolle gespielt hätte. Die bildende Kunst belehrt uns überdies, daß der Grieche dieser Gegenden, selbst wenn er seinen Hermes, den Erfinder der Ringkunst, darstellen wollte, ihn durch die Feder auf dem Haupte als den ἱεϱόγϱαμματεύς der Götter kennzeichnete, oder gar dem Griechengott wie den irdischen Verfassern literarischer Werke die Buchrolle in die Hand gab. Eine lebende Hermes-Literatur wird hier vorausgesetzt. Wir haben ein Recht weiter zu suchen. (...)
Der Name des Gottes Poimandres, der im Texte selbst als ὁ τῆς αὐϑεντίας νοῦς, der himmlische und daher zugleich der herrschende und der untrügliche Verstand gedeutet wird, begegnet in der mystischen Literatur selten. Auf eine verlorene Schrift, vermutlich kurze Sprüche des Poimandres, wird in Kap. XIII oder nach meiner Zählung XIV § 15 verwiesen. Es ist jünger; denn der Priester, der im ersten Kapitel namenlos ist, wird dort schon als Hermes, der allgemeine Offenbarungsgott der ägyptischen Mystiker-Gemeinden, gefaßt. Auch jene Sprüche werden jüngeren Datums sein. Ein Mitglied der Poimandres-Gemeinde lernen wir endlich in dem Alchemisten Zosimos kennen, der bei Berthelot (Les alchimistes grecs p. 245) seiner Glaubensgenossin Theosebeia empfiehlt nach der Befreiung von allen Schwächen und Leidenschaften zum Poimandres zu eilen und sich im Κϱατήϱ zu taufen. Das zeigt, wie wir im siebenten Abschnitt noch eingehender verfolgen werden, daß die Gemeinde die Hermetische Schrift Κϱατὴϱ ἤ Μονάς unter die ihren mit aufgenommen hatte. Die Zeit des Zosimos wird dadurch bestimmt, daß er den Porphyrios zitiert und von Synesios benutzt wird. Sie fällt in das Ende des dritten oder den Anfang des vierten Jahrhunderts. (...)
Wir sind an das Ende des weiten Weges gelangt; denn nicht alle Hermetischen Schriften zu erklären, sondern Werden und Wachsen einer bestimmten Gemeinde in ihren Schriften zu verfolgen, war meine Aufgabe. Ich fasse die Ergebnisse kurz zusammen. Gegründet wurde die Poimandres-Gemeinde jedenfalls vor Beginn des zweiten Jahrhunderts n. Chr. und nach dem Beginn des zweiten Jahrhunderts v. Chr. Die Geschichte der Ἄνϑϱωπος-Lehre in Ägypten läßt uns mit einiger Wahrscheinlichkeit auf die Zeit um Christi Geburt raten. Begründer der Sekte war ein ägyptischer Priester, welcher eine Lehre von der Weltschöpfung durch Ptah mit einer vom Osten eindringenden Verkündigung von der Knechtschaft und Befreiung des Menschen zu einem gnostischen System verband. Die Gemeinde breitete sich aus und wirkte schon um Beginn des zweiten Jahrhunderts selbst nach Rom herüber. In ihrer Lehre steigert sich im Laufe der Zeit der mystische Grundzug und mit ihm das ägyptische Element. Das Prophetentum tritt im Laufe des zweiten Jahrhunderts immer stärker hervor. Eben dadurch näherte sich die Gemeinde wieder den zahlreichen Hermes-Gemeinden, um endlich im Laufe des dritten Jahrhunderts völlig in sie aufzugehen. Kraft und Bedeutung des Prophetentums scheinen dann wieder abzunehmen und zugleich die jüdischen Einflüsse zu wachsen. Mit dem vierten Jahrhundert entschwindet die Gemeinde unserem Blick. Das ist im Grunde alles. (...)
Die Erhaltung des Hermetischen Corpus danken wir einer einzigen Handschrift, welche im XI. Jahrhundert in traurigem Zustand wieder aufgefunden wurde. Ganze Quatemionen und einzelne Blätter fehlten sowohl im Eingang (nach Kap. I) als am Schluß (nach XVI); auch auf den erhaltenen Blättern war, besonders in dem letzten Drittel, die Schrift stellenweise unleserlich geworden. In diesem Zustande kam die Handschrift an Michael Psellos, den großen Wiedererwecker Platonischer Studien in Byzanz, wie ich vermute, gerade zu der Zeit, als dessen Rechtgläubigkeit in Zweifel gezogen war. Er glaubte diese Schriften aufs neue verbreiten, zugleich aber sich selbst gegen den Verdacht sichern zu sollen, als ob ihr Inhalt seinen Überzeugungen entspräche. So entstand jenes eigentümliche Scholion zu I 18, in welchem wir zunächst fast mönchisches Eifern zu hören glauben, wenn Psellos versichert, daß dieser Poimandres offenbar der Teufel selbst gewesen sei, während der Schluß das Interesse des Philologen, ja vielleicht schon eine noch innerlichere Anteilnahme an dem Inhalt zu verraten scheint. Daß eine solche wenigstens in den nächsten Jahrhunderten in Byzanz erwachte, glaube ich aus der Tatsache schließen zu sollen, daß die letzten drei Kapitel, welche den Polytheismus oder besser das Heidentum direkt rechtfertigen, in einem Teil der Handschriften weggelassen wurden und nur der Teil des Corpus weiter verbreitet wurde, der einem an das Christentum angeglichenen Neuplatonismus entsprach. Der Text wurde im wesentlichen mit all der Genauigkeit und Gedankenlosigkeit weitergegeben, die bei solchen nicht für die Schule und noch weniger für den praktischen Gebrauch bestimmten Schriften durchaus erklärlich ist. Die Überlieferung ist außerordentlich schlecht, aber einheitlich. Den Text der Psellosabschrift können wir aus den Handschriften des XIV. Jahrhunderts mit voller Sicherheit gewinnen.
Zu größerer Wirkung gelangten die Hermetischen Schriften erst mit dem Erstarken des Humanismus im Abendlande. Georgios Gemistos Plethon hatte bekanntlich den Neuplatonismus als eine Art Religion nach Italien übertragen und auf Cosimo Medici tiefen Eindruck gemacht. Der von ihm als Leiter der zukünftigen Akademie frühzeitig erkorene Marsiglio Ficino mußte als erstes, grundlegendes Werk das Hermetische Corpus im Jahre 1463 ins Lateinische übertragen. Den griechischen Text hatte Cosimo durch einen Mönch, Bruder Lionardo von Pistoja, aus Bulgarien (Macedonien) holen lassen; die Handschrift ist in der Bibliothek der Medici erhalten; es ist der Laurentianus 71, 33. Plan und Grundgedanken des Cosimo gibt die Einleitung. Der uralte Prophet, der erste aller Theologen, sollte diesem Mystizismus, der das Christentum nicht direkt bekämpfte, aber doch weit über es hinausging, die Autorität und urkundliche Gewähr gegenüber den von der Kirche angeführten Autoritäten, besonders Aristoteles, bieten. Die nächste Wirkung läßt sich aus einer Nachahmung beurteilen, die den Titel trägt: Lodovici Lazardi poeiae christiani ad Ferdinandum regem dialogus, cui titulus Crater Hermetis. Lazarello hat lange nach Wahrheit gesucht und zu Gott gefleht, bis endlich der Poimandres des Hermes, Jesus Christus selbst, in ihn niedergestiegen ist und ihn erleuchtet hat. Er predigt seinem Könige die neue Lehre des Mystizismus und gibt auf den Einwurf desselben Hermeticus es, ut videris, Lazarele die charakteristische Antwort: Christianus ego sum, o rex, et Hermeticum simul esse non pudet. si enim praecepta eius consideraveris, a christiana confirmabis non abhorrere doctrina. Das religiöse Interesse an diesen Schriften dauerte länger als ein Jahrhundert; noch 1591 will Patricius durch seine Gregor dem XIV. und allen kommenden Päpsten gewidmete "Neue Philosophie" die heidnische Philosophie des Aristoteles aus der Kirche verdrängen und an dessen Stelle Plato, Plotin, Zoroaster und Hermes setzen; ihre Lehre stimme mit der christlichen überein.
Aber auch hiervon abgesehen mußte schon die geheimnisvolle und manchmal so mächtige Sprache dieser Schriften die Humanisten begeistern. Es ist kein Wunder, daß von der Mitte des XV. bis zur Mitte des XVI. Jahrhunderts eine größere Anzahl von Handschriften entstehen, welche den Text verständlicher oder eleganter zu machen suchen.
Im Jahre 1554 gab dann Adrianus Tumebus zum erstenmal den griechischen Text heraus; er wurde dabei von Angelus Vergecius unterstützt, auf dessen Rechnung ein kurzer Nachtrag von Lesungen und Konjekturen gesetzt werden mag. Die Ausgabe bietet im ganzen den getreuen Abdruck einer jungen Handschrift, welche dem Cod. D nahe stand.
Den Text des Turnebus legte im Jahre 1574 François Foix de Candalle (Franciscus Flussas) seiner Ausgabe zu Grunde; neues handschriftliches Material benutzte er nicht und ließ Kap. XVII und XVIII als rettungslos verdorben fort. Unterstützt von Scaliger und andern Humanisten versuchte er vor allem einen lesbaren Text herzustellen, ohne den Stand der Überlieferung dabei zu verdunkeln. Seine Ausgabe bietet noch heute die einzige größere kritische Leistung für diese Texte.
Eine dritte Ausgabe veranstaltete im Jahre 1591 Franciscus Patricius in seiner Nova de universis phüosophia, deren Anhang eine Sammlung der Fragmente des Hermes und des Asklepios mit dem überlieferten Corpus verbindet. Die Reihenfolge der Dialoge hat Patricius dabei verändert, die Asklepios-Schriften von denen des Hermes gesondert, was er Handschriften, was eigener Vermutung entnahm, nicht geschieden. Dem Druck legte er eine junge, ebenfalls dem Codex D ähnliche Abschrift zu Grunde, in welche er die Lesungen des Tumebus und Candalle eingetragen hatte. Außerdem hat er den Text an zahllosen Stellen willkürlich geändert, ohne jede Sachkenntnis und ohne jede Rücksicht auf die paläographische oder sprachliche Möglichkeit seiner Änderungen. Parthey hat sie später getreulich als Überlieferung übernommen.
Das kirchliche Interesse beherrscht völlig die kommentierte Ausgabe des Minoriten Hannibal Rössel (1630, Kommentare schon 1585), welcher für den Text die Ausgabe Candalles zu Grunde legte und Patricius nur nebenbei einsah. Sie sowie mancherlei Übersetzungen, welche im XVII. und XVIII. Jahrhundert erschienen, glaubte ich ignorieren zu dürfen. Nicht so Dieterich Tiedemanns 1781 erschienene Verdeutschung "Hermes Trismegists Poemander oder von der göttlichen Macht und Weisheit", welche in den Anmerkungen eine ganze Reihe vorzüglicher Konjekturen bietet.
Die Ausgabe Partheys (Berlin 1854), welche ich ungern hier erwähne, bringt an neuem scheinbar die Kollationen zweier alter Handschriften, des Laurentianus 71, 33 und des Parisinus 1220. Keine hat Parthey selbst gesehen und auf keine seiner Angaben ist irgendwelcher Verlaß. Die von einem Unbekannten gefertigte flüchtige Kollation des Laurentianus hat er nachlässig benutzt. Der Parisinus, von dem er eine etwas genauere Kollation, bezw. Abschrift von D. Hamm erhalten hatte, ist von jüngerer Hand vollständig durchkorrigiert und interpoliert worden. Diese jungen Interpolationen hat Parthey dann als alte Lesungen in den Text oder Apparat aufgenommen. Der Text ist also doppelt verfälscht. Eigene Besserungen sind außerordentlich selten.
— Leipzig: Teubner, 1904. pp. 2-3, 8-9, 248, 319-322.
Harold R. Willoughby: Pagan Regeneration, A study of Mystery Initiations in the Graeco-Roman World⮵
VIII. The new Birth Experience in Hermeticism
Of the earlier phases of this important religio-philosophical development there are few literary remains. The considerable Neo-Pythagorean literature has perished and the teachings of Ammonius Saccas, the founder of Neo-Platonism, were oral and esoteric. But there yet remains from these centuries the so-called Hermetic literature, writings in Greek and Latin attributed to Hermes Trismegistus and composed of ethical, religious, and philosophic instruction. Obviously, these writings are the remnants of what must have been a far more extensive body of religious literature. Even in the decimated state in which we know them, they give unmistakable evidence of having been produced at different times and in different communities during the early imperial period. As the scattered and scanty memoranda of a distinctive and more or less widespread religious quest in the Graeco-Roman world, these enigmatic writings are extremely interesting and valuable.
The Corpus Hermeticum proper, which is the important section of this literature, includes a collection of fourteen tractates popularly but mistakenly named "Poimandres" from the dominant first number of the series, together with three others grouped under the name of "Asclepius." These tractates comprehend a variety of literary types: dialogues, discourses, hymns, prayers, epistles, an apology, and a theophany. But with all this diversity of literary there is a certain unity about the Corpus. The writings generally profess to be revelations. On the one hand, they describe what one of the main characters, Hermes or Asclepius or Tat, has seen or learned from his divine father and teacher; on the other hand, a prophet of religion proclaims to men the revelations he has received through his experience with the deity. Viewed as a revelation literature, the Hermetic writings show more of unity than their diversity of literary form would lead one to expect.
As to the dates of this literature, the student is faced with an apparent contradiction; the Hermetic literary tradition was a very ancient one, yet the Corpus that we know is not definitely attested until comparatively late in Christian times. To Hermes, or Thoth, as the "Lord of Divine words," native priests in Egypt ascribed the inspiration and authorship of their sacred books, which Greek writers denominated "Hermetic" in accordance with this native literary tradition. Plato, Strabo, and Iamblicus vouch for this literary fiction, while Clement of Alexandria and Tertullian, among early Christian writers, are witnesses to the same tradition. It is not until the time of Lactantius (ca. A.D. 325), however, that we find references and quotations which can be verified by comparison with extant Hermetic works. His appreciative references to "Hermes" prove the existence in the early years of the fourth century of certain surviving numbers of the Corpus, together with other tractates that are now lost. The tone of contemporary references proves that in Lactantius' day the Trismegistic writings had considerable vogue. Thus, while the Hermetic literary fiction was pre-Christian and ancient, it was not until the end of the third Christian century that the tractates of our Corpus emerged into the clear light of literary history. Most of them were much older than this. Just how much older they were is the problem.
In a comparative study of religious phenomena during the earliest Christian centuries, the question of the dating of these documents is one of considerable importance. If, for example, the Hermetic Corpus was a third-century product and recorded only post-Christian developments, one would hardly be justified to give it consideration in connection with the genesis of early Christianity. Unfortunately, critical opinion concerning the dating of these documents is still in a very chaotic state. By far the most definite scheme of chronology is that outlined by Richard Reitzenstein in his Poimandres studies, where he definitely dates not only the collection as a whole but also the Poimandres as the earliest of the series.
For the dating of this tractate, Dr. Reitzenstein lays special stress on a striking literary parallelism between it and the Shepherd of Hermas. At the beginning of Poimandres the situation and sequence of events are remarkably like those of the fifth vision of Hermas. In both instances a supernatural being appears as a shepherd to the future prophet and pledges to remain with him. On being challenged as to his identity, the "shepherd" transforms himself before the prophet's eyes and shows him a vision. The parallel is an unusual one surely; and Dr. Reitzenstein argues that the transformation of the shepherd narrated by the Christian writer is meaningless unless a knowledge of the pagan Poimandres is presupposed on his part. He further notes the remarkable titular similarity between the two documents, the Poimandres (Shepherd of Men) of Hermes and the Shepherd of Hermas. On the basis of literary analogy, therefore, Dr. Reitzenstein argues for dating the first number of the Hermetic Corpus earlier than the Shepherd and at least as early as the end of the first century A.D.
Granted the parallelisms emphasized, they fall just short of proving the direct literary dependence of the Christian apocalypse on the pagan writing. Contact with oral tradition, which was even more characteristic of Hermetism than of Christianity itself, would be sufficient to explain the peculiar literary phenomena in question. Under the circumstances, literary analogy furnishes an insecure basis for the chronological placement of Poimandres.
This uncertainty as to the precise time when Hermetic literature had its beginning raises the further question as to what date may be assigned to the final assembling of these documents. In answer to this question there is something like an agreement of opinion among scholars that the collection was brought together about the end of the third century A.D. It is hardly necessary to detail the reasons for this conviction, but two main points stand out. The representation of the sun as the demiurgic orderer of all things and as a charioteer wearing a rayed crown suggests a time when the Mithraic cult was at the peak of its influence. Also, the elaborate "Encomium of Kings" presupposes a plurality of kings exercising joint authority under one supreme ruler. This corresponds with the arrangement under Diocletian and his colleagues (imp. 285-305 A.D.). On the basis of these suggestions, Dr. Reitzenstein concludes that about the time of Diocletian's triumph in A.D. 302 an Egyptian priest made a compilation of eighteen sacred documents, our Corpus Hermeticum, intended to prove to the rulers of the Empire that there was nothing in his religion deserving of official suspicion, but that its teachings were calculated to foster loyalty to the Empire and its rulers.
Whether or not the Reitzenstein chronology for the Hermetic Corpus is accepted in detail, the general period that he suggests covering the first three Christian centuries is a very reasonable one for the writing and assembling of this literature. As yet a more probable period for the composition of these documents and their collection into a specific Corpus has not been suggested. For our purpose, which concerns the religious needs and experiences of people in the Graeco-Roman world, this very general dating is sufficient. Were our problem one of documentary relationships between the Christian and Hermetic literatures, it would be necessary to be much more specific in chronology and to date the various documents quite exactly--as scholarship is not prepared to do at present. Since, however, we are concerned with the altogether more vital problem of religious needs and their satisfaction, it suffices to know that in the first century A.D. there were people who thought and felt and desired as they are represented in the Hermetic writings.
Of this we may be assured. Whatever the date of the writings, Hermetic religion itself was older. A religion is always experienced and lived before ever it is recorded. Back of every religious literature, antedating it by a longer or shorter period, is the religious living of men and women who seek for the satisfaction of vital needs and desires. This general principle aside, however, the Trismegistic literature as it stands bears on its face the marks of its composite and pre-Christian origins. Many of the component elements can be isolated and labeled and dated in a general way, and a majority of these are definitely known to have been pre-Christian. The whole synthesis gives the impression of being a development that had its beginnings in Hellenistic Egypt, some time before Christianity had its beginnings in Palestine to the north. Its mythology, its literary structure, its magic, and its naive reverence for things Egyptian point in this direction, and the combination of these with Greek and Oriental elements is such a product as would come from that religious clearing house of the Hellenistic world, the Egypt of the Ptolemies. More precisely, the combination of Stoic physics and Platonic mysticism represented by the Hermetic literature existed in Alexandria at least as early as the philosopher Antiochus, or about 100 B.C. The literature itself must undoubtedly be dated considerably later; but even in its present form it falls securely within the first three centuries A.D.
It would be both interesting and useful in this connection to know exactly the component elements and their proportions as they were represented in the conglomerate product of Hermeticism, and by such an analysis to trace the beginnings of this movement back to ultimate sources. What were the various strands of influence that went into the weaving of this many-colored web? To answer this question accurately, the student must make himself at home in some dozen different thought-worlds. One would need to be thoroughly acquainted with the traditional religions of ancient Egypt, and the syncretistic religions of the Hellenistic world; with the confused astrology of the Orient and the clear philosophies of classical Greece; and above all with the religio-philosophical aggregates that were so highly important in the Hellenistic and Graeco-Roman periods, and are all but completely ignored by the purists of today. In an age of high specialization such as ours there are few scholars who have the versatility requisite for unraveling such a tangled skein as that of Hermeticism.
It is not surprising, therefore, to find a characteristic variety of opinion concerning the blend of elements found in this religion. While there is more or less agreement as to what constituent elements were involved, the scholars violently disagree concerning the proportion of the various elements and their assignment to primary or secondary place in the combination. Dr. Reitzenstein, for example, regards the fundamental strain to be Egyptian. Zielinski, on the other hand, furnishes an antidote to this Egyptian prepossession by emphasizing the Hellenic and philosophical components of Hermeticism. M. Cumont brings to the fore as well-nigh coimportant with these ingredients, a stress on the Semitic and Oriental contributions to the complex.
The significant point emphasized by all this discussion is that the religion of Hermes was a syncretism, and as such was characteristic of the period when Christianity came into being. The early imperial era, like the Hellenistic period that preceded it, was one of syncretism in religion as in most other departments of life. The Greek cults had become orientalized and the eastern cults had been Hellenized. In philosophy eclecticism was the order of the day, and even those who were nominal adherents of a particular school freely made use of ideas borrowed from other systems. Hermeticism itself was a syncretism quite typical of this general period, and doubly so because it represented an amalgamation of various philosophies with different religions. There was a substratum of religious experience, essentially mystical in character, that sought in these writings to give itself intellectual justification. A blend of ideas, Greek, Oriental, and Egyptian, philosophical, mythical, and magical, was elaborated and erected on this basis of mystical experience, to give the effect of a system of theology. To others it may be left to differentiate and classify and evaluate the various theoretic elements that compose the superstructure; our interest is in the basic item of personal religious experience.
What the student would like to know quite exactly about this religious experience is how to classify it as to type, and how significant an item it was in the religious life of the early imperial period. Was it primarily individual experience that is mirrored in these writings--or do they record the experiences of groups of individuals? To what extent was there a definite social movement back of the Corpus? How widespread and influential was that movement? Could it be classified as a cult? What, for example, was the relation of Hermetic religion to the mystery religions so popular during this period? These are some of the interrogations that arise as one studies the literature.
Again it is Dr. Reitzenstein who has assumed the most unequivocal position on this complex of problems. He maintains that this literature presupposes a definite religious movement with clergy and cult practice and various communities, that had its beginnings in Hellenistic Egypt and lasted through the third Christian century. The first tractate of the series, according to his view, was the product of a peculiar "Pimandres" community, founded probably about the time of Jesus' birth. In the early part of the next century, its influence spread to Rome. During the third century it lost its identity among the Hermetic communities generally, and finally in the fourth century the whole movement disappeared from view.
Other scholars are inclined to take issue with Dr. Reitzenstein in his historical reconstruction. W. Kroll declares, "Least of all can I believe in communities of Poimandres, Nus, Anthropos, etc. at the time of the birth of Christ; and our writings are not to be considered liturgies of such communities; on the contrary their character is purely literary." Indeed, it must be granted that external evidence is lacking to prove the existence of a Hermetic religion with clergy or cultus. Must we then grant the further possibility thtt Hermeticism had a purely literary existence and was at best but a sporadic and individualistic expression of religious aspiration?
Internal evidence makes it clear that this was not the case. The character of the Hermetic documents themselves proves that Hermeticism was a real religion that had its social as well as its individual aspect. Public preachments as well as private instruction went into the making of the Corpus Hermeticum, and even the most intimate of the dialogues were framed to include cult remains in the form of hymns and prayers. So the "Secret Discourse on the Mountain" includes the "Hymn of Rebirth" and the Poimandres revelation ends with a triple ter-sanctus to the Father God. The prophet of Poimandres, when he had made a successful beginning of his evangelization, taught his followers how to give thanks to God at the time of the sun's setting. Hermetism, too, had its baptism and the Trismegistic prophet, like John the Baptist, summoned men to "Repent and be baptized!" These cult remains are so indigenous to this literature and are handled with such naive sincerity that the student cannot regard them as literary fictions. It is a living religion that one is dealing with here. On the basis of these practices and the general representation of the Corpus, the student is justified in thinking of Hermetism as a definite religious movement proceeding from Hellenistic Egypt with communities gathered about prophetic leaders. How extensive its influence became in the Graeco-Roman period, who can tell.
There is one addendum that should be made concerning cult practices in the religion of Hermes. While they were treated with reverence, they were allegorized and "spiritualized" and the emphasis was very little on rite and very much on personal religious experience. Trismegistic religion had its baptism, to be sure; but the important thing was not the physical rite, but the hyperphysical immersion in spirit that it entailed. In the Asclepius there is a dramatic illustration of this attitude, toward ritual. Tat and Asclepius have just been receiving instruction from the Thrice-Greatest One himself.
— Chicago: The University of Chicago Press, 1929.
George Robert Stow Mead: Thrice-Greatest Hermes. Studies in Hellenistic Theosophy and Gnosis ⮵
The remains of the Trismegistic literature writer and reader
Little did I think when, years ago, I began to translate some of the Trismegistic tractates, that the undertaking would finally grow into these volumes. My sole object then was to render the more important of these beautiful theosophic treatises into an English that might, perhaps, be thought in some small way worthy of the Greek originals. I was then more attracted by the sermons themselves than by the manifold problems to which they gave rise; I found greater pleasure in the spiritual atmosphere they created, than in the critical considerations which insistently imposed themselves upon my mind, as I strove to realise their importance for the history of the development of religious ideas in the Western world.
And now, too, when I take pen in hand to grapple with the difficulties of "introduction" for those who will be good enough to follow my all-insufficient labours, it is to the tractates themselves that I turn again and again for refreshment in the task; and every time I turn to them I am persuaded that the best of them are worthy of all the labour a man can bestow upon them.
Though it is true that the form of these volumes, with their Prolegomena and Commentaries and numerous notes, is that of a technical treatise, it has nevertheless been my aim to make them throughout accessible to the general reader, even to the man of one language who, though no scholar himself, may yet be deeply interested in such studies. These volumes must, therefore, naturally fall short of the precision enjoyed by the works of technical specialists which are filled with direct quotations from a number of ancient and modern tongues; on the other hand, they have the advantage of appealing to a larger public, while at the same time the specialist is given every indication for controlling the statements and translations.
Nor should the general reader be deterred by an introductory volume under the imposing sub-title of Prolegomena, imagining that these chapters are necessarily of a dull, critical nature, for the subjects dealt with are of immense interest in themselves (at least they seem so to me), and are supplementary to the Trismegistic sermons, frequently adding material of a like nature to that in our tractates.
Some of these Prolegomena have grown out of the Commentaries, for I found that occasionally subjects lent themselves to such lengthy digressions that they could be removed to the Prolegomena to the great advantage of the Commentary. The arrangement of the material thus accumulated, however, has proved a very difficult task, and I have been able to preserve but little logical sequence in the chapters; but this is owing mainly to the fact that the extant Trismegistic literature itself is preserved to us in a most chaotic fashion, and I as yet see no means of inducing any sure order into this chaos.
The extant Trismegistic literature ⮵
To distinguish our writings both from the Egyptian "Books of Thoth" and the Hermes Prayers of the popular Egyptian cult, as found in the Greek Magic Papyri, and also from the later Hermetic Alchemical literature, I have adopted the term Trismegistic literature in place of the usual designation Hermetic.
Of this Greek Trismegistic literature proper, much is lost; that which remains to us, of which I have endeavoured to gather together every fragment and scrap, falls under five heads:
A. The Corpus Hermeticum.
B. The Perfect Sermon, or the Asclepius.
C. Excerpts by Stobæus.
D. References and Fragments in the Fathers.
E. References and Fragments in the Philosophers.
A. The Corpus Hermeticum includes what has, previous to Reitzenstein, 1 Reitzenstein (R.), Poimandres: Studien zur griechisch-ägyptischen und frühchristlichen Literatur (Leipzig; 1904). been known as the "Poimandres" 2 Variously translated, or metamorphosed, as Pœmandres, Pœmander, Poemandre, Pymandar, Pimander, Pimandre, Pimandro. Already Patrizzi, in 1591, pointed out that only one treatise could be called by this title; but, in spite of this, the bad habit inaugurated by the editio princeps (in Latin translation) of Marsiglio Ficino has persisted to the last edition of the text by Parthey (1854) and the last translation by Chambers (1882). collection of fourteen Sermons and the "Definitions of Asclepius."
B. The Perfect Sermon, or the Asclepius, is no longer extant in Greek, but only in an Old Latin version.
C. There are twenty-seven Excerpts, from otherwise lost Sermons, by John Stobæus, a Pagan scholar of the end of the fifth or beginning of the sixth century, who was an immense reader and made a most valuable collection of extracts from Greek authors, though studiously avoiding every Christian writer. Some of these Excerpts are of great length, especially those from the Sermon entitled "The Virgin of the World"; these twenty-seven Excerpts are exclusive of extracts from Sermons still preserved in our Corpus.
D. From the Church Fathers we obtain many references and twenty-five short Fragments, otherwise unknown to us, and considerably widening our acquaintance with the scope of the literature.
E. From Zosimus and Fulgentius we obtain three Fragments, and from the former and Iamblichus, and Julian the Emperor-Philosopher, we obtain a number of valuable references.
Such are what at first sight may appear to be the comparatively scanty remains of what was once an exceedingly abundant literature. But when we remember that this literature was largely reserved and kept secret, we cannot but congratulate ourselves that so much has been preserved; indeed, as we shall see later on, but for the lucky chance of a Hermetic apologist selecting some of the sermons to exemplify the loyal nature of the Trismegistic teaching with respect to kings and rulers, we should be without any Hermetic Corpus at all, and dependent solely on our extracts and fragments.
But even with our Hermetic Corpus before us we should never forget that we have only a fraction of the Trismegistic literature — the flotsam and jetsam, so to say, of a once most noble vessel that sailed the seas of human endeavour, and was an ark of refuge to many a pious and cultured soul.
References to lost writings of the School will meet us abundantly in the course of our studies, and some attempt will be made later on to form a notion of the main types of the literature.
As for the rest of the so-called Hermetic works, medico-mathematical, astrological and medico-astrological, and alchemical, and for a list of the many inventions attributed to the Thrice-greatest — inventions as numerous as, and almost identical with, those attributed to Orpheus by fond posterity along the line of "pure" Hellenic tradition — I would refer the student to the Bibliotheca Græca of Joannes Albertus Fabricius. 3 Vol. i., lib. i., cap. vii. See the fourth and last edition (Leipzig, 1790), with up to that time unedited supplements by Fabricius and G. C. Heumann, and very numerous and important additions by G. C. Harles.
For the Alchemical and Mediæval literature the two magnificent works of Berthelot (M. P. E.) are indispensable — namely, Collection des anciens Alchimistes grecs (Paris, 1888), and La Chimie au Moyen Âge (Paris, 1893).
In close connection with the development of this form of "Hermetic" tradition must be taken the Hermes writings and traditions among the Arabs. See Beausobre's Histoire Critique de Manichée et du Manichéisme (Amsterdam, 1734), i. 326; also Fleischer (H. L.), Hermes Trismegislus an die menschliche Seele, Arabisch und Deutsch (Leipzig, 1870); Bardenhewer (O.), Hermetis Trismegisti qui apud Arabes fertur de Castigatione Animæ Liber (Bonn, 1873); and especially R. Pietschmann, the pupil of Georg Ebers, who devotes the fourth part of his treatise, entitled Hermes Trismegistus nach ägyptischen und orientalischen Überlieferungen (Leipzig, 1875), to a consideration of the Hermes tradition, "Bei Syrern und Araben."
Reitzenstein treats very briefly of the development of this later Hermetic literature on pp. 188-200 of his Poimandres. 4 For the Hermetic writing in Pitra, Analecta Sacra et Classica, pt. ii., see R., pp. 16, n. 4, and 259, n. 1; and for reference to the Arabic literature, pp. 23, n. 5, and 172, n. 3.
The original ms. of our corpus ⮵
From the fragmentary nature of the remains of the Trismegistic literature that have come down to us, it will be at once seen that a critical text of them is a complicated undertaking; for, apart from the Corpus, the texts have to be collected from the works of many authors. This, however, has never yet been done in any critical fashion; so that a translator has first of all to find the best existing critical texts of these authors from which to make his version. This, I hope, I have succeeded in doing; but even so, numerous obscurities still remain in the texts of the excerpts, fragments, and quotations, and it is highly desirable that some scholar specially acquainted with our literature should collect all these together in one volume, and work over the labours of specialists on the texts of Stobæus and the Fathers, with the added equipment of his own special knowledge.
Even the text of our Corpus is still without a thoroughly critical edition; for though Reitzenstein has done this work most admirably for C. H., i., xiii. (xiv.), and (xvi.)-(xviii.), basing himself on five MSS. and the printed texts of the earlier editions, he has not thought fit to give us a complete text.
A list of the then known MSS. is given in Harles' edition of Fabricius' Bibliotheca Græca (pp. 51, 52); while Parthey gives notes on the only two MSS. he used in his edition of fourteen of the Sermons of our Corpus. It is, however, generally believed that there may be other MSS. hidden away in Continental libraries.
All prior work on the MSS., however, is entirely superseded by Reitzenstein in his illuminating "History of the Text" (pp. 319-327), in which we have the whole matter set forth with the thoroughness that characterises the best German scholarship.
From him we learn that we owe the preservation of our Hermetic Corpus to a single MS. that was found in the eleventh century in a sad condition. Whole quires and single leaves were missing, both at the beginning (after ch. i.) and the end (after ch. xvi.); even in the remaining pages, especially in the last third, the writing was in a number of places no longer legible.
In this condition the MS. came into the hands of Michael Psellus, the great reviver of Platonic studies at Byzantium, probably at the time when his orthodoxy was being called into question. Psellus thought he would put these writings into circulation again, but at the same time guard himself against the suspicion that their contents corresponded with his own conclusions. This accounts for the peculiar scholion to C. H., i. 18, which seems at first pure monkish denunciation of Pœmandres as the Devil in disguise to lead men from the truth, while the conclusion of it betrays so deep an interest in the contents that it must have been more than purely philological.
And that such an interest was aroused in the following centuries at Byzantium, may be concluded from the fact that the last three chapters, which directly justify polytheism or rather Heathendom, were omitted in a portion of the MSS., and only that part of the Corpus received a wider circulation which corresponded with what might be regarded at first sight as a Neoplatonism assimilated to Christianity. The text was reproduced with thoughtless exactitude, so that though its tradition is extraordinarily bad, it is uniform, and we can recover with certainty the copy of Psellus from the texts of the fourteenth century.
These Trismegistic Sermons obtained a larger field of operation with the growth of Humanism in the West. Georgius Gemistus Pletho, in the latter part of the fourteenth and beginning of the fifteenth century, brought Neoplatonism from Byzantium into Italy as a kind of religion and made a deep impression on Cosimo Medici; and Marsiglio Ficino, who was early selected by the latter as the head of the future Academy, must have made his Latin translation of our Corpus, which appeared in 1463, to serve as the first groundwork of this undertaking. Cosimo had the Greek text brought from Bulgaria (Macedonia) by a monk, Fra Lionardo of Pistoja, and it is still in the Medicean Library.
It was not, however, till the middle of the sixteenth century that the Greek text was printed; and meantime, with the great interest taken in these writings by the Humanists, a large number of MSS. arose which sought to make the text more understandable or more elegant; such MSS. are of no value for the tradition of the text.
Texts and translations ⮵
We will now proceed to give some account of the texts and translations of the Trismegistic writings, a bibliographical labour which the general reader will most probably skip, but which the real student will appreciate at its proper value. 5 This study was published in the Theosophical Review, May 1899, and is independent of Reitzenstein's work.The best account of the texts and translations up to 1790 is that of Harles, who has entirely rewritten the account of Fabricius (op. cit., pp. 52 ff.). 6 S. F. W. Hoffmann's Bibliographisches Lexicon der gesammten Litteratur der Griechen (2nd ed., Leipzig, 1839) simply copies Harles, while his appendix of "Erläuterungsschriften" is of no value.
The editio princeps was not a text but a Latin translation by Marsiglio Ficino (Marsilius Ficinus), published in quarto in 1471. 7 R. (p. 320), as we have seen, gives the date as 1463, but I have found no trace of this edition. Both the name of the publisher and place of publication are lacking, but the British Museum catalogue inserts them in parenthesis as "G. de Lisa, Treviso," presumably on the authority of Harles. This translation consisted of the so-called "Pœmandres," in fourteen chapters, that is to say fourteen treatises, under the general title, Mercurii Trismegisti Liber de Potestate et Sapientia Dei (or The Book of Mercury Trismegist concerning the Power and Wisdom of God). The enormous popularity of this work is seen by the fact of the very numerous editions (for a book of that time) through which it ran. No less than twenty-two editions have appeared, the first eight of them in the short space of a quarter of a century. 8 The dates of these editions are as follows, though doubtless there were other editions of which we have lost record: 1471, '72, '81, '83, '91, '93, '94, '97; 1503, '05, '16, '22, '32, '49, '52, '54, '61, '70, '76, '77; 1611, '41. They were printed at Venice, Paris, Basle, Lyons, and London.
In 1548 there appeared an Italian translation of Ficinus' Latin version of the "Pœmandres" collection, entitled Il Pimandro di Mercurio Trismegisto, done into Florentine by Tommaso Benci, printed at Florence in 12mo. A second edition was printed at Florence in 1549 in 8vo, with numerous improvements by Paitoni.
The first Greek text was printed at Paris, in 1554, by Adr. Turnebus; it included the "Pœmandres" and "The Definitions of Asclepius," to which the Latin version of Ficino was appended. The title is, Mercurii Trismegisti Pœmander seu de Potestate ac Sapientia Divina: Aesculapii Definitiones ad Ammonem Regem; the Greek was edited by P. Angelo da Barga (Angelus Vergecius).
In 1557 appeared the first French translation by Gabriel du Preau, at Paris, with a lengthy title, Deux Livres de Mercure Trismegiste Hermés tres ancien Theologien, et excellant Philozophe. L'un de la puissance et sapience de Dieu. L'autre de la volonte de Dieu. Auecq'un Dialogue de Loys Lazarel, poete Chrestien, intitulé le Bassin d'Hermés.
This seems to be simply a translation of an edition of Ficinus' Latin version published at Paris by Henr. Stephanus in 1505, to which a certain worthy, Loys Lazarel, who further rejoiced in the agnomen of Septempedanus, appended a lucubration of his own of absolutely no value, 9 The writer has painfully perused it, for, more fortunate than the British Museum, he possesses a copy of this rare work. for the title of Estienne's edition runs: Pimander Mercurii Liber de Sapientia et Potestate Dei. Asclepius, ejusdem Mercurii Liber de Voluntate Divina. Item Crater Hermetis a Lazarelo Septempedano.
In 1574 Franciscus Flussas Candalle reprinted at Bourdeaux, in 4to, Turnebus' Greek text, which he emended, with the help of the younger Scaliger and other Humanists, together with a Latin translation, under the title, Mercurii Trismegisti Pimander sive Pœmander. This text is still of critical service to-day.
This he followed with a French translation, printed in 1579, also at Bourdeaux in folio, and bearing the title, Le Pimandre de Mercure Trismegiste de la Philosophie Chrestienne, Cognoissance du Verb Divin, et de l'Excellence des Œuvres de Dieu. This we are assured is translated "de l'exemplaire Grec, avec collation de très-amples commentaires," 10 These on perusal prove of little value. all of which is followed by the full name and titles of Flussas, to wit, "François Monsieur de Foix, de la famille de Candalle, Captal de Buchs, etc., Evesque d'Ayre, etc.," the whole being dedicated to "Marguerite de France, Roine de Navarre."
Twelve years later Franciscus Patricius (Cardinal Francesco Patrizzi) printed an edition of the text of the Sermons of the Corpus, of "The Asclepius," and also of most of the Extracts and of some of the Fragments; he, however, has arranged them all in a quite arbitrary fashion, and has as arbitrarily altered the text, which generally followed that of Turnebus and Candalle, in innumerable places. To this he appended a Latin translation, in which he emended the versions of Ficino and de Foix, as he tells us, in no less than 1040 places. These were included in his Nova de Universis Philosophia, printed at Ferrara, in folio, 1591, and again at Venice by R. Meiettus, in 1593, as an appendix to his Nov. de Un. Phil., now increased to fifty books.
This Latin translation of Patrizzi was printed apart, together with the Chaldæan Oracles, at Hamburg in 12mo, also, in 1593, under the title Magia Philosophica. The latter edition bears the subscription on the title-page, "jam nunc primum ex Biblioteca Ranzoviana è tenebris eruta," which Harles explains as a reprint by plain Henr. Ranzou, who is, however, described in the volume itself as "produx." It seems to have been again reprinted at Hamburg in 1594 in 8vo.
Meantime the Carmelite, Hannibal Rossellus, 11 R. 322 calls him a Minorite. had been laboriously engaged for many years on an edition of the "Pœmandres" with most elaborate commentaries. This was printed at Cracow by Lazarus, in six volumes in folio, from 1585 to 1590. Rossel treats of philosophy, theology, the Pope, the scriptures, and all disciplines in his immanibus commentariis, inepte as some say, while others bestow on him great praise. His title is Pymander Mercurii Trismegisti. This was reprinted with the text and translation of de Foix in folio at Cologne in 1630, under the title Divinus Pimander Hermetis Mercurii Trismegisti.
Hitherto nothing had been done in England, but in 1611 an edition of Ficinus' translation was printed in London. This was followed by what purports to be a translation of the "Pœmandres" from Arabic, 12 It is clear, however, that Everard translated from Ficinus' Latin version, and that the "Arabick" is a myth. "by that learned Divine, Doctor Everard," as the title-page sets forth. It was printed in London in 1650 in 8vo, with a preface by "J. F.," and bears the title The Divine Pymander of Hermes Mercurius Trismegistus, in xvii. Books. Translated formerly out of the Arabick into Greek [!] and thence into Latin, and Dutch, and now out of the Original into English. There was a second edition of Everard's version printed at London in 1657, in 12mo. There are also reprints of the 1650 edition by Fryar of Bath, with an introduction by Hargrave Jennings, in 1884; 13 Of which only 200 copies were issued to subscribers, as though, forsooth, they were to come into great "occult" secrets thereby. by P. B. Randolph, Toledo, Ohio, 1889; and by the Theosophical Publishing Society, in the Collectanea Hermetica, edited by W. Wynn Westcott, in 1893.
To what Dutch translation Everard refers I cannot discover, for the only one known to me is that printed at Amsterdam in 1652 in 12mo. It is a translation of Patrizzi's text, and bears the title, Sestien Boecken van den Hermes Trismegistus. ... uyt het Griecx ghebracht ... met eene ... Voorede uyt het Latijn von F. Patricius in de welcke hij bewijst dat desen ... Philosoph heeft gebleoyt voor Moyses, etc. Harles says nothing of this edition, but speaks of one printed at Amsterdam in 1643 in 4to, by Nicholas van Rauenstein, but I can find no other trace of it.
The first German translation was by a certain Alethophilus, and was printed at Hamburg in 1706 (8vo) under the title Hermetis Trismegisti Erkäntnüss der Natur, etc., containing seventeen pieces; this was reprinted at Stuttgart in 1855, in a curious collection by J. Schieble, entitled Kleiner Wunder-Schauplatz. 14 Part of the full title runs: K. W.-S. d. Wissenschaften, Mysterien, Theosophie, göttlichen und morgenländischen Magie, Naturkräfte, hermet. u. magnet. Phil., Kabbala, u. and. höhern Kentnissen, and much more in the same strain, but I have no doubt the reader has already had enough of it. From 1855 to 1857 fourteen parts appeared, mostly taken up with German translations of Hermes, of Agrippa's Philosophia Occulta from the Latin, and of The Telescope of Zoroaster from the French. The title reads Hermetis Trismegisti Einleitung in's höchste Wissen von Erkentniss der Natur und der darin sich offenbarenden grossen Grottes, with an appendix concerning the person of Hermes, etc.
But why Schieble should have reprinted Alethophilus' translation is not clear, when in 1781 a new translation into German, with critical notes and valuable suggestions for emending the text, had appeared by Dieterich Tiedemann (Berlin and Stettin, in 8vo), entitled Hermes Trismegists Pœmander, oder von der göttlichen Macht und Weisheit, a rare book which, already in 1827, Baumgarten-Crusius 15 Op. inf. cit., p. 10. laments as almost unfindable in the republic of letters, and of which the British Museum possesses no copy. 16 I have, therefore, not been able to avail myself of Tiedemann's labours. R. 322 speaks highly of them.
It is remarkable that of a work which exhausted so many editions in translation and was evidently received with such great enthusiasm, there have been so few editions of the text, and that for two centuries and a quarter 17 The last edition prior to Parthey's was the reprint of Flussas' text, at Cologne in 1630, appended to Rossel's lucubrations. no attempt was made to collate the different MSS. and editions, until in 1854 Gustav Parthey printed a critical text of the fourteen pieces of "Pœmandres," at Berlin, under the title Hermetis Trismegisti Pœmander, to which he appended a Latin translation based on the original version of Ficino successively revised by de Foix and Patrizzi. Parthey's promise to edit reliqua Hermetis scripta has not been fulfilled, and no one else has so far attempted this most necessary task.
Reitzenstein's (p. 322) opinion of Parthey's text, however, is very unfavourable. In the first place, Parthey took Patrizzi's arbitrary alterations as a true tradition of the text; in the second, he himself saw neither of the MSS. on which he says he relies. The first of these was very carelessly copied for him and carelessly used by him; while the second, which was copied by D. Hamm, is very corrupt owing to very numerous "corrections" and interpolations by a later hand — all of which Parthey has adopted as ancient readings. His text, therefore, concludes Reitzenstein, is doubly falsified — a very discouraging judgment for lovers of accuracy.
In 1866 there appeared at Paris, in 8vo, a complete translation in French of the Trismegistic treatises and fragments by Louis Ménard, entitled Hermès Trismégiste, preceded by an interesting study on the origin of the Hermetic books, of which a second edition was printed in 1867. This is beyond question the most sympathetic version that we at present possess.
Everard's version of the "Pœmandres" being reprinted in 1884 by Fryar of Bath, the rest of the treatises were retranslated by Anna Kingsford and Edward Maitland from Ménard's French version (including his notes), and appeared in 1885 (in 4to), published by Fryar, but bearing a publisher's name in India, under the general title The Hermetic Works: The Virgin of the World of Hermes Mercurius Trismegistus. Meantime, in 1882, J. D. Chambers had published (at Edinburgh, in 8vo) a crabbed and slavishly literal translation of the "Pœmandres," together with the Excerpts from Stobæus and the Notices of Hermes in the Fathers, with an introductory Preface, under the title, The Theological and Philosophical Works of Hermes Trismegistus, Christian Neoplatonist. Indeed, the loose and erroneous version of Everard is far more comprehensible than this fantastically literal translation.
For the last six years I have myself been publishing, in the pages of The Theosophical Review, translations of the Trismegistic Sermons and also a few of the studies now included in these Prolegomena; all of the former, however, have been now carefully revised, and the latter have for the most part been greatly enlarged and improved.
Finally, in 1904, E. Reitzenstein of Strassburg published at Leipzig his illuminating study, Poimandres, in which he gives the critical text of C. H., i., xiii. (xiv.), (xvi.)-(xviii.), based on five MSS. and the best early printed editions, with all that minute care, knowledge of palæography, and enthusiasm for philology which characterises the best textual-critical work of modern scholarship. Why, however, Reitzenstein has not done the same good service for the whole of the Corpus as he has done for the selected sermons, is a mystery. He is the very man for the task, and the service he could render would be highly appreciated by many.
So much, then, for the existing partial texts and translations of the extant Trismegistic literature. Of the translations with which I am acquainted, 18 As already remarked, I have not been able to see a copy of the German of Tiedemann. Everard's (1650), the favourite in England, because of its dignified English, is full of errors, mistranslations, and obscurities; it is hopeless to try to understand "Hermes" from this version. Chambers's translation (1882, from the text of Parthey) is so slavishly literal that it ceases to be English in many places, in others goes wide of the sense, and, in general, is exasperating. Ménard's French translation (1866, also from Parthey's text) is elegant and sympathetic, but very free in many places; in fact, not infrequently quite emancipated from the text. The most literally accurate translation is Parthey's Latin version (based on the Latin translation of Ficino, as emended by Candalle and Patrizzi); but even in such literal rendering he is at fault at times, while in general no one can fully understand the Latin without the Greek. To translate "Hermes" requires not only a good knowledge of Greek, but also a knowledge of that Gnosis which he has not infrequently so admirably handed on to us.
Lynn Thorndike: A History of Magic and Experimental Science during the first thirteen centuries of our era ⮵
Chief among these are the Hermetic books or writings books. attributed to Hermes the Egyptian or Trismegistus. "Under this name," wrote Steinschneider in 1906, "there exists in many languages a literature, for the most part superstitious, which seems to have not yet been treated in its totality."[1] The Egyptian god Thoth or Tehuti, known in Greek as Θωύϑ, Θώϑ, and Τάτ, was identified with Hermes, and the epithet "thrice-great" is also derived from the Egyptian aā aā, "the great Great." Citations of works ascribed to this Hermes Trismegistus can be traced back as early as the first century of our era.[2] He is also mentioned or quoted by various church fathers from Athenagoras to Augustine and often figures in the magical papyri. The historian Ammianus Marcellinus[3] in the fourth century ranks him with the great sages of the past such as Pythagoras, Socrates, and Apollonius of Tyana. Our two chief descriptions of the Hermetic books from the period of the Roman Empire are found in the Stromata[4] of the Christian Clement of Alexandria (C.150-C.220 A.D.) and in the De mysteriis[5] ascribed to the Neo-Platonist Iamblichus (died about 330 A. D.). Clement speaks of forty-two books by Hermes which are regarded as "indispensable." Of these ten are called "Hieratic" and deal with the laws, the gods, and the training of the priests. Ten others detail the sacrifices, prayers, processions, festivals, and other rites of Egyptian worship. Two contain hymns to the gods and rules for the king. Six are medical, "treating of the structure of the body and of diseases and instruments and medicines and about the eyes and the last about women." Four are astronomical or astrological, and the remaining ten deal with cosmography and geography or with the equipment of the priests and the paraphernalia of the sacred rites. Clement does not say so, but from his brief summary one can imagine how full these volumes probably were of occult virtues of natural substances, of magical procedure, and of intimate relations and interactions between nature, stars, and spirits. Iamblichus repeats the statement of Seleucus that Hermes wrote twenty thousand volumes and the assertion of Manetho that there were 36,525 books, a number doubtless connected with the supposed length of the year, three hundred and sixty-five and one-quarter days.[6] Iamblichus adds that Hermes wrote one hundred treatises on the ethereal gods and one thousand concerning the celestial gods.[7] He is aware, however, that most books attributed to Hermes were not really composed by him, since in other passages he speaks of "the books which are circulated under the name of Hermes,"[8] and explains that "our ancestors ... inscribed all their own writings with the name of Hermes,"[9] thus dedicating them to him as the patron deity of language and theology. By the time of Iamblichus these books had been translated from the Egyptian tongue into Greek.
There has come down to us under the name of Hermes a collection of seventeen or eighteen fragments which is generally known as the Hermetic Corpus. Of the fragments the first and chief is entitled Poimandres (Ποιμάνδϱης), a name which is sometimes applied to the entire Corpus. Another fragment entitled Asclepius, since it is in the form of a dialogue between him and "Mercurius Trismegistus," exists in a Latin form which has been ascribed probably incorrectly to Apuleius of Madaura as translator (Asclepius ... Mercurii trismegisti dialogus Lucio Apuleio Madaurensi philosopho Platonico interprete). None of the Greek manuscripts of the Corpus seems older than the fourteenth century, although Reitzenstein thinks that they may all be derived from the version which Michael Psellus had before him in the eleventh century.[10] But the concluding prayer of the Poimandres exists in a third century papyrus, and the alchemist Zosimus in the fourth century seems acquainted with the entire collection. The treatises in this Corpus are concerned primarily with religious philosophy or theosophy, with doctrines similar to those of Plato concerning the soul and to the teachings of the Gnostics. The moral and religious instruction is associated, however, with a physics and cosmology very favorable to astrology and magic. Of magic in the narrow sense there is little in the Corpus, but a Hermetic fragment preserved by Stobaeus affirms that "philosophy and magic nourish the soul." Astrology plays a much more prominent part, and the stars are ranked as visible gods, of whom the sun is by far the greatest. All seven planets nevertheless control the changes in the world of nature; there are seven human types corresponding to them; and the twelve signs of the zodiac also govern the human body. Only the chosen few who possess gnosis or are capable of receiving nous can escape the decrees of fate as administered by the stars and ultimately return to the spiritual world, passing through "choruses of demons" and "courses of stars" and reaching the Ogdoad or eighth heaven above and beyond the spheres of the seven planets.[11] Such Gnostic cosmology and demonology, especially the location of demons amid the planetary spheres, provides favorable ground for the development of astrological necromancy.
Not only is a belief in astrology implied throughout the Poimandres, but a number of separate astrological treatises are extant in whole or part under the name of Hermes Trismegistus,[12] and he is frequently cited as an authority in other Greek astrological manuscripts.[13] The treatises attributed to him comprise one upon general method,[14] one on the names and powers of the twelve signs, one on astrological medicine addressed to Ammon the Egyptian,[15] one on thunder and lightning, and some hexameters on the relation of earthquakes to the signs of the zodiac. This last is also ascribed to Orpheus.[16] There are various allusions to and versions of tracts concerning the relation of herbs to the planets or signs of the zodiac or thirty-six decans.[17] These treatises attribute magic virtues to plants, include a prayer to be repeated when plucking each herb, and tell how to use the astrological figures of the decans, engraved on stones, as healing amulets.
Works under the name of Hermes Trismegistus are cited by Greek alchemists of the closing Roman Empire, such as Zosimus, Stephanus, and Olympiodorus, but those Hermetic treatises of alchemy which are extant are of late date and much altered.[18] Some treatises are preserved only in Arabic; others are medieval Latin fabrications. The Greek alchemists, however, seem to have recited the mystic hymn of Hermes from the Poimandres.[19]
Hellenistic and Roman astrology sought to extend its roots far back into Egyptian antiquity by putting forth spurious treatises under the names, not only of Hermes Trismegistus, but also of Nechepso and Petosiris,[20] who were regarded respectively as an Egyptian king and an Egyptian priest who had lived at least seven centuries before Christ. Indeed, they were held to be the recipients of divine revelation from Hermes and Asclepius. A lengthy astrological treatise, which Pliny[21] is the first to cite and from a fourteenth book of which Galen[22] mentions a magic ring of jasper engraved with a dragon and rays, seems to have appeared in their names probably at Alexandria in the Hellenistic period. Only fragments and citations ascribed to Nechepso and Petosiris are now extant.[23]
Yet another astrological work which claims to be drawn from the secret sacred books and cryptic monuments of ancient Egypt is ascribed to Manetho. It is a compilation in verse of prognostications from the various constellations and is regarded as the work of several writers, of whom the oldest is placed in the reign of Alexander Severus in the third century.[24]
— New York and London: Columbia University Press, 1923, I, pp. 288-293.
Roelof van den Broek: Hermes Trismegistus ⮵
It would be wrong to see in Hermes Trismegistus no more than Thot in Greek disguise. This even holds for the magical papyri, as can be seen from the prayers that are sometimes addressed to Hermes (Trismegistus), though it is in these papyri that the continuity between the Egyptian Thot and the Hellenistic Thot-Hermes is most clearly visible (Festugière, Révélation, I, 283-308). Nevertheless, even in the later period there remained authors who liked to describe Hermes Trismegistus with almost all the characteristic features of the Egyptian Thot, as, for instance, appears from a hermetic text quoted by Cyril of Alexandria, Contra Julianum I, 41. The hermetist, the same who composed 15 hermetic book in Athens, declared that Hermes, inter alia, had measured the land of Egypt and divided it into nomes and smaller units, had cut the irrigation canals, and that he was the maker of contracts and the inventor of all kinds of sciences and arts.
The name Trismegistus also reflects Egyptian usage. It is first attested in the late 2nd century A.D., in Athenagoras, Legatio, 28, 6, who says that Hermes, 'who is called Trismegistus', just like Alexander the Great linked his family with the gods (Fowden, 216-217). The closing line of the Roman satirist Martial's epigram on the gladiator Hermes (Epigrammata, V, 24, 15), 'Hermes, the only one who is all things, the thrice-one' (Hermes omnia solus ter unus), cannot be taken as proof of the existence of the term Trismegistus in the last decades of the 1st century A.D. (Versnel). In Egyptian the superlative was expressed by repeating the positive two or three times, and this was taken over in literal Greek translations: "great (megas) and great (megas) (and great [megas]" means "very great" or "greatest". Probably because of a Greek misunderstanding of the Egyptian writing of the superlative, already the Raffia decree of 217 B.C. calls Hermes 'the greatest (megistos) and the greatest (megistos)'. In an oracle text from Saqqara which dates from 168-164 B.C., mention is made three times of "the greatest (megistos) and greatest (megistos) and great (megas) god Hermes". It seems quite certain that we have here a Greek combination of two well-known divine epithets: "the greatest and the greatest" and "the great god" (Versnel, Quaegebeur). However, there existed demotic forms as "great, great, great" with an adverb indicating the superlative = "three times very great" (first attested in an inscription of 105 B.C.; in the Roman period even the title "five times very great" was used for Thot), which, in fact, simply means "the greatest" (Quaegebeur). The Greek form "greatest and greatest and greatest", which would be the exact equivalent of Trismegistus, has not been found so far and may have never existed, but there is little doubt that the demotic expression has given rise to the Greek epithet. From its Egyptian background it should have been translated as megistos, "the greatest" or as trismegas, "the thrice-great" (which occurs in a 3rd century papyrus). However, similar abundant superlatives with the prefix tris- were not uncommon in later Greek: the form trismakaristos ("thrice-most blest" = trismakar(ios), "thrice-blest"), is found in the 2nd-century writer Lucian, i.e. contemporarily with the first attestation of the epithet Trismegistus in Athenagoras.
Hermetic Disciples and Teachers ⮵
A curious result of the separation of Thot and Hermes Trismegistus was the re-emergence of Thot in the figure of Tat, as the son, pupil and successor of Hermes, to whom many tractates are addressed. The hermetic authors were apparently completely unaware of the fact that both personalities originally had been identical. In C.H. XVII it is Tat himself who instructs an unnamed king, probably Ammon.
Asclepius was another important pupil of Hermes Trismegistus. The Perfect Discourse/Asclepius was devoted to him, but he also acted as a teacher himself, as appears from the title of C.H. XVI, Definitions of Asclepius to King Ammon. In Hellenistic Egypt, the cult of the Greek god Asclepius merged with that of the Egyptian Imhotep, especially in Memphis and Thebes. The two gods had in common that they were gods of healing and medicine and had both started their career as deified men. Nevertheless, they were rarely completely identified, because Imhotep's healing capacity was only one of his qualities. In fact, he had many features in common with Thot and was seen as the personification of wisdom. In Greek literary texts he retained an independent existence as Imouthes. This state of affairs is reflected in the Asclepius, 37, where the two gods are clearly distinguished: Imhotep is said to be Asclepius' grandfather, just as Thot is the grandfather of Hermes Trismegistus.
King Ammon is a much less important hermetic figure. He is no other than the euhemerist version of the Egyptian god Amun, who was called Zeus-Ammon by the Greeks and had a great reputation as oracle god. In Plato's Phaedrus, 274de, already mentioned above, it is Thot himself who discusses with King Thamus, i.e. the humanized Ammon, all kinds of sciences, in particular the art of writing. Whereas C.H. XVI makes him a disciple of Asclepius, he participates, as Hammon, with Asclepius and Tat in the discussions of the Asclepius, and it was for him that, according to Iamblichus, the prophet Bithys had translated the teachings of Hermes into Greek (see above). This Bithys remains a mysterious personality, but from Iamblichus and → Zosimus we know that he was a theurgical authority (Fowden, 150-153).
The goddess Isis was also seen as a teacher of hermetic doctrines. In the Hellenistic and Roman period she was identified with almost every Egyptian, Greek and Oriental goddess, 'you are the One who is everything' (una quae es omnia). In Greek aretalogies, hymns of praise, she was hailed as 'educated by Hermes' and, inter alia, as having invented, together with Hermes, the hieroglyphic and demotic scripts (Bergman). She was said to have taught the medical, mantic and alchemical arts to her son Horus (Festugière, in NF III, CXXVI-CXXVII). In Stobaeus, Fragm. XXIII-XXVII, she acts as the hermetic teacher of Horus, while she is supposed to have been instructed herself by Hermes Trismegistus. This is explicitly stated in Stobaeus, Fragm. XXIII (Korè Kosmou), though this writing also has another tradition about Kamephis as intermediary between Hermes and Isis (see below).
Agathodaimon (Agathos Daimòn), who according to Pseudo-Manetho was the father of Hermes Trismegistus, plays an unimportant part in the philosophical Hermetica, but his role in ancient magic and alchemy is all the more important and equals that of Hermes. Having started in Greece as a rather vague domestic god of luck and prosperity, he finally became associated with a variety of Greek deities and, in Hellenistic Egypt, with the Egyptian snake-god Kneph (Knephis, Chnoubis) in particular, but also with Amon, Thot, Isis, Horus, and others (Ganschinietz, 51; Copenhaver, 164-165). In Korè Kosmou, 32, Isis pretends to transmit to her son Horus 'a secret doctrine that my ancestor Kamephis learned from Hermes, the recorder of everything, and I from Kamephis, who is older than all of us'. It seems that Kamephis is none other than the late Egyptian god Kematef, who was identified with Kneph and Agathodaimon (Barta; but see Festugière, NF III, CLXII-CLXVIII). Sayings of Agathodaimon are quoted in C.H. XII, 1, 8 and 13, though in the second passage Hermes deplores that Agathodaimon has not given it out in writing. Cyril of Alexandria, Contra Julianum, II, 30 (NF IV, 136-140, Fragm. 31 and 32; Ferguson, in Scott IV, 213-214), knew a Discourse to Asclepius, in which Hermes quotes some teachings of Agathodaimon to Osiris about the origin of the earth and the sun. It remains unclear, however, whether this information was actually found in a philosophical or alchemical treatise under the name of Agathodaimon or is simply a case of literary fiction.
— Roelof van den Broek in: Wouter J. Hanegraaff: Dictionary of Gnosis and Western Esotericism. Leiden: Brill, 2006. pp. 475-476 & 477-478.
Christian Wildberg: The General Discourses of Hermes Trismegistus ⮵
To conclude: In light of the facts that 1) Hermetic texts, not unlike Platonic dialogues, draw deliberate attention to the oral background from which they emerged, that 2) not a scrap of direct evidence of the genikoi logoi remains, that 3) not even ancient scholars seem to have had any notion what these genikoi logoi were all about, and that 4) in the majority of cases in which they are referred to, we encounter the language of orality, it is probably best to regard the genikoi logoi as introductory oral lectures or perhaps even public speeches. It would be a mistake to think that by the time of late antiquity, the oral dissemination of information had been superseded by an entirely literary intellectual culture. If the genikoi logoi had a Sitz im Leben, their function may have been oral instructions directed, perhaps, at a general audience of laymen or beginners coming into contact with Hermetism for the first time. But since we know nothing about the social reality of ancient Hermetism and have little reason to believe in the historicity of Hermes, Tat and Asclepius, it seems safest, for the time being, to think of the genikoi logoi as Hermetic fictions designed to conjure up the semblance of a social reality behind our tractates. The might well be no more than a part of the inventory of the Hermetic imaginary. But regardless of whether the genikoi logoi were real or imagined, their purpose was preparatory for the studied and polished protocols of teacher-student interaction that we still witness in the Corpus Hermeticum; it is therefore not necessary to worry about what they may have contained.
— pp. 14-15.
Paolo Scarpi: Hermetische Tradition ⮵
Das ‹Corpus Hermeticum› besteht aus insgesamt siebzehn Traktaten in griechischer Sprache. Die ersten vierzehn entstammen dem vom Mönch Leonardo da Pistoia 1459 aus Makedonien nach Florenz überbrachten und Cosimo de' Medici übereigneten Manuskript; letzterer beauftragte im Jahre 1463 Marsilio Ficino mit deren Übersetzung (Scarpi 2009 [*156: XXV]). Diese Übertragung erschien 1471 in Treviso, eine zweite 1472 in Ferrara, allerdings ohne die Traktate XVI–XVIII, die in der ihm verfügbaren Handschrift fehlten. Jene letzten drei Schriften waren dagegen Ludovico Lazzarelli [*20] bekannt, der sie 1507 erstmals übersetzte. Die 'editio princeps' des griechischen Texts des ‹Corpus Hermeticum› geht auf Adrien Turnèbe zurück (1554 [*21]); die Traktate XVI–XVIII figurieren darin unter dem Titel ‹Aesculapi definitiones›. Zwischen den Traktaten I–XIV und XVI–XVIII schob der Herausgeber als 'caput' XV drei Auszüge aus Stobaios ein, denen später Flussas (François de Foix-Candale) in seiner Ausgabe von 1574 noch ein Stück aus der ‹Suda› hinzufügte. Die so entstandene Zählung hat sich bis heute gehalten.
Von den einzelnen Traktaten auch nur eine kurze Inhaltsübersicht zu geben, erweist sich wegen der Komplexität der Themen und auch wegen ihrer häufigen Repetivität als unmögliches Unterfangen. Am meisten Kohärenz und Vollständigkeit im Hinblick auf Lehrinhalte zeigt ohne Zweifel Corp. Herm. I, das auch unter dem Namen ‹Poimandres› bekannt ist, entsprechend dem Namen der dort auftretenden göttlichen Figur, die Νοῦς, Intellekt und daher höchster Gott, ist. Der Traktat entfaltet sich entlang dreier großer thematischer Komplexe, die 'in nuce' enthalten, was in anderen Traktaten, und sei es zuweilen auch nur in Teilen, entwickelt wird: Kosmogonie, Anthropogonie und Eschatologie.
Mit diesem Traktat ist in erster Linie der λόγος XIII in Verbindung zu setzen, der um die Offenbarung der Lehre von der «Wiedergeburt» (παλιγγενεσία) und der Etappen kreist, durch die diese zu Stande kommt. Wichtig ist dabei besonders die Befreiung vom sinnlich wahrnehmbaren Körper, Resultat einer anthropologischen Reflexion, die vom ‹Poimandres› ihren Ausgangspunkt genommen hat und in den λόγοι X–XII ihre Weiterführung erfährt. Nicht wenige Parallelen zu diesem Traktat und seiner Wiedergeburtslehre finden sich in der koptischen Version, die unter dem Namen ‹De Ogdoade et Enneade› bekannt ist (siehe dazu Mahé 1978 [*23: 41–47], Camplani 2000 [*33: 76–81]; vgl. unten 3.7.). Der λόγος X, bekannt als ‹Der Schlüssel› (ϰλείς), stellt in Wirklichkeit eine Kurzfassung (ἐπιτομή) der ‹Allgemeinen Gespräche› dar, d. h. hermetischer Schriften, von denen nichts anderes als diese Bezeichnung bekannt ist, und er bringt auch eine synthetische Darstellung der hermetischen Lehren, die den drei Wesen gewidmet sind (X 14): «Gott (der Vater und das Gute), die Welt und der Mensch» (τϱία τοίνυν ταῦτα, ὁ ϑεὸς ϰαὶ πατὴϱ ϰαὶ τὸ ἀγαϑόν, ϰαὶ ὁ ϰόσμος, ϰαὶ ὁ ἄνϑϱωπος). Der Traktat XI, im Wesentlichen theologischen Inhalts, hat Gott und die der «Entstehung» (γένεσις) unterworfenen Wesen zum Thema, was in philosophischen Termini ausgedrückt zweifellos dem 'Werden' entspricht, in der kosmologischen Vision des Hermetismus allerdings das Eintreten in die Existenz, die physische Geburt der seienden Dinge bedeutet. Der λόγος XII ‹Über den gemeinsamen Intellekt› (Πεϱὶ νοῦ ϰοινοῦ) betitelt, ist in zwei Teile gegliedert: Der erste (Kapitel 1–14) stellt den Intellekt ins Zentrum seines Lehrentwurfs, der zweite (Kapitel 14–23) den Kosmos, der in Übereinstimmung mit einer der Bedeutungen von griechisch ϰóσμος vor allem als «Ordnung» begriffen wird.
Das als 'Corp. Herm. II' bekannte Stück ist in Wirklichkeit ein Torso, denn es fehlt ihm der erste Teil: Nach allgemeiner Ansicht ist zwischen dem ‹Poimandres› (Corp. Herm. I) und dem Traktat II in seiner heutigen Form ein Abschnitt verschwunden, der in der Tat zu Corp. Herm. II gehört haben muss und wovon lediglich der Titel ‹Allgemeine Rede des Hermes an Tat› (Ἑϱμοῦ πϱὸς Τὰτ λόγος ϰαϑολιϰός) erhalten geblieben ist. Dieser λόγος II, der durch dichte philosophische Sprache gekennzeichnet ist, könnte auch mit ‹die Wesensmerkmale Gottes› überschrieben werden. Er wird in den abschließenden Worten des Hermes an Asklepios als vorbereitende «Einführung in die Kenntnis über die Natur aller Dinge» (πϱογνωσία τις τῆς πάντων φύσεως: II 17) vorgestellt. Erheblich verdorben und entsprechend dunkel ist der Text von Corp. Herm. III, der mehr oder weniger getreu den Inhalt des ‹Poimandres› wiedergibt. Thema sind «Gott, das Göttliche und die göttliche Natur» (ϑεὸς ϰαὶ ϑεῖον ϰαὶ φύσις ϑεία: III 1), eine Dreiteilung, die durch das gesamte 'Corpus' hindurch in der dargestellten Lehre ihre Erklärung und Untermauerung findet. Der ‹Mischkrug oder die Monade› (Ὁ ϰϱατήϱ, ἢ μονάς) sind die für λόγος IV geläufigen Titelbezeichnungen. Dieser kreist um die Einzigkeit Gottes, eines Gottes, der mittels des λόγος erschafft und in absoluter Weise gut ist, entsprechend dem Denkmuster, das Gott mit dem Guten identifiziert. Es ist ein Gott, der als «Monade» (μονάς), als «Ursprung und Wurzel von allem» (πάντων ἀϱχὴ ϰαὶ ῥίζα: IV 10) erscheint, in allem gegenwärtig ist, in sich selbst seinen Ursprung hat und allem seinen Ursprung gibt und alles einschließt, ohne selbst in irgendetwas eingeschlossen zu sein. Dieser Gott hat dem Menschen schließlich ein großes Geschenk gemacht, den Geist (νοῦς), doch «hat er den Geist nicht allen zugeteilt» (οὐ πᾶσιν ἐμέϱισε τὸν νοῦν ὁ ϑεός: IV 3). Als eine «Auszeichnung» (ἆϑλον) für die Seelen wurde der Geist in einem großen «Mischkrug» (ϰϱατήϱ) gesammelt, und es wurde ein «Bote» (ϰῆϱυξ) zu den Menschen geschickt, der diese einladen sollte, in dieses Gefäß «einzutauchen» (βαπτίζεσϑαι). Die theologische Abhandlung Corp. Herm. V (Ὅτι ἀφανὴς ϑεὸς φανεϱώτατός ἐστι – ‹Dass der unsichtbare Gott vollkommen sichtbar ist›) handelt von der Sichtbarkeit Gottes, der jedoch «unsichtbar» bleibt. Besonders kurz gehalten, allerdings gut gegliedert, ist Corp. Herm. VI (Ὅτι ἐν μόνῳ τῷ ϑεῷ τὸ ἀγαϑόν ἐστι, ἀλλαχόϑι δὲ οὐδαμοῦ – ‹Dass nur in Gott das Gute ist, und sonst nirgends›): Ein erster Teil ist dem Guten gewidmet, das nichts anderes als Gott ist, ein zweiter dem Schönen und dem Guten. In Übereinstimmung mit vielen Stellen aus dem Schlussteil des ‹Poimandres› handelt Corp. Herm. VII davon, ‹Dass die Unkenntnis über Gott das größte Übel unter den Menschen ist› (Ὅτι μέγιστον ϰαϰὸν ἐν ἀνϑϱώποις ἡ πεϱὶ τοῦ ϑεοῦ ἀγνωσία). Ebenfalls sehr kurz ist Corp. Herm. VIII (Ὅτι οὐδὲν τῶν ὄντων ἀπόλλυται, ἀλλὰ τὰς μεταβολὰς ἀπωλείας ϰαὶ ϑανάτους πλανώμενοι λέγουσιν – ‹Dass nichts von den seienden Dingen zugrunde geht, sondern man irrtümlicherweise die Veränderungen als Untergang oder Tod bezeichne›), das nach dem Diatribenschema strukturiert ist. Sein Ziel scheint der Nachweis der Unhaltbarkeit der Idee des Todes zu sein – es handle sich vielmehr einzig um eine «Umwandlung» (μεταβολή), der alles auf der Welt unterworfen sei. Corp. Herm. IX (πεϱὶ νοήσεως ϰαὶ αἰσϑήσεως) schließlich, von komplexer und vielgliedriger Gestalt, scheint sich insbesondere mit der Unterscheidung zwischen «intellektuellem» Vermögen (νόησις) und «sinnlicher Wahrnehmung» (αἴσϑησις) zu beschäftigen. Die νόησις ist mit dem Sein verbunden – sie ist daher «seinshaftig» (οὐσιώδης) –, die αἴσϑησις dagegen mit der Materie – sie ist «materiell» (ὑλιϰή).
In Gestalt eines Briefes des Hermes an Asklepios präsentiert sich Corp. Herm. XIV, ein Werk, das Kyrill von Alexandrien (Contra Iul. 2,42) einer Schrift ‹Über die Natur des Alls› (Πεϱὶ τῆς τοῦ παντὸς φύσεως) des Hermes Trismegistos zuschreibt. Inhalt dieses λόγος ist eine mysterienhafte, an eine Initiation erinnernde Offenbarung, die logisch zu erweisen sucht, dass ein «ungezeugtes» (ἀγέννητος) Prinzip existiert, Schöpfer oder Erzeuger alles Geschaffenen, einzigartig, unsichtbar, allerdings sichtbar durch seine Schöpfungen. Wie bereits erwähnt, ist λόγος XV in der handschriftlichen Überlieferung inexistent. Der Traktat Corp. Herm. XVI mit dem Titel Ὅϱοι Ἀσϰληπίου πϱὸς Ἄμμωνα βασιλέα (‹Definitionen des Asklepios an den König Ammon›) lässt eine ethnozentrische Perspektive erkennen und besitzt die Züge einer zusammenfassenden Darstellung theologischer, kosmologischer, dämonologischer und anthropologischer Fragen. Kurz und unvollständig erhalten ist Corp. Herm. XVII (ohne überlieferten Titel), dessen theologischer Inhalt allerdings nicht zu verkennen ist. Traktat XVIII (Πεϱὶ τῆς ὑπὸ τοῦ πάϑους τοῦ σώματος ἐμποδιζομένης ψυχῆς – ‹Über die Seele, die von den Affekten des Körpers behindert wird›) schließt sich in formaler Hinsicht an rhetorische Vorbilder von Lobreden an, insbesondere von solchen auf Könige, die von Gott das Szepter erhalten haben; es handelt sich letztlich um eine Zusammenstellung verschiedener epideiktischer Fragmente.
— In: Hermetische und Orphische Literatur, ‹Chaldäische Orakel›, Theosophien. Basel: Schwabe. pp. 1160-1161.