Hermes Trismegistos – Gabriel Du Préau:
DEVX | LIVRES DE MER-|CVRE TRISMEGISTE HER-|més tres ancien Theologien, & excellant Philozo-|phe, L'vn de la puiſſance & ſapience de Dieu. | L'autre de la volonté de Dieu. Auecq'vn | Dialogue de Loys Lazarel, poëte | Chrestien intitulé le Baßin | d'Hermés. | Le tout traduit de Grec en francoys par Gabriel du | Preau, natif de Macouſſis pres montl'hery.

Kolophon fol. X7v: Imprimé par Estienne Groulleau, Libraire | demeurant à la rue Neuue noſtre Dame à | l'enſeigne ſaint Ian Baptiſte. | 1557.
Paris: Estienne Groulleau, 1557.
Octavo. 154 × 100 mm. [12], 167 Blätter. – Lagenkollation: â8, ê4, A-X8 (-fol. X8 weiß). Mit Holzschnittdruckermarke auf dem Titel, zahlreichen Holzschnittinitialen und Holzschnittleiste zu Textbeginn.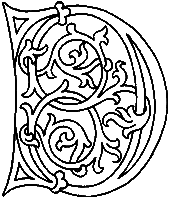 unkelbraunes französisches Maroquin des 18. Jahrhunderts mit glattem, leicht gerundetem Rücken, der durch goldgeprägte Fileten in fünf Felder eingeteilt ist, auf zweitem Feld ein rotes, goldgeprägtes Titelschildchen, die anderen mit goldgeprägten Stempeln: mittig je ein fleurales Ornament, in den Ecken kurze, gepunktete Linien. Steh- und Innenkantenvergoldung, handgestochene zweifarbige Kapitale, Vorsätze aus roséfarbener Seide.
Zweite, überarbeitete Ausgabe dieser französischen Übersetzung; die erste, nur auf lateinischen Vorlagen beruhende erschien 1549. Sie umfaßt Corpus Hermeticum I-XIV, Asclepius und Lazarellis Crater Hermetis. Eine der frühesten Übersetzungen in eine der europäischen Volkssprachen überhaupt: Auf Ficinos berühmte lateinische Übertragung, Erstdruck 1471, folgte 1548 Tommaso Bencis (Bensi, 1427-1470) italienische Version des Poimandres, kurz darauf die französische durch Gabriel du Préau. Erst 1650 folgte eine englische, 1706 die erste deutsche.

¶ Du Préau ist sich bereits 1549 in der ersten Ausgabe seiner Übersetzung der textlichen Probleme bewußt, die das Corpus Hermeticum bietet: « car les latins sont si fort corrumpuz et si vicieusement imprimez qu'il y a presques autant de fautes que de bon motz », und er bedauert den Mangel an griechischen Handschriften. Zudem sei der Text unvollständig überliefert, so fehle zum Beispiel der Beginn der zweiten Abhandlung. Er bemerkt dazu: « Je me suis semblablement aidé de troys exemplaires en divers lieux inprimez, l'un à Venise l'autre à Paris, l'autre à Basle, lesquelz en maints lieux se contrarient: ou certes ay tousiours usé de celuy qui m'a semblé approcher au plus pres du sain & entier sens de l'Autheur. Ou ie laisse a penser, combine i'ay eu en cela l'esprit vexé & tormenté. »

¶ Du Préau benutzte für diese neue Ausgabe des Jahres 1557 neben der griechischen Editio princeps drei verschiedene lateinische, zu Venedig, Paris und Basel gedruckte Werke, bei denen es sich wohl um eine venezianische Ausgabe der Ficino-Übersetzung (1481, 1491 oder 1493), eine zu Paris oder Venedig gedruckte Ausgabe jener des Lefèvre d'Etaples, die das Corpus Hermeticum sowie den Asclepius und den Crater Hermetis enthält, sowie die Baseler von 1532 desselben Herausgebers handelt.
¶ Du Préaus Bemerkung 'le tout traduit de Grec' auf dem Titel vorliegender Ausgabe von 1557 kann sich nur auf seine Übersetzung von CH I-XIV – nicht auf den Asclepius – beziehen, da die vom Humanisten Adrianus Turnebus, Adrien Turnèbe, anhand eines griechischen Manuskriptes edierte, 1554 zu Paris erschiene Editio graeca princeps Ἑϱμού του Τϱισμεγίστου Ποιμάνδϱης. Ἀσϰληπιού Ὅϱοι πϱος Ἄμμονα Βασιλέα. Mercurii Trismegisti Poemander, seu de potestate ac sapientia divina (Adams H346) griechisch nur CH I-XVIII enthält und im zweiten Teil lateinische Texte wie Ficinos Übersetzung des Pœmander sowie Æsculapii definitiones ad Ammonem regem, siehe die vier letzten Abbildungen oben.

¶ Griechische bzw. koptische Fragmente des Asclepius wurden erst später entdeckt wie z. B. ein größeres Fragment in den Naǧ-Ḥammādī-Codices, VI,8, mit Asclepius 21-29.

¶ Der Widmung an den königlichen Rat Jacques de Basordan, ff. a2r-a3v, folgt eine Biographie des Hermes samt Argumentum, das auf dem Ficinos basiert, ff. a4r-a7v. Einem lateinischen Widmungsgedicht an den Leser schließt sich das Inhaltsverzeichnis an.

¶ "Also, heLefèvre d'Etaples, as well as Gabriel du Préau, rfm included in the same volume with the Pimander and the Asclepius, a most extraordinary work which had been written before 1494 by Ludovico Lazzarelli4.2.1447 San Severino – 23.6.1500, "Italian humanist, poet, Christian hermetist, and pioneer of Christian kabbalah (...) It is in 1481 that Lazzarelli met the strange apocalyptic prophet Giovanni da Correggio (ca. 1451?-after 1503): an event that proved decisive for the rest of his life. (...) In 1482 Lazzarelli produced a beautiful manuscript containing the complete 'philosophical' hermetica in Latin, and offered it as a gift to his beloved teacher. Its first part contained Marsilio Ficino's Pimander (1471), that is to say, Corpus Hermeticum I-XIV. The second part contained the Asclepius. The third part contained a Latin translation of the remaining three tracts of the Corpus Hermeticum (nowadays known as C.H. XVI-XVIII), which Lazzarelli had discovered in a manuscript different from the one used by Ficino, and which had not been translated into Latin before. (...) Lazzarelli's concept of spiritual regeneration is described in his most important hermetic work, called 'A Dialogue on the Supreme Dignity of Man, entitled the Way of Christ and the Mixing-Bowl of Hermes'. Mostly referred to as the Crater Hermetis, and written probably between 1492 and 1494, it is one of the purest examples of hermetic-christian syncretism known to us." — Wouter J. Hanegraaff: Dictionary of Gnosis and Western Esotericism. Leiden: Brill, 2006. p. 679 sqq., a most enthusiastic and exaggerated Hermetist. This was the Crater Hermetis, which was modelled on one of the regeneration treatises of the Hermetica (Corpus Hermeticum IV) and which describes in most excited language the passing on of the regenerative experience from a master to a disciple. In his valuable study of this work, P. O. Kristeller has suggested that it is meant to allude to Christ's inspiration of His disciples with His spirit, now interpreted as the Hermetic experience which can be repeated in modern times by an inspired Hermetist. (…) There are Cabalistic, as well as Hermetic, elements in the Crater Hermetis and its allied documents."
— Frances Yates: Giordano Bruno and the Hermetic Tradition, London: Routledge and Kegan Paul, 1964, p. 171.

¶ "In 1505 the first-named edited at Paris a recent work entitled, The Basin of Hermes, by Lodovico Lazzarelli together with the Pimander and Asclepius of Hermes Trismegistus. Lazzarelli was also the author of a work on alchemy, thus illustrating the fact that theosophy and chemistry have been historically associated. The Crater Hermetis was reprinted at Paris in 1522, and in 1557 in French translation, attesting the popularity then of such mystical philosophy. Kristeller has recently shown that Lazzarelli became a disciple of the wandering magician or prophet, Giovanni Mercurio, whose sensational appearance at Lyons is recorded by Trithemius and Surius. To him Lazzarelli addressed three prefaces, hitherto unpublished, to Hermetic writings. In these he spoke of himself as 'Lodovicus Enoch Lazarellus Septempedanus, once a poet but now by new rebirth the son of true wisdom.' He therefore appears to be the author of a Letter of Enoch describing how Giovanni Mercurio rode through the streets of Rome on April 11, 1484, on horseback wearing a crown of thorns, and his appearance on another occasion before the college of cardinals."
— Lynn Thorndike: A History of Magic and Experimental Science. VI. New York: Morningside Heights, Columbia University Press, 1941. pp. 437-438.

¶ "Du Préau's book also contains abundant commentaries of his own, some of which were designed to establish parallels between the narrative of creation according to Moses and that of C.H. I."
— Antoine Faivre in: Wouter J. Hanegraaff: Dictionary of Gnosis and Western Esotericism. Leiden: Brill, 2006. p. 535.

¶ Gabriel Du Préau, Dupréau oder Prateolus (1511-1588), war Doktor der Theologie an der Sorbonne und ein entschiedener Gegner der Reformation; cf. Jöcher III,1755.
Hoffmann II,212 – Schweiger I,134 – Graesse III,251 – Caillet II,5095 – Rosenthal 449 – Duveen 290 (mit Kollation) – F. van Lamoen: Hermes Trismegistus – Pater philosophorum no. 54, das Exemplar der Bibliothèque Nationale – Brunet III,1648 – Ebert 9488 – BM STC 223 nur mit Ausg. 1549 – nicht bei Adams – Bibliographien – PDF des Buches – PDF der gr. ed. princ. 1554.
Die Abbildungen stammen aus Angebotschreiben des Jahres 2008, sie sind bearbeitet und geben nicht den Originalzustand wieder, jene des Inhaltsverzeichnisses sind der besseren Lesbarkeit wegen im Schriftblock etwas vergrößert. Die vier letzten Abbildungen geben Titel, fol. α2r, erste Seite des gr. sowie des lat. Textes der Ausgabe 1554 wieder.
Wouter J. Hanegraaff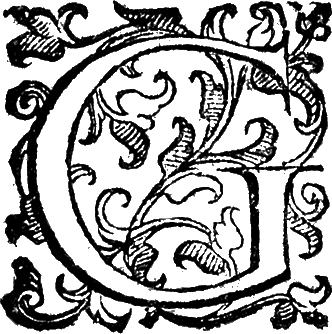 abriel du Préau's French translation of the Corpus Hermeticum, published in 1549, was based upon three different editions of Ficino's Latin translation, and du Préau notes himself that these contradicted one another in so many respects that it made him quite nervous. The hierarchy of types of knowledge in c.h. ix.10 has vanished in Du Préau as it had in Ficino. In the translation of c.h. x.5, the original idea that perfect knowledge requires 'suppression of the senses' is even changed by du Préau into its opposite: he writes that we need to apply all our senses to the task! Perhaps most interesting is the case of c.h. xiii.3: du Préau does re-insert the final line that was omitted in Ficino's translation, and his French version can be rendered as follows:
What we see here is that the passage is interpreted in terms of a vision given to Hermes by God through a special act of grace, and as an allusion to a Christian understanding of interior rebirth or regeneration. Du Préau added a marginal note of explanation to emphasize that point:
As for the passage in c.h. xiii.11, du Préau rendered it quite nicely as follows:
Note that the original reference of being 'before the womb, in the womb, after the womb', with its hint of transmigration or reincarnation, has been silently removed: the pupil now experiences himself as being present in 'all bodies'. In sum, I would say that du Préau's translation reflects a certain degree of progress in interpretation of the Hermetic message: although it is thoroughly Christianized, we can at least see now that a process of interior "rebirth" is taking place.
— Wouter J. Hanegraaff: How Hermetic was Renaissance Hermetism? In: Aries – Journal for the Study of Western Esotericism 15 (2015). pp. 200-202.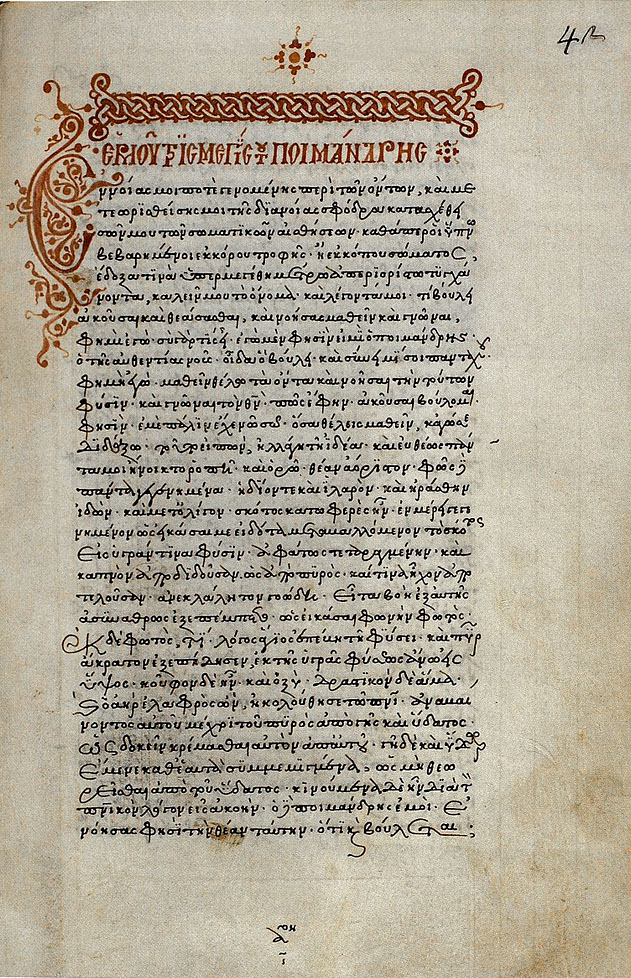 Biblioteca Nazionale Marciana, Gr. Z. 263 (= 1025), 15. Jh., fol. 42r.


---
---
---
---
---
Argumentum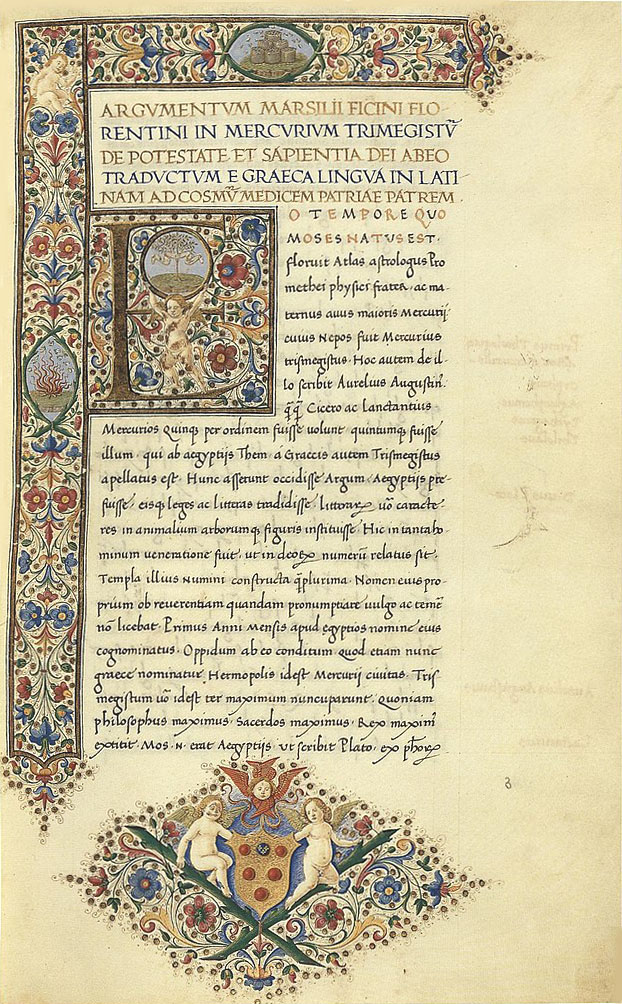 Firenze, Biblioteca Medicea Laurenziana, Plut. 21.8, f. 3r.
– I –
– II –
– III –
– IV –
– V –
– VI –
– VII –
– VIII –
– IX –
– X –
– XI –
– XII –
– XIII –
– XIV –
– XVI –
– XVII –
Of Asclepius to the King ⮵
– XVIII –
The Encomium of Kings — About the soul's being hindered by the passion of the body ⮵
---
The Discourse on the Eighth and Ninth ⮵
Κόϱη ϰόσμου — The Virgin of the World, translated by G. R. S. Mead, 1906 ⮵
---
---
III — From the Sermon of Isis to Horus
---
Concerning the Inbreathing and the Transmigration of the Soul
Tabula Smaragdina ⮵
Hans Dieter Betz
Etymologie
---
---
---
Griechischer Text ⮵
Gustav Parthey: Hermetis Trismegisti Poemander, Berlin: Nicolai, 1854;
Richard Reitzenstein: Poimandres. Studien zur griechisch-ägyptischen und frühchristlichen Literatur, Leipzig: Teubner, 1904;
Walter Scott: Hermetica, The Ancient Greek and Latin Writings which contain Religious or Philosophic Teachings, ascribed to Hermes Trismegistus, 1, Oxford: Clarendon Press, 1924;
Charles Harold Dodd: The Bible and the Greeks, London: Hodder and Stoughton, 1935;
Arthur Darby Nock mit frz. Übers. von André-Jean Festugière: Hermès Trismégiste, 4 Bände. Paris: Les Belles Lettres, 1945-1954.
---
Übersetzungen ⮵
"Φημὶ ἐγώ, Σὺ γὰϱ τίς εἶ; Ἐγὼ μέν, φησίν, εἰμὶ ὁ Ποιμάνδϱης, ὁ τῆς αὐϑεντίας νοῦς· οἶδα ὃ βούλει, ϰαὶ σύνειμί σοι πανταχοῦ."


"Tum ego, quisnam es? inquam. — Sum, inquit ille, Pimander, mens diuinæ potentiæ, at tu uide quid uelis; ipse uero tibi ubique adero."
— Marsilio Ficino: Pimander.


"Then said I, 'Who art Thou?' 'I am,' quoth he, 'Poemander, the mind of the Great Lord, the most Mighty and absolute Emperor: I know what thou wouldest have, and I am always present with thee.'"
— John Everard: The Divine Pymander of Hermes Mercurius Trismegistus, London, 1650.


"aio ego: Tu vero quis es? Ego equidem, inquit, sum Poemander, mens eius qui dominus est, novi quid velis et tecum sum ubique."
— Gustav Parthey: Hermetis Trismegisti Poemander. Berlin: Nicolai, 1854. p. 2.


"And I do say: Who art thou? He saith: I am Man-Shepherd (Poemandres), Mind of all-masterhood; I know what thou desirest and I am with thee everywhere."
— G. R. S. Mead.


« Et moi je dis: ‹ Mais toi, qui es-tu? › — ‹ Moi ›, dit-il, ‹ Je suis Poimandrès, le Noûs de la Souveraineté absolue. Je sais ce que tu veux, et je suis avec toi partout ›. »
— André-Jean Festugière: Hermès Trismégiste I, deuxième édition. Paris: Les Belles Lettres, 1960.


"'Who are you?' said I. He said, 'I am Poimandres the Nous of the Supreme. I know what you wish and I am with you everywhere.'"
— Clement Salaman, Dorine van Oyen, William D. Wharton and Jean-Pierre Mahé: The Way of Hermes. New Translations of The Corpus Hermeticum and The Definitions of Hermes Trismegistus to Asclepius, p. 17.


"Who are you?" I asked. — "I am Poimandres," he said, "mind of sovereignty; I know what you want, and I am with you everywhere."
— Brian P. Copenhaver: Hermetica. The Greek Corpus Hermeticum and the Latin Asclepius in a New English Translation. Cambridge University Press, 1995. p. 1.


"Who are you, I asked. — I am Pœmandres, the perceiveration of authority, knowing your desires and eachwhere with you."
— David Myatt: Corpus Hermeticum. Eight Tractates I, III, IV, VI, VIII, XI, XII, XIII. Translation and Commentary.
---
Νοῦς
⮵
νοῦς, m (genitive νοῦ); second declension (Attic),
contracted form of νόος (–ος, –ου, –ῳ, –ον, –ε).
"νόος
1. mind, perception, Hom., etc.; νόῳ heedfully, Od.; παϱὲϰ νόον senselessly, Il.; σὺν νόῳ wisely, Hdt.; νόῳ λαβεῖν τι to apprehend it, id=Hdt.; νόῳ ἔχειν to keep in mind, id=Hdt.
2. νοῦν ἔχειν means
 a. to have sense, be sensible, Soph., Ar., etc.; πεϱισσὰ πϱάσσειν οὐϰ ἔχει νοῦν οὐδένα to aim too high has no sense, Soph.
 b. to have one's mind directed to something, ἄλλοσ᾽ ὄμμα, ϑἀτέϱᾳ δὲ νοῦν ἔχειν id=Soph.; δεῦϱο νοῦν ἔχε Eur.
3. the mind, heart, χαῖϱε νόῳ Od.; so, νόος ἔμπεδος, ἀπηνής Hom.; ἐϰ παντὸς νόου with all his heart and soul, Hdt., etc.
4. one's mind, purpose, τί σοι ἐν νόῳ ἐστὶ ποιεῖν; what do you intend to do? id=Hdt.; ἐν νόῳ ἔχειν, c. inf., to intend, id=Hdt.; νόον τελεῖν Il.
II. the sense or meaning of a word or speech, Hdt., Ar."
— Liddell and Scott: An Intermediate Greek-English Lexicon. Oxford: Clarendon Press, 1889.
Cf. Nous
Ἀναξαγόϱας

— Anaxagoras ⮵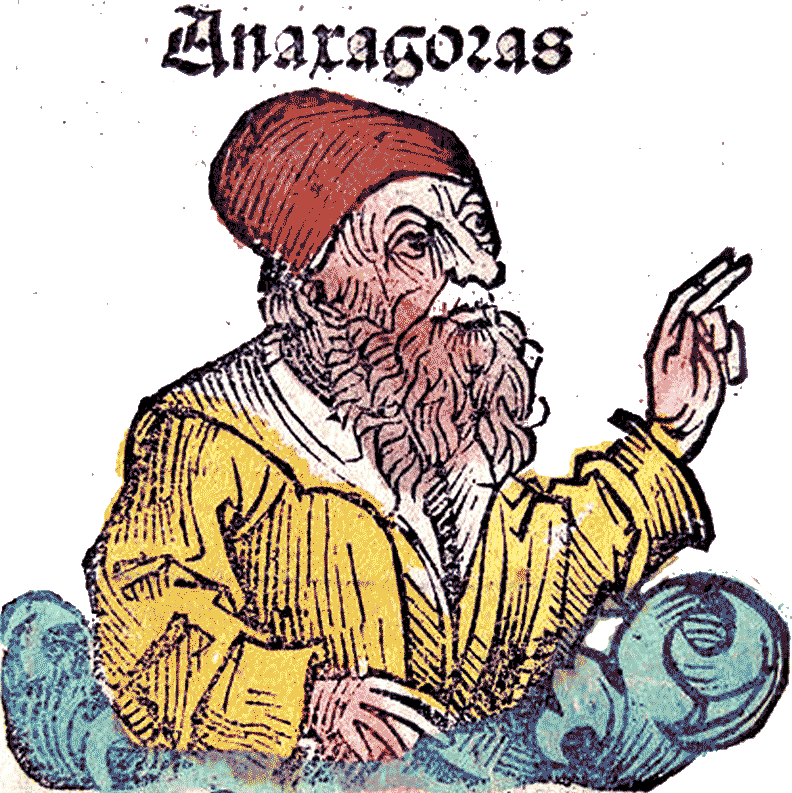 Hartmann Schedel: Nürnberger Chronik, 1493. Holzschnitt von Michael Wolgemut.
---
---
---
---
Nikolaus von Kues: De filiatione Dei ⮵
David Myatt ⮵

Asclepius, The Perfect Sermon

Michael Psellus: Dialogue between Timothy and Thracian on the Operation of Dæmons


Ἡϱόδοτος · Ἱστοϱίαι

— Herodotus ⮵
---
Πλούταϱχος · Πεϱὶ Ἴσιδος ϰαὶ Ὀσίϱιδος

— Plutarch: De Iside et Osiride ⮵
---
Richard August Reitzenstein: Poimandres. Studien zur Griechisch-Ägyptischen und frühchristlichen Literatur ⮵
---
Harold R. Willoughby: Pagan Regeneration, A study of Mystery Initiations in the Graeco-Roman World⮵
VIII. The new Birth Experience in Hermeticism
---
George Robert Stow Mead: Thrice-Greatest Hermes. Studies in Hellenistic Theosophy and Gnosis ⮵
The remains of the Trismegistic literature writer and reader
The extant Trismegistic literature ⮵
The original ms. of our corpus ⮵
Texts and translations ⮵
---
Lynn Thorndike: A History of Magic and Experimental Science during the first thirteen centuries of our era ⮵
---
Roelof van den Broek: Hermes Trismegistus ⮵
Hermetic Disciples and Teachers ⮵
---
Christian Wildberg: The General Discourses of Hermes Trismegistus ⮵
---
Paolo Scarpi: Hermetische Tradition ⮵