William Morris:
The Defence of Guenevere, and Other Poems. By William Morris.
Hammersmith: Kelmscott Press, "Sold by Reeves & Turner", 1892.
Quarto. ca. 203 × 147 mm. [2 blank], [2], 169, [1], [2 blank] pp. Decorative woodcut borders and initials.
Original limp vellum with leather thongs and light blue silk ties. Gothic calligraphic lettering by Herbert M. Ellis in black ink on spine: "Guenevere". Uncut.
One of 300 paper copies, of a total edition of 310 copies. Printed in red and black in Golden type. The first Kelmscott Press book to be bound in limp vellum, and the only one lettered by hand on the spine. The text is a reprint of the edition published in 1889 by Reeves & Turner; the Defence of Guenevere and Others Poems was first published in 1858. The Kelmscott edition is divided into three parts: The Defence of Guenevere, (poems suggested by Malorys Morte d'Arthur), Sir Peter Harpdon's End (poems inspired by Froissarts Chronicles), and Rapunzel and other poems.
Peterson A5 – Tomkinson 109,5 – Ransom 325,5 – Sparling 5 – Franklin 189 – Walsdorf 5–- Scott 84 – Forman 38,6. – Bibliographien.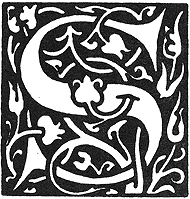 mall 4to. Golden type. In black & red. Borders 2 & 1. 300 paper copies at two guineas, ten on vellum at about twelve guineas. Dated April 2, issued May 19, 1892. Sold by Reeves & Turner. Bound in limp vellum.
This book was set up from a copy of the edition published by Reeves & Turner in 1889, the only alteration, except a few corrections, being in the 11th line of Summer Dawn. It is divided into three parts, the poems suggested by Malory's Morte d' Arthur, the poems inspired by Froissart's Chronicles, and poems on various subjects. The two first sections have borders, and the last has a half-border. The first sheet was printed on February 17, 1892. It was the first book bound in limp v.eIlum, and the only one of which the title was inscribed by hand on the back.
— William Morris & Sidney C. Cockerell: A Note by W. M. on His Aims in Founding the Kelmscott Press. p. 24.
The Defence of Guenevere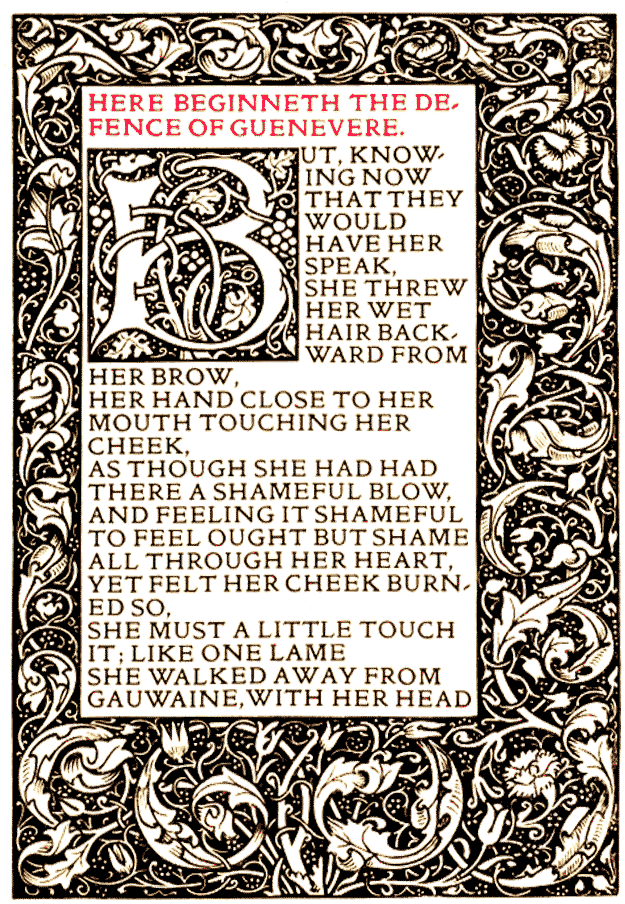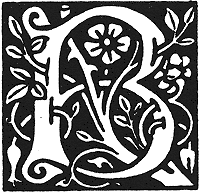 ut, knowing now that they would have her speak,
She threw her wet hair backward from her brow,
Her hand close to her mouth touching her cheek,

As though she had had there a shameful blow,
And feeling it shameful to feel ought but shame
All through her heart, yet felt her cheek burned so,

She must a little touch it; like one lame
She walked away from Gauwaine, with her head
Still lifted up; and on her cheek of flame

The tears dried quick; she stopped at last and said:
"O knights and lords, it seems but little skill
To talk of well-known things past now and dead.

"God wot I ought to say, I have done ill,
And pray you all forgiveness heartily!
Because you must be right, such great lords; still

"Listen, suppose your time were come to die,
And you were quite alone and very weak;
Yea, laid a dying while very mightily

"The wind was ruffling up the narrow streak
Of river through your broad lands running well:
Suppose a hush should come, then some one speak:

"'One of these cloths is heaven, and one is hell,
Now choose one cloth for ever; which they be,
I will not tell you, you must somehow tell

"'Of your own strength and mightiness; here, see!'
Yea, yea, my lord, and you to ope your eyes,
At foot of your familiar bed to see

"A great God's angel standing, with such dyes,
Not known on earth, on his great wings, and hands,
Held out two ways, light from the inner skies

"Showing him well, and making his commands
Seem to be God's commands, moreover, too,
Holding within his hands the cloths on wands;

"And one of these strange choosing cloths was blue,
Wavy and long, and one cut short and red;
No man could tell the better of the two.

"After a shivering half-hour you said:
'God help! heaven's colour, the blue;' and he said, 'hell.'
Perhaps you then would roll upon your bed,

"And cry to all good men that loved you well,
'Ah Christ! if only I had known, known, known;'
Launcelot went away, then I could tell,

"Like wisest man how all things would be, moan,
And roll and hurt myself, and long to die,
And yet fear much to die for what was sown.

"Nevertheless you, O Sir Gauwaine, lie,
Whatever may have happened through these years,
God knows I speak truth, saying that you lie."

Her voice was low at first, being full of tears,
But as it cleared, it grew full loud and shrill,
Growing a windy shriek in all men's ears,

A ringing in their startled brains, until
She said that Gauwaine lied, then her voice sunk,
And her great eyes began again to fill,

Though still she stood right up, and never shrunk,
But spoke on bravely, glorious lady fair!
Whatever tears her full lips may have drunk,

She stood, and seemed to think, and wrung her hair,
Spoke out at last with no more trace of shame,
With passionate twisting of her body there:

"It chanced upon a day that Launcelot came
To dwell at Arthur's court: at Christmas-time
This happened; when the heralds sung his name,

"Son of King Ban of Benwick, seemed to chime
Along with all the bells that rang that day,
O'er the white roofs, with little change of rhyme.

"Christmas and whitened winter passed away,
And over me the April sunshine came,
Made very awful with black hail-clouds, yea

"And in the Summer I grew white with flame,
And bowed my head down: Autumn, and the sick
Sure knowledge things would never be the same,

"However often Spring might be most thick
Of blossoms and buds, smote on me, and I grew
Careless of most things, let the clock tick, tick,

"To my unhappy pulse, that beat right through
My eager body; while I laughed out loud,
And let my lips curl up at false or true,

"Seemed cold and shallow without any cloud.
Behold my judges, then the cloths were brought;
While I was dizzied thus, old thoughts would crowd,

"Belonging to the time ere I was bought
By Arthur's great name and his little love;
Must I give up for ever then, I thought,

"That which I deemed would ever round me move
Glorifying all things; for a little word,
Scarce ever meant at all, must I now prove

"Stone-cold for ever? Pray you, does the Lord
Will that all folks should be quite happy and good?
I love God now a little, if this cord

"Were broken, once for all what striving could
Make me love anything in earth or heaven?
So day by day it grew, as if one should

"Slip slowly down some path worn smooth and even,
Down to a cool sea on a summer day;
Yet still in slipping there was some small leaven

"Of stretched hands catching small stones by the way,
Until one surely reached the sea at last,
And felt strange new joy as the worn head lay

"Back, with the hair like sea-weed; yea all past
Sweat of the forehead, dryness of the lips,
Washed utterly out by the dear waves o'ercast,

"In the lone sea, far off from any ships!
Do I not know now of a day in Spring?
No minute of the wild day ever slips

"From out my memory; I hear thrushes sing,
And wheresoever I may be, straightway
Thoughts of it all come up with most fresh sting:

"I was half mad with beauty on that day,
And went without my ladies all alone,
In a quiet garden walled round every way;

"I was right joyful of that wall of stone,
That shut the flowers and trees up with the sky,
And trebled all the beauty: to the bone,

"Yea right through to my heart, grown very shy
With weary thoughts, it pierced, and made me glad;
Exceedingly glad, and I knew verily,

"A little thing just then had made me mad;
I dared not think, as I was wont to do,
Sometimes, upon my beauty; if I had

"Held out my long hand up against the blue,
And, looking on the tenderly darken'd fingers,
Thought that by rights one ought to see quite through,

"There, see you, where the soft still light yet lingers,
Round by the edges; what should I have done,
If this had joined with yellow spotted singers,

"And startling green drawn upward by the sun?
But shouting, loosed out, see now! all my hair,
And trancedly stood watching the west wind run

"With faintest half-heard breathing sound: why there
I lose my head e'en now in doing this;
But shortly listen: In that garden fair

"Came Launcelot walking; this is true, the kiss
Wherewith we kissed in meeting that spring day,
I scarce dare talk of the remember'd bliss,

"When both our mouths went wandering in one way,
And aching sorely, met among the leaves;
Our hands being left behind strained far away.

"Never within a yard of my bright sleeves
Had Launcelot come before: and now so nigh!
After that day why is it Guenevere grieves?

"Nevertheless you, O Sir Gauwaine, lie,
Whatever happened on through all those years,
God knows I speak truth, saying that you lie.

"Being such a lady could I weep these tears
If this were true? A great queen such as I
Having sinn'd this way, straight her conscience sears;

"And afterwards she liveth hatefully,
Slaying and poisoning, certes never weeps:
Gauwaine be friends now, speak me lovingly.

"Do I not see how God's dear pity creeps
All through your frame, and trembles in your mouth?
Remember in what grave your mother sleeps,

"Buried in some place far down in the south,
Men are forgetting as I speak to you;
By her head sever'd in that awful drouth

"Of pity that drew Agravaine's fell blow,
I pray you pity! let me not scream out
For ever after, when the shrill winds blow

"Through half your castle-locks! let me not shout
For ever after in the winter night
When you ride out alone! in battle-rou

"Let not my rusting tears make your sword light!
Ah! God of mercy, how he turns away!
So, ever must I dress me to the fight,

"So: let God's justice work! Gauwaine, I say,
See me hew down your proofs: yea all men know
Even as you said how Mellyagraunce one day,

"One bitter day in la Fausse Garde, for so
All good knights held it after, saw:
Yea, sirs, by cursed unknightly outrage; though

"You, Gauwaine, held his word without a flaw,
This Mellyagraunce saw blood upon my bed:
Whose blood then pray you? is there any law

"To make a queen say why some spots of red
Lie on her coverlet? or will you say:
'Your hands are white, lady, as when you wed,

"'Where did you bleed?' and must I stammer out, 'Nay,
I blush indeed, fair lord, only to rend
My sleeve up to my shoulder, where there lay

"'A knife-point last night': so must I defend
The honour of the Lady Guenevere?
Not so, fair lords, even if the world should end

"This very day, and you were judges here
Instead of God. Did you see Mellyagraunce
When Launcelot stood by him? what white fear

"Curdled his blood, and how his teeth did dance,
His side sink in? as my knight cried and said:
'Slayer of unarm'd men, here is a chance!

"'Setter of traps, I pray you guard your head,
By God I am so glad to fight with you,
Stripper ofladies, that my hand feels lead

"'For driving weight; hurrah now! draw and do,
For all my wounds are moving in my breast,
And I am getting mad with waiting so.'

"He struck his hands together o'er the beast,
Who fell down flat, and grovell'd at his feet,
And groan'd at being slain so young: 'At least,'

"My knight said, 'rise you, sir, who are so fleet
At catching ladies, half-arm'd will I fight,
My left side all uncovered!' then I weet,

"Up sprang Sir Mellyagraunce with great delight
Upon his knave's face; not until just then
Did I quite hate him, as I saw my knight

"Along the lists look to my stake and pen
With such a joyous smile, it made me sigh
From agony beneath my waist-chain, when

"The fight began, and to me they drew nigh;
Ever Sir Launcelot kept him on the right,
And traversed warily, and ever high

"And fast leapt caitiff's sword, until my knight
Sudden threw up his sword to his left hand,
Caught it, and swung it; that was all the fight,

"Except a spout of blood on the hot land;
For it was hottest summer; and I know
I wonder'd how the fire, while I should stand,

"And burn, against the heat, would quiver so,
Yards above my head; thus these matters went;
Which things were only warnings of the woe

"That fell on me. Yet Mellyagraunce was shent,
For Mellyagraunce had fought against the Lord;
Therefore, my lords, take heed lest you be blent

"With all this wickedness; say no rash word
Against me, being so beautiful; my eyes,
Wept all away to grey, may bring some sword

"To drown you in your blood; see my breast rise,
Like waves of purple sea, as here I stand;
And how my arms are moved in wonderful wise,

"Yea also at my full heart's strong command,
See through my long throat how the words go up
In ripples to my mouth; how in my hand

"The shadow lies like wine within a cup
Of marvellously colour'd gold; yea now
This little wind is rising, look you up,

"And wonder how the light is falling so
Within my moving tresses: will you dare,
When you have looked a little on my brow,

"To say this thing is vile? or will you care
For any plausible lies of cunning woof,
When you can see my face with no lie there

"For ever? am I not a gracious proof:
'But in your chamber Launcelot was found':
Is there a good knight then would stand aloof,

"When a queen says with gentle queenly sound:
'O true as steel come now and talk with me,
I love to see your step upon the ground

"'Unwavering, also well I love to see
That gracious smile light up your face, and hear
Your wonderful words, that all mean verily

"'The thing they seem to mean: good friend, so dear
To me in everything, come here to-night,
Or else the hours will pass most dull and drear;

"'If you come not, I fear this time I might
Get thinking over much of times gone by,
When I was young, and green hope was in sight:

"'For no man cares now to know why I sigh;
And no man comes to sing me pleasant songs,
Nor any brings me the sweet flowers that lie

"'So thick in the gardens; therefore one so longs
To see you, Launcelot; that we may be
Like children once again, free from all wrongs

"'Just for one night.' Did he not come to me?
What thing could keep true Launcelot away
If I said, 'Come'? there was one less than three

"In my quiet room that night, and we were gay;
Till sudden I rose up, weak, pale, and sick,
Because a bawling broke our dream up, yea

"I looked at Launcelot's face and could not speak,
For he looked helpless too, for a little while;
Then I remember how I tried to shriek,

"And could not, but fell down; from tile to tile
The stones they threw up rattled o'er my head
And made me dizzier; till within a whilev

"My maids were all about me, and my head
On Launcelot's breast was being soothed away
From its white chattering, until Launcelot said:

"By God! I will not tell you more to-day,
Judge any way you will: what matters it?
You know quite well the story of that fray,

"How Launcelot still'd their bawling, the mad fit
That caught up Gauwaine: all, all, verily,
But just that which would save me; these things flit.

"Nevertheless you, O Sir Gauwaine, lie,
Whatever may have happen'd these long years,
God knows I speak truth, saying that you lie!

"All I have said is truth, by Christ's dear tears."
She would not speak another word, but stood
Turn'd sideways; listening, like a man who hears

His brother's trumpet sounding through the wood
Of his foes' lances. She lean'd eagerly,
And gave a slight spring sometimes, as she could

At last hear something really; joyfully
Her cheek grew crimson, as the headlong speed
Of the roan charger drew all men to see,
The knight who came was Launcelot at good need.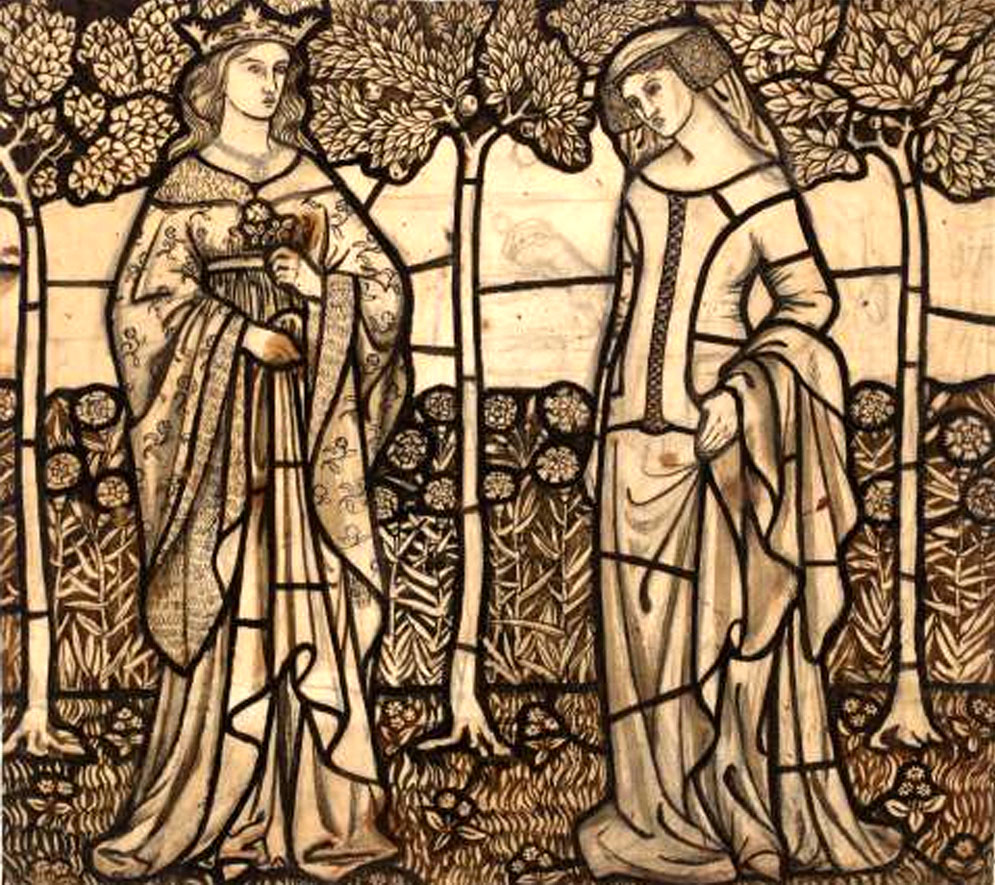 Willieam Morris: Guinevere and Iseult. Cartoon for Stained Glass. Tate Britain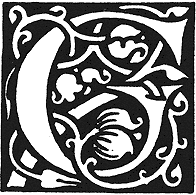 uenevere (Lat. Guanhumara; Welsh, Gwenhwyfar; O. Eng. Gaynore), in Arthurian romance the wife of King Arthur. Geoffrey of Monmouth, who calls her Guanhumara, makes her a Roman lady, but the general tradition is that she was of Cornish birth and daughter to King Leodegrance. Wace, who, while translating Geoffrey, evidently knew, and used, popular tradition, combines these two, asserting that she was of Roman parentage on the mother's side, but cousin to Cador of Cornwall by whom she was brought up. The tradition relating to Guenevere is decidedly confused and demands further study. The Welsh triads know no fewer than three Gwenhwyfars; Giraldus Cambrensis, relating the discovery of the royal tombs at Glastonbury, speaks of the body found as that of Arthur's second wife; the prose Merlin gives Guenevere a bastard half-sister of the same name, who strongly resembles her; and the Lancelot relates how this lady, trading on the likeness, persuaded Arthur that she was the true daughter of Leodegrance, and the queen the bastard interloper. This episode of the false Guenevere is very perplexing.
To the majority of English readers Guenevere is best known in connexion with her liaison with Lancelot, a story which, in the hands of Malory and Tennyson, has assumed a form widely different from the original conception, and at once more picturesque and more convincing. In the French romances Lancelot is a late addition to the Arthurian cycle, his birth is not recorded till long after the marriage of Arthur and Guenevere, and he is at least twenty years the junior of the queen. The relations between them are of the most conventional and courtly character, and are entirely lacking in the genuine dramatic passion which marks the love story of Tristan and Iseult. The Lancelot-Guenevere romance took form and shape in the artificial atmosphere encouraged by such patronesses of literature as Eleanor of Aquitaine and her daughter Marie, Comtesse de Champagne (for whom Chrétien de Troyes wrote his Chevalier de la Charrette), and reflects the low social morality of a time when love between husband and wife was declared impossible. But though Guenevere has changed her lover, the tradition of her infidelity is of much earlier date and formed a part of the primitive Arthurian legend. Who the original lover was is doubtful; the Vita Gildae relates how she was carried off by Melwas, king of Aestiva Regis, to Glastonbury, whither Arthur, at the head of an army, pursued the ravisher. A fragment of a Welsh poem seems to confirm this tradition, which certainly lies at the root of her later abduction by Meleagaunt. In the Lanzelet of Ulrich von Zatzikhoven the abductor is Falerîn. The story in these forms represents an other-world abduction. A curious fragment of Welsh dialogues, printed by Professor Rhys in his Studies on the Arthurian Legend, appears to represent Kay as the abductor. In the pseudo-Chronicles and the romances based upon them the abductor is Mordred, and in the chronicles there is no doubt that the lady was no unwilling victim. On the final defeat of Mordred she retires to a nunnery, takes the veil, and is no more heard of. Wace says emphatically—
Ne fu oie ne véue,
Ne fu trovée, ne séue
Por la vergogne del mesfait
Et del pecié qu ele avoit fait (11. 13627-30).
Layamon, who in his translation of Wace treats his original much as Wace treated Geoffrey, says that there was a tradition that she had drowned herself, and that her memory and that of Mordred were hateful in every land, so that none would offer prayer for their souls. On the other hand certain romances, e.g. the Perceval, give her an excellent character. The truth is probably that the tradition of his wife's adultery and treachery was a genuine part of the Arthurian story, which, neglected for a time, was brought again into prominence by the social conditions of the courts for which the later romances were composed; and it is in this later and conventionalized form that the tale has become familiar to us (see also Lancelot).
— Encyclopædia Britannica, Eleventh Edition, Cambridge: University Press, 1910. Vol. XII, p. 669.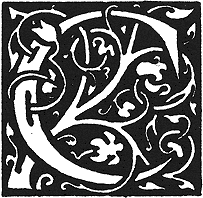 hretien's originality, then, consists in his portrayal of the social ideal of the French aristocracy in the twelfth century. So far as we know he was the first to create in the vulgar tongues a vast court, where men and women lived in conformity with the rules of courtesy, where the truth was told, where generosity was open-handed, where the weak and the innocent were protected by men who dedicated themselves to the cult of honour and to the quest of a spotless reputation. Honour and love combined to engage the attention of this society; these were its religion in a far more real sense than was that of the Church. Perfection was attainable under this code of ethics: Gawain, for example, was a perfect knight. Though the ideals of this court and those of Christianity are in accord at many points, vet courtly love and Christian morality are irreconcilable. This Arthurian material, as used by Chretien, is fundamentally immoral as judged by Christian standards. Beyond question, the poets and the public alike knew this to be the case, and therein lay its charm for a society in which the actual relations or the sexes were rigidly prescribed by the Church and by feudal practice, rather than by the sentiments of the individuals concerned. The passionate love of Tristan for Iseut, of Lancelot for Guinevere, of Cliges for Fenice, fascinate the conventional Christian society of the twelfth century and of the twentieth century alike, but there-is only one name among men for such relations as theirs, and neither righteousness nor reason lie that way. Even Tennyson, in spite of all he has done to spiritualise this material, was compelled to portray the inevitable dissolution and ruin of Arthur's court. Chretien well knew the difference between right and wrong, between reason and passion, as the reader of "Cliges" may learn for himself. Fenice was not Iseut, and she would not have her Cliges to be a Tristan. Infidelity, if you will, but not "menage a trois". Both "Erec" and "Yvain" present a conventional morality. But "Lancelot" is flagrantly immoral, and the poet is careful to state that for this particular romance he is indebted to his patroness Marie de Champagne. He says it was she who furnished him with both the "matiere" and the "san", the material of the story and its method of treatment.
— W. W. Comfort: Four Arthurian Romances, by Chretien De Troyes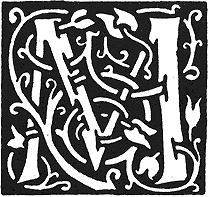 alory's Guinevere is jealous and demanding but also a true lover. Her jealousy and anger drive Lancelot mad and lead her to say she wishes he were dead. Nevertheless, she remains true to him. She is accused several times of crimes—infidelity and the murder of Mador's relative—and must be saved by Lancelot, as she is once again when their love is discovered and she is sentenced to be burned at the stake. When Mordred rebels against Arthur and attempts to marry her, she flees first to the Tower of London and then to the nunnery at Amesbury, where she becomes abbess. Lancelot visits her there after the death of Arthur, but she asks him to leave and never to return and refuses even to give him a final kiss. She dies a holy death, of which Lancelot learns in a vision that instructs him to have her buried next to Arthur.
While Malory is understanding of the true love of Guinevere, Tennyson makes her an example of an unfaithful wife. His Guinevere believes that "He is all fault who hath no fault at all" and wants her lover to "have a touch of earth." Arthur, before whom she grovels with guilt when he visits her in the nunnery, says that she has "spoilt the purpose of my life." Nevertheless, Tennyson does bring Guinevere and other female characters to the fore, as does one of his contemporaries, William Morris. In his poem "The Defence of Guenevere," Morris is the first to give the Queen her own voice, thus beginning a tradition that is continued in Sara Teasdale's poem "Guenevere," Dorothy Parker's "Guinevere at Her Fireside," and Wendy Mnookin's collection Guenever Speaks, as well as in many contemporary novels told from Guinevere's point of view, such as Parke Godwin's Beloved Exile and Persia Wooley's Guinevere trilogy.
— Alan Lupack: Guinevere. The Camelot Project.