Frederick Startridge Ellis:
Sire Degrevaunt.
Hammersmith: Kelmscott Press, March 1896, issued November 1897.
Octavo. ca. 207 × 142 mm. [8], 81, [1] pp. Woodcut frontispiece after a design by Sir Edward Burne-Jones, facing page with full woodcut page-border, 10-line, 6-line and smaller initials, printer's device no. 1.
Original holland-backed boards, printed title, uncut.
Chaucer type printed in red and black. One of 350 copies on paper, of an edition of 358. Edited by F. S. Ellis after the edition printed by J. O. Halliwell from the Cambridge MS., with some additions and variations from that in the Library of Lincoln Cathedral.
Back stained, otherwise very good.
Peterson A47 – Bibliographien – elektronisches Faksimile.
Die Abbildung stammt von einer Liste, ist bearbeitet und gibt nicht den Originalzustand wieder.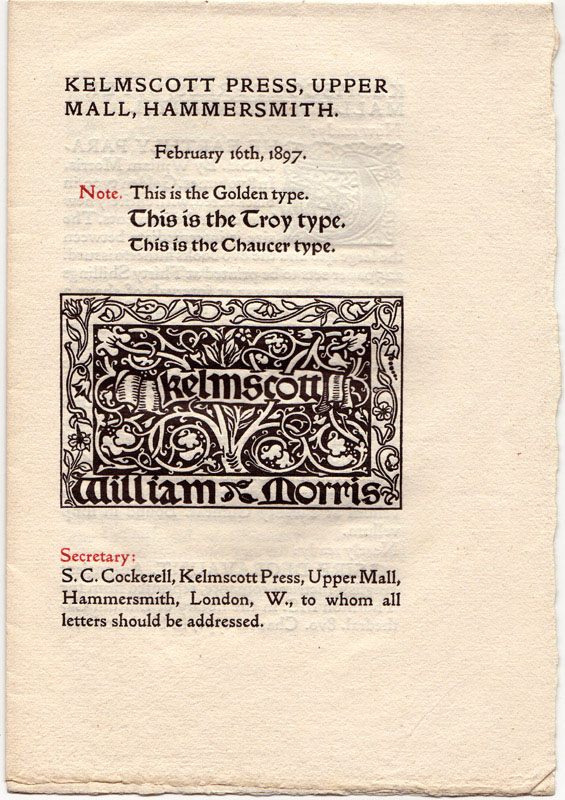 Kelmscott Press - Advertising Circular.
Kelmscott Press, Upper Mall, Hammersmith. February 16th, 1897.
Hammersmith: Kelmscott Press, 1897.
Octavo. ca. 207 x 143 mm. [7], [1 weiße] Seiten. In rot und schwarz gedruckt.
Gefalteter, unbeschnittener und ungeöffneter Quart-Bogen.
Eins von nur 1500 Exemplaren.
Folded leaf, as issued.
Fast neuwertig. — 2. Ex.: Stempel von "Deighton, Bell & Co." in Cambridge auf erster und letzter Seite, wie stets Mittelfalz vom ursprünglichen Versand, sonst gut.
Peterson C47 – Tomkinson 129,17 – Walsdorf p. 111,A.