Aleister Crowley (Pseudonym: The Master Therion):
Magick in Theory and Practice by The Master Therion (being part III of Book 4).
Paris: Lecram Press [privately printed], 1929-1930.
Quarto. ca. 285 × 194 mm. I: XXXI, [1 blank], coloured plate of Master Therion's sigil, 122, [1], [1 blank] pp. — II: pp. 123-205, [1 blank] — III: pp. 207-301, [1 blank] — IV: pp. 303-436, [1 blank], [1]. The b/w plate "The signs of the Grades" loosely inserted in Section 4; with numerous b/w illustrations in the text.
Original red wrappers, bound in four sections, each section with title printed in black on upper cover. Uncut, unopened.
Original red wrappers, bound in four sections, each section with title printed in black on upper cover. Uncut, unopened. Crowley's magnum opus and the foundation of modern magick. "By issuing 'Magick' in four parts, he [Crowley] told Yorke, we save 12% buying tax" (Richard Kaczynski: Perdurabo, p. 346).
¶ "Crowley chose the paper for the wrappers on 4 February 1929 and the first pages of proofs were delivered on 14 or 15 February 1929. (...) but not until well after the date of the equinox, on 12 April 1929, did Crowley have an advance copy in his hands. (...) but as late as 10 December 1929 the 3,000 copies of 'Magick' were still unbound. (...) the stock was transferred to the Mandrake Press in London and only 1930 put on the market" (d'Arch Smith pp. 15-16).
¶ "The title page of this edition gave the author as The Master Therion, as well as the subtitle 'Book Four, Part III'. It also included a one-page table of contents and the color plate of the Lamen of the Master Therion; the illustrations of the Signs of the Grades were given on a separate sheet, inserted loosely. Only Section I can be definitely dated to 1929, section IV, and perhaps II-III, were still not printed by early 1930. On completion the stock was shipped to London, and many copies were cut down and rebound with top edges gilt in a one-volume reddish buckram subscriber's edition, in a dustjacket. Individual copies of this edition vary. All apparently lacked the color plate, but some copies have the sheet giving the Signs of the Grades bound in, as well as a variant table of contents (paginated pp. xxxi-xxxiv). The title page of the subscriber's edition gave the author as both The Master Therion and Aleister Crowley, omitted the subtitle 'Book Four, Part III', and gave the publication date as 1929 (i. e., the year that section of the book was produced; 1930 is its correct publication date)." (Hymenaeus Beta in "Magick. Liber ABA. Second revised edition". York Beach, 2004. p. 726).
¶ "Magick in Theory and Practice was the first modern textbook on the subject in English" (Kaczynski: Perdurabo, p. 341).
Lower corner slightly bumped, small stamp of Sydney H. French | 60 St. Nicholas Ave., N. Y. City on half-title and last blank pages. Uncut, unopened. In very fine condition.
Erste Ausgabe, erster Druck. In vier roten Original-Broschuren, jeweils mit dem schwarz gedruckten Titel auf dem Vorderdeckel. Unbeschnitten, unaufgeschnitten. Untere Ecke leicht gestaucht, sonst sehr gut erhalten. Komplett mit der Farbtafel sowie der s/w Tafel der zehn Grade, die Section IV lose einliegend beigegeben ist.
First edition, first issue. Yorke 62.C.(a) - Fuller p. 18 - Parfitt/Drylie 112-115 - d'Arch Smith pp. 15-16 - Clute/Grant 237 – Personalbibliographien – Text.
Ein Weltreisebuch, es gelangte aus weiter Ferne zu mir und verließ mich in weite Ferne.
Als Beigabe ein wahres Buch des geschätzten Verfassers:
Aleister Crowley:
Liber CCCXXXIII. The Book of Lies Which is Also Falsely Called BREAKS the Wanderings or Falsifications of the One Thought of Frater Perdurabo Which Thought is Itself Untrue. "Break, break, break | At the foot of thy stones, O Sea! | And I would that I could utter | The thoughts that arise in me!"
London: Wieland and Co., 1913.
Small Octavo. 140 × 87 mm. [6], 7-130, [1], [1 blank] pp.; Errata slip, between pages 60 and 61 as called for. Illustrated with two photogravure portraits, printed on Japon paper, one of Crowley on an ass in the Himalayas, facing p. 15, and a fantastic ritualistic image of Leila Waddell, facing p. 94.
Publisher's black buckram, gilt titles within Egyptian design to upper cover, gilt title to spine, white endpapers.
Printed on handmade "Aldwych" paper.
¶ In Crowley's own words: "This book deals with many matters on all planes of the very highest importance. It is an official publication for Babes of the Abyss, but is recommended even to beginners as highly suggestive." Full of in jokes, cryptic poetry and mystical musings, there is much to meditate upon and digest of a Kabbalistic and Thelemic nature among its pages. Also included at the end is a brilliantly self-deprecating list of his books to date, "The Excreta of Mr. Aleister Crowley", filled with real and self penned critiques of his works.
¶ With the magical motto and name of Dent Myers to the flyleaf. Myers was born in White County, Georgia on January 29, 1931, and he was an early figure in the magical revival in the 1960s. He was an O.T.O. member and corresponded with the Germers, both Karl and Sascha, Somerset Maugham, John Symonds, and had a large correspondence with Israel Regardie throughout all the 1960s into 1970.
Light rubbing to extremities and faint soiling to front edge of upper board, gilt design still bright. Small label of Samuel Weiser Inc. to front pastedown, otherwise clean internally, with a little browning to endpapers. A near fine copy of an undoubted highlight in the Crowley canon.
First edition. Yorke 58 - Fuller p. 17 - Parfitt/Drylie 82.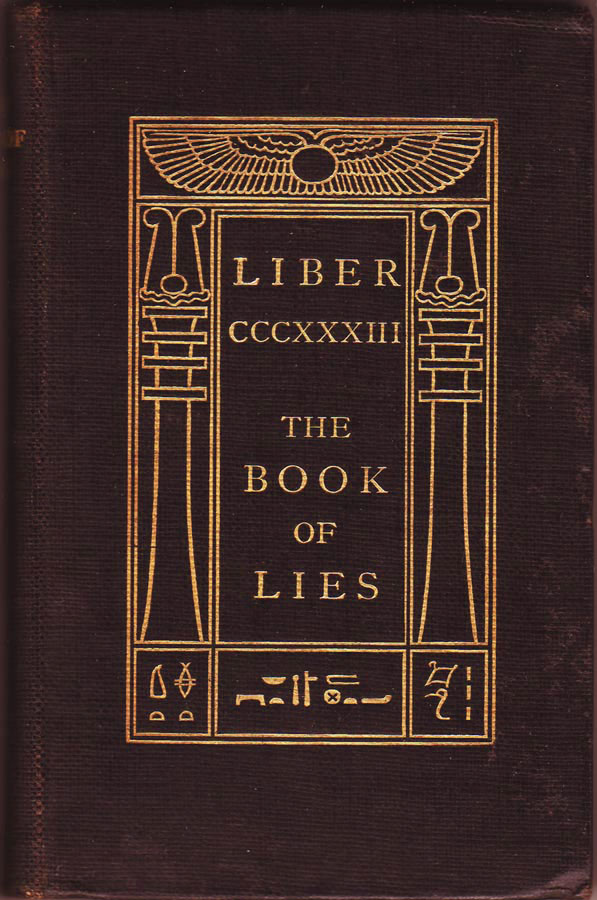 Richard Kaczynski:
Perdurabo. The Life of Aleister Crowley.
Tempe, Arizona: New Falcon Publications, 2002.
Large Octavo. 555, [5] pp. (incl. index).
Original red leatherette, spine and upper cover gilt with title.
One of 111 numbered and signed copies of the special edition, signed by Richard Kaczynski on the title. This is probably the best Crowley biography. Includes a bibliography of Crowley's published works, i. e. books, articles and essays; books on Crowley etc.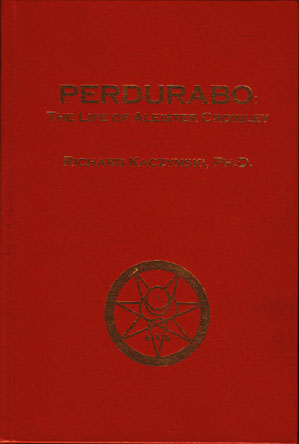 Hymn to Pan
ἔφριξ᾽ ἔρωτι, περιχαρὴς δ᾽ ἀνεπτόμαν.
ἰὼ ἰὼ Πὰν Πάν,
ὦ Πὰν Πὰν ἁλίπλαγκτε, Κυλλανίας χιονοκτύπου
πετραίας ἀπὸ δειράδος φάνηθ᾽, ὦ
θεῶν χοροποί᾽ ἄναξ
  Σοφοκλῆς · Αἴας

Thrill with lissome lust of the light,
O man! My man!
Come careering out of the night
Of Pan! Io Pan!
Io Pan! Io Pan! Come over the sea
From Sicily and from Arcady!
Roaming as Bacchus, with fauns and pards
And nymphs and satyrs for thy guards,
On a milk-white ass, come over the sea
To me, to me,
Come with Apollo in bridal dress
(Shepherdess and pythoness)
Come with Artemis, silken shod,
And wash thy white thigh, beautiful God,
In the moon of the woods, on the marble mount,
The dimpled dawn of the amber fount!
Dip the purple of passionate prayer
In the crimson shrine, the scarlet snare,
The soul that startles in eyes of blue
To watch thy wantonness weeping through
The tangled grove, the gnarled bole
Of the living tree that is spirit and soul
And body and brain — come over the sea,
(Io Pan! Io Pan!)
Devil or god, to me, to me,
My man! my man!
Come with trumpets sounding shrill
Over the hill!
Come with drums low muttering
From the spring!
Come with flute and come with pipe!
Am I not ripe?
I, who wait and writhe and wrestle
With air that hath no boughs to nestle
My body, weary of empty clasp,
Strong as a lion and sharp as an asp —
Come, O come!
I am numb
With the lonely lust of devildom.
Thrust the sword through the galling fetter,
All-devourer, all-begetter;
Give me the sign of the Open Eye,
And the token erect of thorny thigh,
And the word of madness and mystery,
O Pan! Io Pan!
Io Pan! Io Pan Pan! Pan Pan! Pan,
I am a man:
Do as thou wilt, as a great god can,
O Pan! Io Pan!
Io Pan! Io Pan Pan! I am awake
In the grip of the snake.
The eagle slashes with beak and claw;
The gods withdraw:
The great beasts come, Io Pan! I am borne
To death on the horn
Of the Unicorn.
I am Pan! Io Pan! Io Pan Pan! Pan!
I am thy mate, I am thy man,
Goat of thy flock, I am gold, I am god,
Flesh to thy bone, flower to thy rod.
With hoofs of steel I race on the rocks
Through solstice stubborn to equinox.
And I rave; and I rape and I rip and I rend
Everlasting, world without end,
Mannikin, maiden, Maenad, man,
In the might of Pan.
Io Pan! Io Pan Pan! Pan! Io Pan!
First published in The Equinox, Volume III, No. 1, March 1919.