Πεϱὶ μυστιϰῆς ϑεολογίας

— Mystical Theology
Πεϱὶ μυστιϰῆσ ϑεολογίασ
πϱὸσ Τιμόϑεον
De mystica theologia
John Scottus Eriugena
Oratio Dionysii ad Trinitatem
Marsilio Ficino
What is the Divine Gloom?
John Parker
Was die göttliche Finsternis ist
William J. Hoye
Τϱιὰς ὑπεϱούσιε ϰαὶ ὑπέϱϑεε ϰαὶ ὑπεϱάγαϑε, τῆς Χϱιστιανῶν ἔφοϱε ϑεοσοφίας, ἴϑυνον ἡμᾶς ἐπὶ τὴν τῶν μυστιϰῶν λογίων ὑπεϱάγνωστον ϰαὶ ὑπεϱφαῆ ϰαὶ ἀϰϱοτάτην ϰοϱυφήν· ἔνϑα τὰ ἁπλᾶ ϰαὶ ἀπόλυτα ϰαὶ ἄτϱεπτα τῆς ϑεολογίας μυστήϱια ϰατὰ τὸν ὑπέϱφωτον ἐγϰεϰάλυπται τῆς ϰϱυφιομύστου σιγῆς γνόφον, ἐν τῶι σϰοτεινοτάτωι τὸ ὑπεϱφανέστα τον ὑπεϱλάμποντα ϰαὶ ἐν τῶι πάμπαν ἀναφεῖ ϰαὶ ἀοϱάτωι τῶν ὑπεϱϰάλων ἀγλαϊῶν ὑπεϱπληϱοῦντα τοὺς ἀνομμάτους νόας.
Ἐμοὶ μὲν οὖν ταῦτα ηὔχϑω· σὺ δέ, ὦ φίλε Τιμόϑεε, τῆι πεϱὶ τὰ μυστιϰὰ ϑεάματα συντόνωι διατϱιβῆι ϰαὶ τὰς αἰσϑήσεις ἀπόλειπε ϰαὶ τὰς νοεϱὰς ἐνεϱγείας ϰαὶ πάντα αἰσϑητὰ ϰαὶ νοητὰ ϰαὶ πάντα οὐϰ ὄντα ϰαὶ ὄντα ϰαὶ πϱὸς τὴν ἕνωσιν, ὡς ἐφιϰτόν, ἀγνώστως ἀνατάϑητι τοῦ ὑπὲϱ πᾶσαν οὐσίαν ϰαὶ γνῶσιν· τῆι γὰϱ ἑαυτοῦ ϰαὶ πάντων ἀσχέτωι ϰαὶ ἀπολύτωι ϰαϑαϱῶς ἐϰστάσει πϱὸς τὸν ὑπεϱούσιον τοῦ ϑείου σϰότους ἀϰτῖνα, πάντα ἀφελὼν ϰαὶ ἐϰ πάντων ἀπολυϑείς, ἀναχϑήσηι.
Τούτων δὲ ὅϱα, ὅπως μηδεὶς τῶν ἀμυήτων ἐπαϰούσηι· τούτους δέ φημι τοὺς ἐν τοῖς οὖσιν ἐνισχημένους ϰαὶ οὐδὲν ὑπὲϱ τὰ ὄντα ὑπεϱουσίως εἶναι φανταζομένους, ἀλλ' οἰομένους εἰδέναι τῆι ϰαϑ' αὑτοὺς γνώσει τὸν ϑέμενον »σϰότος ἀποϰϱυφὴν αὐτοῦ». Eἰ δὲ ὑπὲϱ τούτους εἰσὶν αἱ ϑεῖαι μυσταγωγίαι, τί ἄν τις φαίη πεϱὶ τῶν μᾶλλον ἀμύστων, ὅσοι τὴν πάντων ὑπεϱϰειμένην αἰτίαν ϰαὶ ἐϰ τῶν ἐν τοῖς οὖσιν ἐσχάτων χαϱαϰτηϱίζουσιν ϰαὶ οὐδὲν αὐτὴν ὑπεϱέχειν φασὶ τῶν πλαττομένων αὐτοῖς ἀϑέων ϰαὶ πολυειδῶν μοϱφωμάτων; Δέον ἐπ' αὐτῆι ϰαὶ πάσας τὰς τῶν ὄντων τιϑέναι ϰαὶ ϰαταφάσϰειν ϑέσεις, ὡς πάντων αἰτίαι, ϰαὶ πάσας αὐτὰς ϰυϱιώτεϱον ἀποφάσϰειν, ὡς ὑπὲϱ πάντα ὑπεϱούσηι, ϰαὶ μὴ οἴεσϑαι τὰς ἀποφάσεις ἀντιϰειμένας εἶναι ταῖς ϰαταφάσεσιν, ἀλλὰ πολὺ πϱότεϱον αὐτὴν ὑπὲϱ τὰς στεϱήσεις εἶναι τὴν ὑπὲϱ πᾶσαν ϰαὶ ἀφαίϱεσιν ϰαὶ ϑέσιν.
Οὕτω γοῦν ὁ ϑεῖος Βαϱϑολομαῖός φησι ϰαὶ πολλὴν τὴν ϑεολογίαν εἶναι ϰαὶ ἐλαχίστην ϰαὶ τὸ Eὐαγγέλιον πλατὺ ϰαὶ μέγα ϰαὶ αὖϑις συντετμημένον, ἐμοὶ δοϰεῖν ἐϰεῖνο ὑπεϱφυῶς ἐννοήσας, ὅτι ϰαὶ πολύλογός ἐστιν ἡ ἀγαϑὴ πάντων αἰτία ϰαὶ βϱαχύλεϰτος ἅμα ϰαὶ ἄλογος, ὡς οὔτε λόγον οὔτε νόησιν ἔχουσα, διὰ τὸ πάντων αὐτὴν ὑπεϱουσίως ὑπεϱϰειμένην εἶναι ϰαὶ μόνοις ἀπεϱιϰαλύπτως ϰαὶ ἀληϑῶς ἐϰφαινομένην τοῖς ϰαὶ τὰ ἐναγῆ πάντα ϰαὶ τὰ ϰαϑαϱὰ διαβαίνουσι ϰαὶ πᾶσαν πασῶν ἁγίων ἀϰϱοτήτων ἀνάβασιν ὑπεϱβαίνουσι ϰαὶ πάντα τὰ ϑεῖα φῶτα ϰαὶ ἤχους ϰαὶ λόγους οὐϱανίους ἀπολιμπάνουσι ϰαὶ »εἰς τὸν γνόφον» εἰσδυομένοις, »οὗ» ὄντως ἐστίν, ὡς τὰ λόγιά φησιν, ὁ πάντων ἐπέϰεινα. Καὶ γὰϱ οὐχ ἁπλῶς ὁ ϑεῖος Μωϋσῆς ἀποϰαϑαϱϑῆναι πϱῶτον αὐτὸς ϰελεύεται ϰαὶ αὖϑις τῶν μὴ τοιούτων ἀφοϱισϑῆναι ϰαὶ μετὰ πᾶσαν ἀποϰάϑαϱσιν ἀϰούει τῶν πολυφώνων σαλπίγγων ϰαὶ ὁϱᾶι φῶτα πολλὰ ϰαϑαϱὰς ἀπαστϱάπτοντα ϰαὶ πολυχύτους ἀϰτῖνας· εἶτα τῶν πολλῶν ἀφοϱίζεται ϰαὶ μετὰ τῶν ἐϰϰϱίτων ἱεϱέων ἐπὶ τὴν ἀϰϱότητα τῶν ϑείων ἀναβάσεων φϑάνει. Κἀν τούτοις αὐτῶι μὲν οὐ συγγίνεται τῶι ϑεῶι, ϑεωϱεῖ δὲ οὐϰ αὐτόν (ἀϑέατος γάϱ), ἀλλὰ τὸν τόπον, οὗ ἔστη. (Τοῦτο δὲ οἶμαι σημαίνειν τὸ τὰ ϑειότατα ϰαὶ ἀϰϱότατα τῶν ὁϱωμένων ϰαὶ νοουμένων ὑποϑετιϰούς τινας εἶναι λόγους τῶν ὑποβεβλημένων τῶι πάντα ὑπεϱέχοντι, δι' ὧν ἡ ὑπὲϱ πᾶσαν ἐπίνοιαν αὐτοῦ παϱουσία δείϰνυται ταῖς νοηταῖς ἀϰϱότησι τῶν ἁγιωτάτων αὐτοῦ τόπων ἐπιβατεύουσα). Καὶ τότε ϰαὶ αὐτῶν ἀπολύεται τῶν ὁϱωμένων ϰαὶ τῶν ὁϱώντων ϰαὶ εἰς τὸν γνόφον τῆς ἀγνωσίας εἰσδύνει τὸν ὄντως μυστιϰόν, ϰαϑ' ὃν ἀπομύει πάσας τὰς γνωστιϰὰς ἀντιλήψεις, ϰαὶ ἐν τῶι πάμπαν ἀναφεῖ ϰαὶ ἀοϱάτωι γίγνεται, πᾶς ὢν τοῦ πάντων ἐπέϰεινα ϰαὶ οὐδενός, οὔτε ἑαυτοῦ οὔτε ἑτέϱου, τῶι παντελῶς δὲ ἀγνώστωι τῆι πάσης γνώσεως ἀνενεϱγησίαι ϰατὰ τὸ ϰϱεῖττον ἑνούμενος ϰαὶ τῶι μηδὲν γινώσϰειν ὑπὲϱ νοῦν γινώσϰων.
Trinitas superessentialis, et superdeus, et superoptime Christianorum inspector theosophiæ, dirige nos in mysticorum eloquiorum superincognitum et superlucentem et sublimissimum verticem, ubi nova et absoluta et inconversibilia theologiæ mysteria, secundum superlucentem absconduntur occulte docentis silentii caliginem, in obscurissimo, quod est supermanifestissimum, supersplendentem, et in qua omne relucet, et invisibilium superbonorum splendoribus superimplentem invisibiles intellectus. Mihi quidem hæc opto. Tu autem, o amice Timothee, circa mysticas speculationes corroborato itinere et sensus desere, et intellectuales operationes, et sensibilia, et invisibilia, et omne non ens, et ens; et ad unitatem, ut possibile, inscius restituere ipsius, qui est super omnem essentiam et scientiam. Ea enim teipso et omnibus immensurabili et absoluto pure mentis excessu ad superessentialem divinarum tenebrarum radium, omnia deserens et ab omnibus absolutus ascendes. His autem, vide, quomodo nemo indoctorum auscultet. Indoctos autem dico, in his, quæ sunt, conformatos, et nihil super existentia superessentialiter esse imaginantes. Sed his quidem hi, quos videre ea, quæ secundum seipsos est, scientia oportet tenebras latibulum ejus. Si autem super hos sunt divinæ in mysteria introductiones, quid quis dixerit de aliis ardentibus, quicunque omnibus superpositam causam ex ipsis in his, quæ sunt, novissimis characterizant, et nihil eam superare aiunt ab ipsis fictarum impietatum et multiformium formationum? In ipsa etiam oportet omnes existentium ponere et affirmare positiones, veluti omnium causa, et omnes eas potentius negare, tanquam super omnia superexistente, et non æstimari depulsiones oppositas esse intentionibus, sed multo prius ipsam super privationes esse, quæ est super omnem ablationem et positionem. Sic igitur divinus Bartholomæus ait, et multam theologiam esse, et minimam, et evangelium latum, et magnum, et iterum correptum. Mihi videtur supernaturaliter intelligens, quia et multiloqua est optima omnium causa, et breviloqua simul, et sine verbo, quomodo neque verbum, neque intelligentiam habet, eo quod omnibus ipsa superessentialiter superposita est, et solis incircumvelate et vere manifesta, polluta omnia et immunda transgredientibus, et omnem omnium sanctarum summitatum ascensionem superascendentibus, et omnia divina lumina et sonos et verba cælestia superantibus, et in caliginem occidentibus, ubi vere est, ut eloquia aiunt, omnium summitas. Etenim non simpliciter divinus ipse Moyses primus mundari jubetur, et iterum ab his, qui tales non sunt, segregari, et post omnem purgationem audit multivocas tubas, et videt luminaria multa aperte fulgurantia, et multum fusos radios. Deinde multis segregatur, et cum electis sacerdotibus in summitatem divinarum ascensionum præcurrit: et si eis sic manentibus fit Deo, contemplatur vero non ipsum, invisibilis enim, sed locum ubi stetit. Hoc autem arbitror significare divinissima et sublimissima visibilium et intelligibilium, ypotheticos quosdam esse sermones, subjectorum omnia superanti, per quæ super omnem intelligentiam ipsius præsentia ostenditur, intelligibilibus summitatibus sanctissimorum ejus locorum supergrediens: et quod ipsis absolvitur visibilibus et videntibus, et in caliginem ignorantiæ occidit vere mysticam, per quam docet omnes gnosticas receptiones, in qua omne relucet, et invisibili innascitur omnis, qui est in omnium summitate, et a nullo, neque a seipso, neque altero, omnino autem ignoto omni scientia in otio per id quod melius est intellectus, et nihil cognoscendum super animum sic cognoscentium.







Trinitas essentia, deitate, bonitate superior, divine Christianorum sapientiæ dux, dirige nos in ipsum superignotum et præfulgens excelsumque mysticorum eloquiorum culmen. Ubi simplicia et absoluta immutabiliaque theologiæ mysteria latent adoperta præfulgente quadam silentii clam sacra docentis caligine, quæ quidem ubi maximæ videtur obscura, ibi supra modum lucem profert exuberantem. Illic sane quod tangi viderique nullo modo potest splendoribus plusquam pulchris ad exuberantiam implet omnes quasi captos oculis intellectus. ⸿🞯Transcende non solum sensibilia, sed etiam intelligibilia et quasi intelligentiam negligens, solo solius primi boni amore te confer ad ipsum.Hec equidem oraverim. Tu vero, amice Timothee, intentissimo circa mystica spectacula studio linque sensus intellectualesque actiones, et sensibilia et intelligibilia omnia, et quæ sunt et quæ non sunt. Atque ut ipsi iungaris quod omni essentia et cognitione superius est, te ipsum intende pro viribus quasi cognitione vacantem. Sola enim extensione quadam, tum a te ipso, tum ab omnibus expedita, ad ipsum divinæ caliginis radium essentia sublimiorem, sublatis omnibus, et absolutus ex omnibus evolabis. ⸿🞯Prophani sunt qui Deum super essentiam et intellectum esse non putant; profanissimi qui Deum ex essentia deteriore confingunt et imaginatione querunt.Hec autem cave nequis profanus audiat. Eos autem sic appello, qui occupati duntaxat in his quæ sunt atque entia nominantur, nihil excelsius entibus (ut ita dixerim) super essentialiter esse putant. Sed arbitrantur cognitione sibi propria illum apprehendere qui tenebras posuit latibulum suum. Iam vero si hos divina mysteria supereminent, quidnam de illis quispiam dixerit? Qui longe profaniores suppremam illam omnium causam ex infimis quoque rebus effingunt nihilque hanc antecellere putant impia simulachra vel imaginamenta variis formis a se conficta? ⸿🞯Affirmare omnia de Deo decet rursusque negare, sed negatio tutior est et verior quam affirmatio.Debemus sane omnes rerum positiones affirmare de Deo, tanquam de omnium causa, vicissimque potiori quadam ratione easdem omnes de Deo negare tanquam cunctis excelsiore. Neque vero putandum est negationes eiusmodi affirmationibus repugnare, sed ipsam universi causam, que omni non solum ablatione sed etiam positione altior est, longe prius privationes omnes exsuperare. ⸿🞯Sermo de Deo tum plurimus rite, tum paucissimus, tum denique nullus baberi potest. Deus super essentiam et intelligentiam habitat.Hac igitur ratione divinus Bartholomeus ait theologiam esse plurimam atque paucissimam, ipsumque evangelium esse tum latum magnumque tum concisum. Mihi quidem mirifice intellexisse videtur eum qui circa bonam omnium causam versatur, rite posse tum multis verbis uti, tum etiam paucis, tum denique nullis, quippe cum pœnes eam et verbum et intelligentia cesset. Propterea quod quadam super essentiam ratione omnia supereminet. Solisque illis sublato velamine reveraque fulget quicunque omnia non solum impura sed etiam pura transilierunt, omnemque omnium sanctorum culminum ascensum iam transcenderunt; et cuncta divina lumina et sonos sermonesque cœlestes deseruerunt, atque eam protinus caliginem subiere ubi illæ revera est, ut sacra tradunt eloquia, qui omnibus est excelsior. ⸿🞯Ascensus ad Deum per purgationem animi atque per transitum intelligibilium specierum. Fruitio Dei per aliquid intellectu præstantius.Iure igitur divinus Moses divinitus admonetur primo quidem ut mundetur ipse, rursumque ut se separet ab immundis. Atque post omnem expiationem buccinarum clangores varios audit, cernitque lumina multa puros atque multiplices radios diffundentia. Post hæc a turbis vulgaribus segregatur. Atque cum selectis sacerdotibus ad divinarum ascensionum fastigia sese confert. Ibique non cum ipso quidem Deo commertium habet nec ipsum cernit. Non enim est visibilis: sed locum potius ubi stetit. ⸿ Hoc autem, ut reor, significat divinissima et suprema queque visibilium atque intelligibilium esse rationes quasdam suppositorias significasque eorum quæ subiecta sunt omnia transcendenti Deo, per quæ Dei præsentia omnem intelligentiam superans demonstratur, super intelligibiles sanctissimorum ipsius locorum summitates incedens. Tunc igitur, ipsa quoque visibilia et videntia intelligibiliave dimittens, ipsam ingreditur ignorationis mysticam revera caliginem. Ubi omnes cognitorias perceptiones excutit. Atque in eo qui tactum pœnitus visumque refugit iam consistit; totusque evadit ipsius qui omnia supereminet. Tunc sane nec sui iuris est, nec est alterius, sed ipsi, qui pœnitus est incognitus, cognitionis omnis vacatione per aliquid cognitione præstantius, est unitus. Ex eo enim quod cognoscit nihil, intelligentiam transcendendo cognoscit.
Triad supernal, both super-God and super-good, Guardian of the Theosophy of Christian men, direct us aright to the super-unknown and super-brilliant and highest summit of the mystic Oracles, where the simple and absolute and changeless mysteries of theology lie hidden within the super-luminous gloom of the silence, revealing hidden things, which in its deepest darkness shines above the most super-brilliant, and in the altogether impalpable and invisible, fills to overflowing the eyeless minds with glories of surpassing beauty.
This then be my prayer; but thou, O dear Timothy, by thy persistent commerce with the mystic visions, leave behind both sensible perceptions and intellectual efforts, and all objects of sense and intelligence, and all things not being and being, and be raised aloft unknowingly to the union, as far as attainable, with Him Who is above every essence and knowledge. For by the resistless and absolute ecstasy in all purity, from thyself and all, thou wilt be carried on high, to the superessential ray of the Divine darkness, when thou hast cast away all, and become free from all.
But see that none of the uninitiated listen to these things — those I mean who are entangled in things being, and fancy there is nothing superessentially above things being, but imagine that they know, by their own knowledge, Him, Who has placed darkness as His hiding-place. But, if the Divine initiations are above such, what would any one say respecting those still more uninitiated, such as both portray the Cause exalted above all, from the lowest of things created, and say that It in no wise excels the no-gods fashioned by themselves and of manifold shapes, it being our duty both to attribute and affirm all the attributes of things existing to It, as Cause of all, and more properly to deny them all to It, as being above all, and not to consider the negations to be in opposition to the affirmations, but far rather that It, which is above every abstraction and definition, is above the privations.
Thus, then, the divine Bartholomew says that Theology is much and least, and the Gospel broad and great, and on the other hand concise. He seems to me to have comprehended this supernaturally, that the good Cause of all is both of much utterance, and at the same time of briefest utterance and without utterance; as having neither utterance nor conception, because It is superessentially exalted above all, and manifested without veil and in truth, to those alone who pass through both all things consecrated and pure, and ascend above every ascent of all holy summits, and leave behind all divine lights and sounds, and heavenly words, and enter into the gloom, where really is, as the Oracles say, He Who is beyond all. For even the divine Moses is himself strictly bidden to be first purified, and then to be separated from those who are not so, and after entire cleansing hears the many-voiced trumpets, and sees many lights, shedding pure and streaming rays; then he is separated from the multitude, and with the chosen priests goes first to the summit of the divine ascents, although even then he does not meet with Almighty God Himself, but views not Him (for He is viewless) but the place where He is. Now this I think signifies that the most Divine and Highest of the things seen and contemplated are a sort of suggestive expression, of the things subject to Him Who is above all, through which His wholly inconceivable Presence is shown, reaching to the highest spiritual summits of His most holy places; and then he (Moses) is freed from them who are both seen and seeing, and enters into the gloom of the Agnosia; a gloom veritably mystic, within which he closes all perceptions of knowledge and enters into the altogether impalpable and unseen, being wholly of Him Who is beyond all, and of none, neither himself nor other; and by inactivity of all knowledge, united in his better part to. the altogether Unknown, and by knowing nothing, knowing above mind.
Dreiheit, die du Überseiendes und Übergott und Übergutes bist, Führer der Christen in die Gottesweisheit, leite uns auf den über-unerkannten und überhellen und höchsten Gipfel der mystischen Schriften! Da sind die einfachen und absoluten und unveränderlichen Geheimnnisse der Theologie verborgen in der überhellen Finsternis der in das Geheimnis einführenden Stille. In der tiefsten Finsternis über-beleuchtet diese Finsternis das, was am meisten über-hell ist, und in dem, was gänzlich untastbar und unsichtbar ist, über-erfüllt es die augenlosen Intelligenzien mit überschönem Glanz. Das ist mein Gebet. Du, o lieber Timotheus, beschäftige dich intensiv mit den mystischen Betrachtungen, und lasse die physischen Erfahrungen beiseite sowie die geistigen Tätigkeiten und alles, was physisch erfahrbar und geistig erreichbar ist, und alles, was nicht existiert und was existiert. Und lasse dich in der Weise der Unwissenheit aufziehen, soweit es möglich ist, zur Vereinigung mit dem, der alle Wirklichkeit und Erkenntnis übersteigt. Denn durch diese Ekstase, die absolut und schlechthin frei und gelöst von sich selbst und von allem ist, wirst du, nachdem du dir alles entfernt hast und von allem gelöst bist, zu dem über-wirklichen Strahl des göttlichen Schattens gebracht. Gib aber acht, daß niemand der Nicht-Eingeweihten etwas von diesen Dingen zufällig hört. Ich meine diejenigen, die in den Wirklichkeiten gefesselt sind und sich vorstellen, daß es nichts mehr in überwirklicher Weise gibt über die Wirklichkeiten hinaus, die wiederum meinen mit ihrer eigenen Art von Erkenntnis den zu erkennen, der den Schatten zu seinem Versteck macht. Und wenn die göttlichen Mystagogien über solche hinaus liegen, was ist denn zu sagen über diejenigen, die noch mehr ungeweiht sind, nämlich die, die die transzendente Ursache von allem charakterisieren von den letzten Dingen in den Wirklichkeiten her und die sagen, daß die Ursache nichts von den ungöttlichen und vielgestaltigen Formen, die aus diesen letzten Dingen entstanden sind, transzendiert? Es ist notwendig, ihr alles positiv Gegebene in den Wirklichkeiten anzuerkennen und zu affirmieren, sofern sie die Ursache von allem ist, und mit mehr Recht ihr das alles zu negieren, sofern sie die Überwirklichkeit über alles ist; und nicht zu denken, daß die Negationen im Gegensatz zu den Affirmationen stehen, sondern vielmehr, daß die Ursache, die über jede Verneinung und jede Bejahung liegt, über die Privationen liegt. In diesem Sinne also sagt der göttliche Bartholomäus, sowohl daß die Theologie viel und zugleich das wenigste sei, als auch daß das Evangelium weit und groß und zugleich komprimiert. Mir scheint er es in einer übernatürlichen Weise verstanden zu haben, daß die gute Ursache von allem etwas ist, worüber man viel sagen kann und zugleich wenig, ja überhaupt nichts, da ihr weder Sprechen noch Denken zugehört, aufgrund dessen, daß sie alles in überwirklicher Weise übersteigt und sich unverborgen und wahrhaftig nur denjenigen offenbart, die sowohl durch alles Beschmutzte und alles Reine durchgehen als auch über jeden Aufstieg aller heiligen Gipfel hinaus gehen und alle göttlichen Lichter und Stimmen und himmlische Worte hinter sich lassen, und in die Finsternis hineingehen, wo der, der jenseits von allem ist, wie die Schrift sagt, sich wirklich befindet. Denn nicht ohne Grund bekommt der göttliche Mose den Befehl, zuerst sich selbst zu reinigen, und dann sich von den, die nicht so sind, zu entfernen, und nach dieser totalen Reinigung hört er die vielstimmigen Trompetten, er sieht viele Lichter, die ihre reinen und verbreiteten Strahlen zerstreuen. Dann wird er von der Masse getrennt und mit den auserwählten Priestern erreicht er den Gipfel der göttlichen Aufstiege. Und dort begegnet er nicht Gott selbst, ihn selbst schaut er nicht – denn er ist unsichtbar –, sondern den Ort, wo er ist. Ich glaube, daß das bedeutet, daß die göttlichsten und höchsten Dingen von allem, was gesehen oder erkannt worden sind, nichts sind als gewisse zugrundliegende Wesen dessen, was dem unterworfen ist, der alles übersteigt. Dadurch zeigt sich seine über jeden Gedanken hinaus liegende Anwesenheit, die auf den geistigen Gipfeln seiner heiligsten Orte steht. Und dann wird er von all diesen Dingen befreit, die gesehen werden, sowie von den Sehenden, und er geht in die wirklich mystische Finsternis der Unwissenheit hinein, wo das ganze wissende Begreifen sich die Augen schließt, und er befindet sich in dem gänzlich Unberührbaren und Unsichtbaren; er gehört völlig dem, der jenseits von allem ist, und sonst niemandem, weder sich selbst noch einem anderen; und durch die Stillegung jeder Erkenntnis ist er mit dem absolut Unerkannten auf eine bessere Weise vereinigt und dadurch, daß er nichts erkennt, erkennt er über die Vernunft hinaus.
Κεφάλαιο

II ⮵
Quomodo oportet et uniri et hymnos referre omnium causali et super omnia ⮵
Quomodo auferendo omnia quæ sunt procedamus ad Deum. Et contraria ratione auferamus atque ponamus ⮵
How we ought both to be united
&

render praise to the Cause of all and above all ⮵
Wie es notwendig ist, sich mit der Ursache von allem
&

über alles zu vereinigen wie sie zu lobpreisen ⮵
Κατὰ τοῦτον ἡμεῖς γενέσϑαι τὸν ὑπέϱφωτον εὐχόμεϑα γνόφον ϰαὶ δι' ἀβλεψίας ϰαὶ ἀγνωσίας ἰδεῖν ϰαὶ γνῶναι τὸν ὑπὲϱ ϑέαν ϰαὶ γνῶσιν αὐτῶι τῶι μὴ ἰδεῖν μηδὲ γνῶναι - τοῦτο γάϱ ἐστι τὸ ὄντως ἰδεῖν ϰαὶ γνῶναι - ϰαὶ τὸν ὑπεϱούσιον ὑπεϱουσίως ὑμνῆσαι διὰ τῆς πάντων τῶν ὄντων ἀφαιϱέσεως, ὥσπεϱ οἱ αὐτοφυὲς ἄγαλμα ποιοῦντες ἐξαιϱοῦντες πάντα τὰ ἐπιπϱοσϑοῦντα τῆι ϰαϑαϱᾶι τοῦ ϰϱυφίου ϑέαι ϰωλύματα ϰαὶ αὐτὸ ἐφ' ἑαυτοῦ τῆι ἀφαιϱέσει μόνηι τὸ ἀποϰεϰϱυμμένον ἀναφαίνοντες ϰάλλος. Χϱὴ δέ, ὡς οἶμαι, τὰς ἀφαιϱέσεις ἐναντίως ταῖς ϑέσεσιν ὑμνῆσαι· ϰαὶ γὰϱ ἐϰείνας μὲν ἀπὸ τῶν πϱωτίστων ἀϱχόμενοι ϰαὶ διὰ μέσων ἐπὶ τὰ ἔσχατα ϰατιόντες ἐτίϑεμεν· ἐνταῦϑα δὲ ἀπὸ τῶν ἐσχάτων ἐπὶ τὰ ἀϱχιϰώτατα τὰς γνῶμεν ἐϰείνην τὴν ἀγνωσίαν τὴν ὑπὸ πάντων τῶν γνωστῶν ἐν πᾶσι τοῖς οὖσι πεϱιϰεϰαλυμμένην ϰαὶ τὸν ὑπεϱούσιον ἐϰεῖνον ἴδωμεν γνόφον τὸν ὑπὸ παντὸς τοῦ ἐν τοῖς οὖσι φωτὸς ἀποϰϱυπτόμενον.
Juxta hanc nos fieri superlucentem oramus caliginem, et per invisibilitatem et ignorantiam videre et cognoscere ipsum super Deum et scientiam. Hoc non videre et scire, idipsum est vere videre et cognoscere, superessentialem superessentialiter laudare per omnium existentium ablationem, sicut per seipsum naturale agalma facientes, auferunt ea, quæ superadjecta sunt, pura occulti visione vetantia, et ipsam in seipsa ablatione sola occultam manifestant formam. Oportet autem, ut arbitror, ablationes in contrarium positionibus laudare. Etenim illas quidem a præstantissimis inchoantes, et per media in novissima descendentes, apponimus. Hinc vero a novissimis ad principalissimas ascensiones facientes, omnia auferimus, ut incircumvelate cognoscamus illam ignorantiam, ab omnibus ignorantibus in omnibus existentibus circumvelatam, et superessentialem illam videamus caliginem, ab omni in existentibus luce occultatam.
Hanc nos prælucidam caliginem ingredi precamur atque per visus cognitionisque vacationem videre et nosse quod est visione notitiaque superius. ⸿ Ex hoc ipso videlicet quod nec videamus nec aliquid cognoscamus. Hoc enim est revera videre ac nosse et eum qui essentia eminentior est modo quodam super essentiam, ex omnium videlicet que sunt ablatione laudare. Quemadmodum qui statuam indigenam fabricant auferentes omnia quæ circum apposita impediunt perspicuum formæ latentis intuitum, solaque ablatione pulchritudinem ipsam in se pandentes occultam. ⸿ Oportet autem ablationes ut arbitror contra ac positiones celebrare. Positiones enim incohantes a primis ac per media ad ultima descendetes adhibebamus. At in auferendo vicissim a postremis ad prima dispositis gradibus ascendentes omnia tollimus, ut submoto velamine ignorationem illam cognoscamus que sub omnibus cognobilibus in entibus omnibus delitescit. Illamque caliginem essentia superiorem perspiciamus que ab universo lumine in his quæ sunt emicante nobis occulitur.
We pray to enter within the super-bright gloom, and through not seeing and not knowing, to see and to know that the not to see nor to know is itself the above sight and knowledge. For this is veritably to see and to know and to celebrate super-essentially the Superessential, through the abstraction of all existing things, just as those who make a lifelike statue, by extracting all the encumbrances which have been placed upon the clear view of the concealed, and by bringing to light, by the mere cutting away, the genuine beauty concealed in it. And, it is necessary, as I think, to celebrate the abstractions in an opposite way to the definitions. For, we used to place these latter by beginning from the foremost and descending through the middle to the lowest, but, in this case, by making the ascents from the lowest to the highest, we abstract everything, in order that, without veil, we may know that Agnosia, which is enshrouded under all the known, in all things that be, and may see that superessential gloom, which is hidden by all the light in existing things.
In diese überhelle Finsternis möchten wir eindringen und durch Blindheit und Unwissenheit das, was über Sehen und Erkennen liegt, sehen und erkennen gerade durch das Nicht-Sehen und Nicht-Erkennen. Denn das ist wirkliches Sehen und Erkennen und überwirkliches lobpreisen des Überwirklichen durch die Abstraktion von allen Wirklichkeiten. So etwa wie ein Bildhauer, um zu einer Wesensgestaltung zu gelangen, mit Hammer und Händen den Marmor von aller Materie reinigen muß, die dem reinen Anschauen der in ihm noch gänzlich verborgenen Form im Wege stünde: unsere einzige ausführbare Tat ist das Entfernen solcher materieller Hindernisse. Nur diese Abstraktion kann uns erlauben die verhüllte Schönheit des unbekannten Bildes zu offenbaren. Es ist aber notwendig, wie ich meine, die absprechenden Verneinungen zu preisen auf einem Weg, der dem bei den Zusprechungen gerade entgegengesetzt ist. Denn bei diesen müssen wir allerdings mit den allerersten Dingen beginnen, und von da können wir dann über die mittleren zu den letzten hinabsteigen. Bei den Verneinungen aber ziehen wir alles ab, indem wir unsere Aufstiegen von den letzten zu den allerursprünglichsten machen, sodaß wir diese Unwissenheit, die von allem Erkannten in den Wirklichkeiten überdeckt wird, nun aufgedeckt erkennen und diese überwirkliche Finsternis, die von jedem Licht, das in den Wirklichkeiten ist, verdeckt wird, sehen.
Κεφάλαιο

III ⮵
Quæ sunt καταφατικαὶ theologiæ, quæ ἀποφατικαἰ ⮵
De bonitate divina, unitate, trinitate, Iesu appellationibus, figurisque divinis ⮵
What are the affirmative expressions respecting God, and what the negative ⮵
Was die bejahenden und die verneinenden Theologien sind ⮵
Ἐν μὲν οὖν ταῖς Θεολογιϰαῖς Ὑποτυπώσεσι τὰ ϰυϱιώτατα τῆς ϰαταφατιϰῆς ϑεολογίας ὑμνήσαμεν, πῶς ἡ ϑεία ϰαὶ ἀγαϑὴ φύσις ἑνιϰὴ λέγεται, πῶς τϱιαδιϰή· τίς ἡ ϰατ' αὐτὴν λεγομένη πατϱότης τε ϰαὶ υἱότης· τί βούλεται δηλοῦν ἡ τοῦ πνεύματος ϑεολογία· πῶς ἐϰ τοῦ ἀΰλου ϰαὶ ἀμεϱοῦς ἀγαϑοῦ τὰ ἐγϰάϱδια τῆς ἀγαϑότητος ἐξέφυ φῶτα ϰαὶ τῆς ἐν αὐτῶι ϰαὶ ἐν ἑαυτοῖς ϰαὶ ἐν ἀλλήλοις συναϊδίου τῆι ἀναβλαστήσει μονῆς ἀπομεμένηϰεν ἀνεϰφοίτητα· πῶς ὁ ὑπεϱούσιος Ἰησοῦς ἀνϑϱωποφυϊϰαῖς ἀληϑείαις οὐσίωται ϰαὶ ὅσα ἄλλα πϱὸς τῶν λογίων ἐϰπεφασμένα ϰατὰ τὰς Θεολογιϰὰς Ὑποτυπώσεις ὕμνηται. Ἐν δὲ τῶι Πεϱὶ Θείων Ὀνομάτων, πῶς ἀγαϑὸς ὀνομάζεται, πῶς ὤν, πῶς ζωὴ ϰαὶ σοφία ϰαὶ δύναμις ϰαὶ ὅσα ἄλλα τῆς νοητῆς ἐστι ϑεωνυμίας. Ἐν δὲ τῆι Συμβολιϰῆι Θεολογίαι, τίνες αἱ ἀπὸ τῶν αἰσϑητῶν ἐπὶ τὰ ϑεῖα μετωνυμίαι, τίνες αἱ ϑεῖαι μοϱφαί, τίνα τὰ ϑεῖα σχήματα ϰαὶ μέϱη ϰαὶ ὄϱγανα, τίνες οἱ ϑεῖοι τόποι ϰαὶ ϰόσμοι, τίνες οἱ ϑυμοί, τίνες αἱ λῦπαι ϰαὶ αἱ μήνιδες, τίνες αἱ μέϑαι ϰαὶ αἱ ϰϱαιπάλαι, τίνες οἱ ὅϱϰοι ϰαὶ τίνες αἱ ἀϱαί, τίνες οἱ ὕπνοι ϰαὶ τίνες αἱ ἐγϱηγόϱσεις ϰαὶ ὅσαι ἄλλαι τῆς συμβολιϰῆς εἰσι ϑεοτυπίας ἱεϱόπλαστοι μοϱφώσεις.
Καί σε οἴομαι συνεωϱαϰέναι, πῶς πολυλογώτεϱα μᾶλλόν ἐστι τὰ ἔσχατα τῶν πϱώτων· ϰαὶ γὰϱ ἐχϱῆν τὰς Θεολογιϰὰς Ὑποτυπώσεις ϰαὶ τὴν τῶν Θείων Ὀνομάτων ἀνάπτυξιν βϱαχυλογώτεϱα εἶναι τῆς Συμβολιϰῆς Θεολογίας. Ἐπείπεϱ ὅσωι πϱὸς τὸ ἄναντες ἀνανεύομεν, τοσοῦτον οἱ λόγοι ταῖς συνόψεσι τῶν νοητῶν πεϱιστέλλονται· ϰαϑάπεϱ ϰαὶ νῦν εἰς τὸν ὑπὲϱ νοῦν εἰσδύνοντες γνόφον οὐ βϱαχυλογίαν, ἀλλ' ἀλογίαν παντελῆ ϰαὶ ἀνοησίαν εὑϱήσομεν. Κἀϰεῖ μὲν ἀπὸ τοῦ ἄνω πϱὸς τὰ ἔσχατα ϰατιὼν ὁ λόγος ϰατὰ τὸ ποσὸν τῆς ϰαϑόδου πϱὸς ἀνάλογον πλῆϑος ηὐϱύνετο· νῦν δὲ ἀπὸ τῶν ϰάτω πϱὸς τὸ ὑπεϱϰείμενον ἀνιὼν ϰατὰ τὸ μέτϱον τῆς ἀνόδου συστέλλεται ϰαὶ μετὰ πᾶσαν ἄνοδον ὅλως ἄφωνος ἔσται ϰαὶ ὅλως ἑνωϑήσεται τῶι ἀφϑέγϰτωι. Διὰ τί δὲ ὅλως, φήις, ἀπὸ τοῦ πϱωτίστου ϑέμενοι τὰς ϑείας ϑέσεις ἀπὸ τῶν ἐσχάτων ἀϱχόμεϑα τῆς ϑείας ἀφαιϱέσεως; Ὅτι τὸ ὑπὲϱ πᾶσαν τιϑέντας ϑέσιν ἀπὸ τοῦ μᾶλλον αὐτῶι συγγενεστέϱου τὴν ὑποϑετιϰὴν ϰατάφασιν ἐχϱῆν τιϑέναι· τὸ δὲ ὑπὲϱ πᾶσαν ἀφαίϱεσιν ἀφαιϱοῦντας ἀπὸ τῶν μᾶλλον αὐτοῦ διεστηϰότων ἀφαιϱεῖν. Ἢ οὐχὶ μᾶλλόν ἐστι ζωὴ ϰαὶ ἀγαϑότης ἢ ἀὴϱ ϰαὶ λίϑος; Καὶ μᾶλλον οὐ ϰϱαιπαλᾶι ϰαὶ οὐ μηνιᾶι ἢ οὐ λέγεται οὐδὲ νοεῖται;
In theologicis igitur characteribus potentissima affirmativæ theologiæ laudavimus, quomodo divina et optima natura unica dicitur, quomodo triadica, quæ secundum ipsam dicta et paternitas, et filiolitas, quid vult declarare in spiritu theologia, quomodo ex immateriali et impartibili optimo in corde bonitatis germinata sunt lumina, et quomodo ipsius in ipso et in seipsis et inter se invicem coæternæ in germinatione mansionis servaverunt reditum, quomodo superessentialis Jesus humanis naturalibus veritatibus essentia factus est, et quæcunque alia ab eloquiis expressa sunt secundum theologicos characteres. In eo autem qui est de divinis nominibus, quomodo optimus nominatur, quomodo ὤν, quomodo vita, et sapientia, et virtus, et quæcunque alia intelligibilis sunt divinæ nominationis. In symbolica vero theologia, quæ sint a sensibilibus in divina transnominationes, quæ divinæ formæ, quæ divinæ figuræ, et partes, et organa, qui divini loci et mundi, qui furores, quæ tristitiæ et maniæ, quæ ebrietates et crapulæ, quæ juramenta, quæ execrationes, qui somni, quæ vigiliæ, et quæcunque aliæ symbolicæ sunt divinæ similitudinis sacre figuratæ formationes. Et te arbitror considerasse, quomodo verbis copiosiora magis sunt novissima primis. Etenim habere theologicos characteres, et divinorum nominum reserationem breviorem verbis esse symbolica theologia. Quoniam quidem quantum ad superiora respicimus, tantum verba contemplationibus invisibilium coartantur: sicut et nunc in ipsam super intellectum occidentes caliginem, non brevem sermonem, sed sermonis defectum et nominationis inveniemus. Et ibi quidem desursum ad novissima descendens sermo, juxta quantitatem ejus, quæ est universaliter ad proportionalem multitudinem, inventus est. Nunc autem ab his, quæ deorsum sunt, ad superpositum ascendens, secundum mensuram invii corripitur, et post omne invium totus sine voce erit, et totus adunabitur sono carenti. Quare autem omnino, inquis, ex præstantissimo ponentes divinas positiones, a novissimis inchoamus divinam ablationem? Quia quid super omnem ponentes positionem, ex magis ipsi cognatiori conditionalem affirmationem oportuit ponere: quod autem super omnem ablationem auferentes, ex magis ipso distantibus auferre. An non magis est vita et bonitas, quam ær et lapis? Et magis non crapulæ, et non maniæ, quam non dicitur neque intelligitur?
In eo libro quem De Theologicis Institutionibus inscripsimus, que sint affirmantis theologiæ præcipua diximus. ⸿ Quomodo divina bonaque natura dicitur unica, quomodo ibidem trinitas; quæ pœnes hanc ipsam naturam sit ipsa Patris, que Filii notio; quid significet Spiritus Sancti theologia. ⸿ Qua ratione ex incorporeo individuoque bono intima bonitatis lumina pulularunt; permanentque intus non exeuntia nec discedunt a mansione in ipso et in se ipsis et invicem, quippe cum hæc ipsa permansio pullulationem perpetuo comitetur. ⸿ Quo item pacto superior essentia lesus veram possidet humanæ nature substantiam, et quæcunque alia a sacris litteris demonstrata in eo opere celebravimus. ⸿ Sed in libro De divinis nominibus, quomodo bonus appelletur, quomodo ens, vita, sapientia, potestas, cæteraque eiusmodi ad appellationem divinam scilicet intelligibilem pertinentia. In Theologia vero per figuras significativa tractavimus que sint a rebus, que sentiuntur appellationes ad divina translate, quæ formæ divinæ, quæ figure, membra, instrumenta, quæ loca divina, quæ ornamenta, qui furores, quæ tristitiæ, indignationes, ebrietates, crapule, iuramenta, execrationes, somni, experrectiones, et quecunque alie significative theologiæ figurantis Deum formationes sunt sacra ratione conficte.
🞯Sermo de rebus altioribus debet esse brevior.Reor autem te deprehendisse extrema verbis esse prolixiora supræmis. Oportebat sane thæologicas institutiones explicationemque nominum divinorum breviori quam theologiam significativam sermone tractari. Quatenus enim ad sublimiora contendimus, eatenus sermones ipsis intelligibilium conspectibus contrahuntur. Quemadmodum nunc caliginem illam subeuntes, quæ superat intellectum, non solum in sermonis brevitatem, sed etiam in silentium omnino vacationemque intelligentie protinus incidemus. ⸿ Iam vero illic quidem a supræmo ad infima descendens oratio, pro quantitate descensus ad latitudinem descensui congruam gradatim extendebatur. Nunc autem ab inferioribus ad sublime sermo conscendens (pro modo ascensus), paulatim evadit angustior. Itaque post omnem ascensum, obmutescet omnino totusque ineffabili coniungetur. 🞯Affirmatio rerum de Deo contraria via procedit quam negatio.Fortasse queres: Quare, cum a primo divinas positiones incohare soleamus, vicissim auferre ab extremis incipiamus? Quoniam videlicet, quando ponimus circa illud quod positionem omnem exsuperat suppositoriam affirmationem, oportet ab eo quod est illi cognatius exordiri. Contra vero quando circa illud auferimus quod ablationem omnem excedit, ab his que longius ab eo distant rite incohamus ablationem. Nonne Deus magis est vita et bonitas quam aer atque lapis? Vicissimque potius non crapulatur nec irascitur quam nec dicitur nec intelligitur.
In the Theological Outlines, then, we celebrated the principal affirmative expressions respecting God — how the Divine and good Nature is spoken of as One — how as Threefold — what is that within it which is spoken of as Paternity and Sonship — what the Divine name of "the Spirit "is meant to signify, — how from the immaterial and indivisible Good the Lights dwelling in the heart of Goodness sprang forth, and remained, in their branching forth, without departing from the coeternal abiding in Himself and in Themselves and in each other, — how the super-essential Jesus takes substance in veritable human nature — and whatever other things, made known by the Oracles, are celebrated throughout the Theological Outlines; and in the treatise concerning Divine Names, how He is named Good — how Being — how Life and Wisdom and Power — and whatever else belongs to the nomenclature of God. Further, in the Symbolical Theology, what are the Names transferred from objects of sense to things Divine? — what are the Divine forms? — what the Divine appearances, and parts and organs? — what the Divine places and ornaments? — what the angers? — what the griefs? — and the Divine wrath? — what the carousals, and the ensuing sicknesses? — what the oaths, — and what the curses? — what the sleepings, and what the awakings? — and all the other Divinely formed representations, which belong to the description of God, through symbols.
And I imagine that you have comprehended, how the lowest are expressed in somewhat more words than the first. For, it was necessary that the Theological Outlines, and the unfolding of the Divine Names should be expressed in fewer words than the Symbolic Theology; since, in proportion as we ascend to the higher, in such a degree the expressions are circumscribed by the contemplations of the things intelligible. As even now, when entering into the gloom which is above mind, we shall find, not a little speaking, but a complete absence of speech, and absence of conception. In the other case, the discourse, in descending from the above to the lowest, is widened according to the descent, to a proportionate extent; but now, in ascending from below to that which is above, in proportion to the ascent, it is contracted, and after a complete ascent, it will become wholly voiceless, and will be wholly united to the unutterable. But, for what reason in short, you say, having attributed the Divine attributes from the foremost, do we begin the Divine abstraction from things lowest? Because it is necessary that they who place attributes on that which is above every attribute, should place the attributive affirmation from that which is more cognate to it; but that they who abstract, with regard to that which is above every abstraction, should make the abstraction from things which are further removed from it. Are not life and goodness more (cognate) than air and stone? and He is not given to debauch and to wrath, more (removed) than He is not expressed nor conceived.
In meinen Theologischen Skizzen habe ich das Wichtigste der positiven (kataphatischen) Theologie gepriesen: Wie es zu verstehen ist, wenn die göttliche und gute Natur einig genannt wird, und wenn sie dreifaltig genannt wird; was jenes ist, das wir in ihr Vaterschaft, was jenes, das wir in ihr Sohnesschaft nennen; was die Theologie des Geistes bedeutet; wie die Lichter, die aus dem Herzen der Gutheit stammen, aus dem immateriellen und unteilbaren Guten entstanden und in ihm und in sich selbst und in einander behalten sie untrennbar ihre Wohnung bei, die mit ihrer Entstehung gleich ewig ist; wie Jesus, der überwirklich ist, zu einer Wirklichkeit in wahrhaft menschlichen zuständen geworden ist; und noch vieles andere, durch die Schriften geoffenbart, wird in den Theologischen Skizzen gepriesen. In meiner Schrift Über die göttlichen Namen ist gezeigt worden: wie Gott gut genannt wird, wie Sein, wie Leben und Weisheit und Kraft und alles andere, was zur denkbaren Nomenklatur Gottes gehört. In der Symbolischen Theologie ist behandelt worden: was die Namen sind, die zur Bezeichnung von göttlichen Eigenschaften aus sinnlich faßbaren Dingen genommen werden; was die göttlichen Formen, die göttlichen Gestalten und Glieder und Organe sind; was die göttlichen Orte und Welten sind; was Zorn, Trauer, Groll sind; was Trunkenheit, Rausch, Eidschüren, Flüchen; was Schlag und Wachen; und was die anderen heiliggebildeten Formen sind, die für Gott symbolisch verarbeitet worden sind. Und ich glaube, du hast bemerkt, wie viel mehr man über die letzten Dinge reden muß als über die ersten, denn die Theologischen Skizzen und die Darstellung Über die göttlichen Namen mußten weniger wortreich sein als die Symbolische Theologie, weil, um so höher wir den Blick richten, desto weniger Wörte bei den umfassenden Blicken der geistigen Dinge. Doch jetzt, da wir in die über die Vernunft liegende Finsternis eintreten, werden wir nicht nur wenig Reden finden, sondern überhaupt kein Reden und kein Verstehen. Dort [d.h. in der affirmativen Theologie], wo wir von oben bis zu den untersten Wesen herabsteigen, erweitert sich die Sprache entsprechend dem Maß des Abstiegs. Jetzt aber, wo wir von unten bis zum Transzendenten hinaufsteigen, verringert sie sich entsprechend dem Maß des Aufstiegs, und am Ende des Aufstiegs wird sie völlig lautlos und mit dem Unaussprechlichen gänzlich vereinigt. Aber warum denn, fragst du, beginnen wir mit der göttlichen Absprechung von den letzten Dingen her, nachdem wir von den ersten Dingen her die göttlichen Zusprechungen gesetzt haben? Weil, um das, was über jede Setzung liegt, zu setzen, mußte man die grundlegende Bejahung setzen von dem Wesen her, das ihm näher liegt, aber um das, was über jeden Abzug liegt, abzuziehen, mußte man von den Dingen ausgehen, die ihm am weitesten entfernt liegen. Ist er nicht eher Leben und Gutheit als Luft und Stein? Und ist es nicht eher der Fall, daß er nicht besoffen ist und daß er nicht in Zorn geraten ist, als daß er nicht genannt wird und daß er nicht erkannt wird?
Κεφάλαιο

IV ⮵
Quia nihil sensibilium omnis sensibilis per excellentiam causalis ⮵
Quod nihil sensibilium est qui sensibilis omnis eminenter est auctor ⮵
That the pre-eminent Cause of every object of sensible perception is none of the objects of sensible perception ⮵
Daß der Grund alles sinnlich Erfahrbaren mitnichten zu den sinnlich erfahrbaren Dingen gehört ⮵
Λέγομεν οὖν, ὡς ἡ πάντων αἰτία ϰαὶ ὑπὲϱ πάντα οὖσα οὔτε ἀνούσιός ἐστιν οὔτε ἄζωος, οὔτε ἄλογος οὔτε ἄνους· οὐδὲ σῶμά ἐστιν οὔτε σχῆμα, οὔτε εἶδος οὔτε ποιότητα ἢ ποσότητα ἢ ὄγϰον ἔχει· οὐδὲ ἐν τόπωι ἐστὶν οὔτε ὁϱᾶται οὔτε ἐπαφὴν αἰσϑητὴν ἔχει· οὐδὲ αἰσϑάνεται οὔτε αἰσϑητή ἐστιν· οὐδὲ ἀταξίαν ἔχει ϰαὶ ταϱαχήν, ὑπὸ παϑῶν ὑλιϰῶν ἐνοχλουμένη, οὔτε ἀδύναμός ἐστιν, αἰσϑητοῖς ὑποϰειμένη συμπτώμασιν, οὔτε ἐν ἐνδείαι ἐστὶ φωτός· οὐδὲ ἀλλοίωσιν ἢ φϑοϱὰν ἢ μεϱισμὸν ἢ στέϱησιν ἢ ·εῦσιν οὔτε ἄλλο τι τῶν αἰσϑητῶν οὔτε ἐστὶν οὔτε ἔχει.
Dicamus igitur sic: Omnium causa, et super omnia ens, neque carens essentia est, neque carens vita, neque irrationabilis est, neque insensualis, neque corpus est, neque figura, neque species, neque qualitatem, aut quantitatem, aut tumorem habet, neque in loco est, neque videtur, neque tactum sensibilem habet, neque sentitur, neque sensibilis est, neque inordinationem habet, neque perturbationem a passionibus materialibus commota, neque impotens est sensibilibus succumbens casibus, neque indigens est lucis, neque mutationem, aut corruptionem, aut partitionem, aut privationem, aut fluxum, neque aliud quid sensibilium est, neque habet.
Causa omnium omnia supereminens nec essentia, nec vita, nec ratione, nec mente capta est. Neque est corpus nec figuram vel speciem, nec qualitatem aut quantitatem, aut molem habet, nec est in loco, neque cernitur. Neque sensibilem tactum habet; nec sentit, nec est sensibilis. Neque perturbationi ordinis experti obnoxia est, a passionibus videlicet materialibus agitata. Rursus, nec est invalida, sensibilibus videlicet subiecta casibus, nec luminis indiga; nec alterationem, vel corruptionem, aut divisionem, aut privationem ullam admittit. Nec aliud quicquam sensibilium aut est aut habet.
We say then, that the Cause of all, which is above all, is neither without being, nor without life — nor without reason, nor without mind, nor is a body — nor has shape — nor form — nor quality, or quantity, or bulk — nor is in a place — nor is seen — nor has sensible contact — nor perceives, nor is perceived, by the senses — nor has disorder and confusion, as being vexed by earthly passions, — nor is powerless, as being subject to casualties of sense, — nor is in need of light; — neither is It, nor has It, change, or decay, or division, or deprivation, or flux, — or any other of the objects of sense.
So sagen wir es denn: die Ursache von allem, die über alles hinaus ist, ist nicht unwirklich, nicht unlebendig, nicht ohne Verstand und nicht ohne Vernunft, ist nicht Körper. Er hat keine Gestalt und keine Form, weder Qualität noch Quantität noch Masse. Er ist nicht im Raum. Er wird nicht gesehen, und kann nicht empirisch erfasst werden. Er wird nicht sinnlich erfahren, und ist nicht empirisch. Er kennt weder Unordnung noch Durcheinander, als ob er von materiellen Leidenschaften beunruhigt würde. Er ist nicht kraftlos, als ob er dem sinnlichen Geschehen unterliegen würde. Ihm mangelt es nicht an Licht. Er kennt weder Veränderung noch Zerfall noch Zerteilung noch Mangel noch Verminderung. Weder ist er noch hat er irgend etwas vom Empirischen.
Κεφάλαιο

V ⮵
Quia nihil intelligibilium omnis intelligibilis per excellentiam causalis ⮵
Quod nullum intelligibilium est qui omnis intelligibilis eminenter est auctor ⮵
That the pre-eminent Cause of every object of intelligible perception is none of the objects of intelligible perception ⮵
Daß der Grund par excellence von allem Intelligiblen mitnichten zum Intelligiblen gehört ⮵
Αὖϑις δὲ ἀνιόντες λέγομεν, ὡς οὔτε ψυχή ἐστιν οὔτε νοῦς, οὔτε φαντασίαν ἢ δόξαν ἢ λόγον ἢ νόησιν ἔχει· οὐδὲ λόγος ἐστὶν οὔτε νόησις, οὔτε λέγεται οὔτε νοεῖται· οὔτε ἀϱιϑμός ἐστιν οὔτε τάξις, οὔτε μέγεϑος οὔτε σμιϰϱότης, οὔτε ἰσότης οὔτε ἀνισότης, οὔτε ὁμοιότης ἢ ἀνομοιότης· οὔτε ἕστηϰεν οὔτε ϰινεῖται οὔτε ἡσυχίαν ἄγει· οὐδὲ ἔχει δύναμιν οὔτε δύναμίς ἐστιν οὔτε φῶς· οὔτε ζῆι οὔτε ζωή ἐστιν· οὔτε οὐσία ἐστὶν οὔτε αἰὼν οὔτε χϱόνος· οὐδὲ ἐπαφή ἐστιν αὐτῆς νοητὴ οὔτε ἐπιστήμη, οὔτε ἀλήϑειά ἐστιν οὔτε βασιλεία οὔτε σοφία, οὔτε ἓν οὔτε ἑνότης, οὔτε ϑεότης ἢ ἀγαϑότης· οὐδὲ πνεῦμά ἐστιν, ὡς ἡμᾶς εἰδέναι, οὔτε υἱότης οὔτε πατϱότης οὔτε ἄλλο τι τῶν ἡμῖν ἢ ἄλλωι τινὶ τῶν ὄντων συνεγνωσμένων· οὐδέ τι τῶν οὐϰ ὄντων, οὐδέ τι τῶν ὄντων ἐστίν, οὔτε τὰ ὄντα αὐτὴν γινώσϰει, ἧι αὐτή ἐστιν, οὔτε αὐτὴ γινώσϰει τὰ ὄντα, ἧι ὄντα ἐστίν· οὔτε λόγος αὐτῆς ἐστιν οὔτε ὄνομα οὔτε γνῶσις· οὔτε σϰότος ἐστὶν οὔτε φῶς, οὔτε πλάνη οὔτε ἀλήϑεια· οὔτε ἐστὶν αὐτῆς ϰαϑόλου ϑέσις οὔτε ἀφαίϱεσις, ἀλλὰ τῶν μετ' αὐτὴν τὰς ϑέσεις ϰαὶ ἀφαιϱέσεις ποιοῦντες αὐτὴν οὔτε τίϑεμεν οὔτε ἀφαιϱοῦμεν, ἐπεὶ ϰαὶ ὑπὲϱ πᾶσαν ϑέσιν ἐστὶν ἡ παντελὴς ϰαὶ ἑνιαία τῶν πάντων αἰτία ϰαὶ ὑπὲϱ πᾶσαν ἀφαίϱεσιν ἡ ὑπεϱοχὴ τοῦ πάντων ἁπλῶς ἀπολελυμένου ϰαὶ ἐπέϰεινα τῶν ὅλων.
— Jacques Paul Migne: Patrologiae Cursus Completus. Series Graeca, III. Paris, 1857.
Iterum autem ascendentes dicamus, ὢν neque anima est, neque intellectus, neque phantasiam, aut opinionem, aut verbum, aut intelligentiam habet, neque ratio est, neque intelligentia, neque dicitur, neque intelligitur, neque numerus est, neque ordo, neque magnitudo, neque parvitas, neque aequalitas, neque similitudo aut dissimilitudo, neque stat, neque movetur, neque silentium ducit, neque habet virtutem, neque virtus est, neque lux, neque vita est, neque hostia est, neque seculum, neque tempus, neque tactus est ejus intelligibilis, neque scientia, neque veritas est, neque regnum, neque sapientia, neque unum, neque unitas, neque deitas, aut bonitas, neque spiritus est, sicut nos scimus, neque filiolitas, neque paternitas, neque aliud quid nobis aut alicui existentium cognitum, neque quid non existentium, neque quid existentium est, neque existentia eam cognoscunt, an ipsa sit, neque ipsa cognoscit existentia, an existentia sunt, neque verbum ejus est, neque nomen, neque scientia, neque tenebrae est, neque lumen, neque error, neque veritas, neque est ejus universaliter positio, neque ablatio, sed eorum, quae post eam sunt, positiones et ablationes facientes, ipsam neque auferimus, neque ponimus, quoniam et super omnem positionem est perfecta et singularis omnium causa, super omnem ablationem excellentia omnium simpliciter perfectione, et summitas omnium. Explicit liber de mystica theologia.
— Joannes Scotus Erigena versio operum S. Dionysii. Jacques-Paul Migne. PL. CXXII, 1171-1176C.
Iterum ascendentes dicimus Deum nec esse animam, nec habere sensum vel phantasiam vel opinionem vel rationem vel intelligentiam, nec esse intellectum, neque intelligentiam, nec dici, nec intelligi. ⸿ Nec esse numerum, nec ordinem, nec magnitudinem, nec patvitatem, nec æqualitatem, neque similitudinem vel dissimilitudinem, nec stare vel moveri vel quietem agere. ⸿ Nec habere potentiam, nec esse potentiam, neque lumen, neque vitam, nec essentiam, nec æternitatem aut tempus, nec esse tactum ipsius intelligibilem neque scientiam. ⸿ Quinetiam nec est veritas, nec regnum, neque sapientia, nec unum, nec unitas, nec bonitas, nec deitas. ⸿ Nec spiritus est quemadmodum ipsi perpendimus, nec paternitas est eiusmodi, nec ratio filii. ⸿ Neque aliud quicquam eorum quæ nobis vel aliis rebus ullis sint cognita. Nec est aliquid eorum quæ non sunt vel eorum quæ sunt. Item nec ea quæ sunt Deum sicut est ipse cognoscunt; nec Deus res pro ipsa rerum conditione cognoscit. ⸿ Nec ipsius Dei sermo est, neque nomen, neque cognitio, neque tenebre, neque lumen est, neque error, nec veritas. ⸿ Nec est ipsius positio prorsus ulla, nec ablatio. Verum nos quæ post Deum sunt ponentes auferentesve nec ipsum ponimus nec auferimus, quippecum omni positione superior sit singularis illa et omnino perfecta omnium causa; et omni rursum ablatione altior excellentia illius qui ab omnibus est simpliciter absolutus totisque superior.
— Dionysii Areopagitae De mystica theologia et De divinis nominibus. Florenz: Lorenzo di Alopa, nach 02.12.1496. GW 08410.
On the other hand, ascending, we say, that It is neither soul, nor mind, nor has imagination, or opinion, or reason, or conception; neither is expressed, nor conceived; neither is number, nor order, nor greatness, nor littleness; nor equality, nor inequality; nor similarity, nor dissimilarity; neither is standing, nor moving; nor at rest; neither has power, nor is power, nor light; neither lives, nor is life; neither is essence nor eternity, nor time; neither is Its touch intelligible, neither is It science, nor truth; nor kingdom, nor wisdom; neither one, nor oneness; neither Deity, nor Goodness; nor is It Spirit according to our understanding; nor Sonship, nor Paternity; nor any other thing of those known to us, or to any other existing being; neither is It any of non-existing nor of existing things, nor do things existing know It, as It is; nor does It know existing things, qua existing; neither is there expression of It, nor name, nor knowledge; neither is It darkness, nor light; nor error, nor truth; neither is there any definition at all of It, nor any abstraction. But when making the predications and abstractions of things after It, we neither predicate, nor abstract from It; since the all-perfect and uniform Cause of all is both above every definition and the pre-eminence of Him, Who is absolutely freed from all, and beyond the whole, is also above every abstraction.
— Mystical Theology. Translated by Rev. John Parker. In: The Works of Dionysius the Areopagite, now first translated into English, from the original Greek, Vol. I. London: James Parker and Co, 1897. pp. 129-137.
Wiederum sagen wir, indem wir aufsteigen: er ist weder Seele noch Geist. Er hat weder Vorstellungskraft noch Meinung noch Verstand noch Vernunft. Er ist nicht Sprache und nicht Verständnis. Weder wird er gesagt noch wird er gedacht. Er ist nicht Zahl und nicht Ordnung, weder Größe noch Kleinigkeit, weder Gleichheit noch Ungleichheit, weder Ähnlichkeit noch Unähnlichkeit. Weder steht er noch bewegt er sich, noch ruht er. Weder hat er Kraft noch ist er Kraft. Nicht Licht. Weder ist er lebendig noch ist er Leben. Er ist nicht Wirklichkeit. Weder ewig noch zeitlich. Es gibt von ihm kein geistiges Erfassen. Er ist nicht Erkenntnis und nicht Wahrheit, weder Herrschaft noch Weisheit. Er ist nicht Eins und nicht Einheit, nicht Gottheit nicht Gutheit. Er ist nicht Geist, wie wir es kennen, nicht Sohnschaft, nicht Vaterschaft. Er ist nicht irgend etwas von dem, was uns bekannt ist oder irgend einer anderen Wirklichkeit bekannt ist. Er ist nichts, was bei den Unwirklichkeiten vorkommt, und nichts, was bei den Wirklichkeiten vorkommt. Die Wirklichkeiten kennen ihn nicht, wie er ist. Er kennt die Wirklichkeiten nicht, wie sie sind. Es gibt keinen Begriff von ihm, keinen Namen, keine Erkenntnis. Er ist nicht Finsternis und nicht Licht, weder falsch noch wahr. Es gibt von ihm überhaupt keine Affirmation und keine Negation; vielmehr, indem wir Affirmationen und Negationen über das, was nach ihm kommt, machen, weder affirmieren wir ihn noch negieren wir ihn. Denn es ist sowohl so, daß die allesumfassende und einige Ursache von allem sich über jede Affirmation hinaus befindet, als auch daß die allesüberragende Ursache, die von allem absolut gelöst ist und die jenseits von allen Ganzheiten liegt, sich über alle Negationen hinaus befindet.
— Übersetzt von William J. Hoye.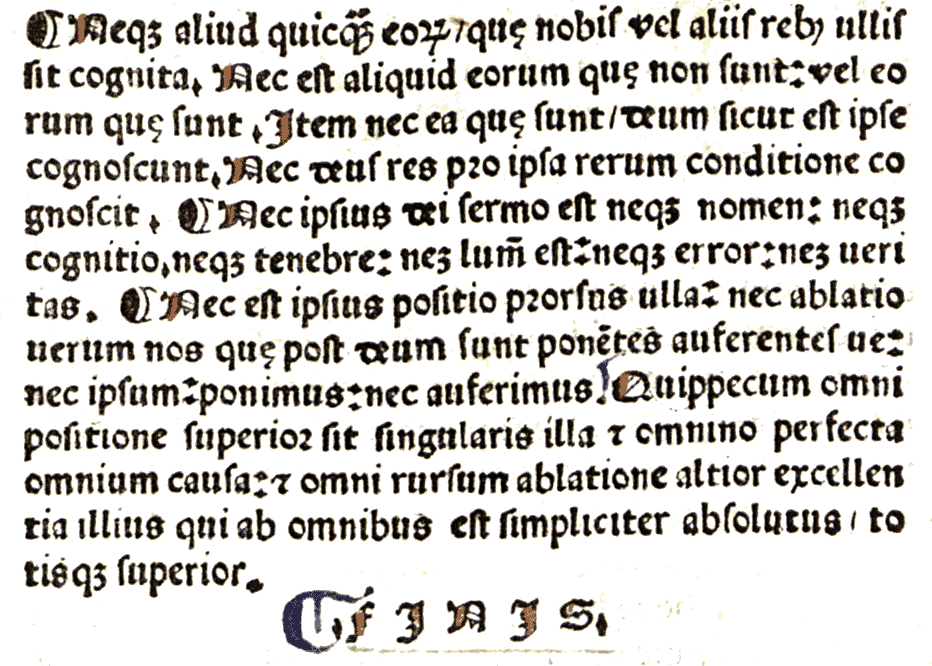 David Luscombe: Dionysius Areopagita (Pseudo-), ca. 500 ⮵
Dionysius Areopagita, a mystical theologian, was so named in the belief, which generally prevailed until the last century, that a body of writings in Greek was produced by Dionysius of Athens, the convert of the Apostle Paul (Acts 17:16-34). In fact, the writings were produced ca. 500 A.D. and probably in Syria. Scholars are not agreed on their author; one possibility is Peter Fuller, Patriarch of Antioch (471-488). The surviving corpus includes four treatises (Celestial Hierarchy, Ecclesiastical Hierarchy, Divine Names and Mystical Theology) and ten letters. Written in a lofty tone with a rich vocabulary and cosmic in scope, they largely represent a fusion of Christian angelology with the neoplatonism of Proclus († 485) and others. Hierarchy is defined in the Celestial Hierarchy III.1 as 'sacred order, knowledge and activity assimilating itself, as far as it can, to the likeness of God (deiformity), and raising itself to its utmost, by means of the illuminations granted by God, to the imitation of God'. The object of hierarchy is assimilation and union of the soul with God. Parallels have been suggested by modern scholars between Dionysius's writing about divinisation through sacred knowledge and enlightenment and Hermetism, but even if not strictly paralleled in or by "hermetic" literature per se, Dionysius believed that supradiscursive knowledge is capable of effecting an ontological transformation in man. For Dionysius, nine orders of angels in heaven and six orders of ministers in the church on earth are like mirrors which receive illumination from God and in turn mediate this illumination to the beings who come below them, with a view to purifying, enlightening, perfecting and thus uniting them with God. In Divine Names Dionysius proposes two types of theology: one affirmative, which arises from God's revelation of Himself to creatures but which entails the metaphorical use of names (such as Light or Beauty or Being) for the transcendent Thearchy; the other negative, which arises from the unknowability of God. In seeking deification or union with God, Dionysius starts with the sensible, created world and the material sacraments which provide symbols. But the inadequacies of human concepts and symbols when applied to God render the affirmative way inferior to the negative one, in which the human soul dispenses with the knowledge provided by the senses and by human reason, defines God by negatives (e.g. not light, not beauty, not being but beyond all these), and arrives through not knowing and not understanding at an ineffable union with Him. Because the negative way is superior, Dionysius also preferred dissimilar images of sacred realities (e.g. wild animals) to apparently similar ones (e.g. winged angels with human bodies and perfect faces), in order to highlight the illusory nature of the latter.
His writings, in Greek but translated into other languages (including Latin in the 9th century), have had a profound influence in both the eastern and western churches and were the subject of repeated commentaries in both. One direction to which they pointed was to debate about hierarchy and its role in society, both heavenly and human. But another direction was mysticism within the traditions of the Catholic church. Mystical theology is the secret knowledge and incommunicable experience of God, non-intellectual and distinct from both natural theology and revealed theology. Two phrases of Dionysius enjoyed great fortune: the 'ray of darkness' and the 'cloud of unknowing' (Mystical Theology, chapter 1). His short treatise on Mystical Theology was especially influential during the late Middle Ages and in Spain and France during the 16th and 17th centuries. Thomas Gallus (d. 1246), Meister Eckhart (c. 1260-c. 1328), John Tauler († 1361), Ruysbroeck (1293-1381) and the Carthusian Denis Ryckel (1402-1471) drew generously from the Mystical Theology as did, in England in the mid-14th century, the author of The Cloud of Unknowing who, in addition, translated Dionysius's work into English under the title Denis Hid Divinity. St John of the Cross (1542-1591) analysed the successive stages through which the soul passes, of purgation, illumination, and union with God; similarities have been found between The Cloud of Unknowing (a work which John probably did not know) and his Dark Night of the Soul. Unlike the medieval commentators, many Renaissance humanists understood that Dionysius was a neoplatonist. They also found connections between divinisation according to Dionysian teaching and traditions of secret magic deriving from the kabbalah [Jewish Influences] and from Hermetism. Ficino, who re-translated some of Dionysius's works, is highly important in this context. He drew out more fully the similarities between Dionysius's negative theology and the teaching in the Asclepius that God has no name but also has all names, as well as the associations between the Sun's light and the Trinity and between the celestial spheres and the angelic powers. The connection between angelic intelligences and astrology had long been familiar to the medieval scholastics, influenced as they were from the 13th century by Avicenna. But Ficino, followed by Giovanni Pico della Mirandola, Cornelius Agrippa, Hannibal Rosseli (fl. c. 1590) and Giordano Bruno, fostered the association between astral powers, sun magic and the Dionisian hierarchies by turning also to Hermetic and kabbalistic sources.
J. P. Migne, Patrologia graeca 3 and 4 (Greek and Latin) ♦ Dionysiaca: Recueil donnant l'ensemble des traductions latines des ouvrages attribués au Denys de l'Aréopage (ed. P. Chevallier, OSB), 2 vols., Paris: Desclée de Brouwer, 1937-50 (This also contains the Greek text and a French translation) ♦ Denys L'Aréopagite, La Hiérarchie céleste (intr. by René Roques, study and critical edition by Gunther Heil, French trans. and notes by Maurice de Gandillac) (Sources chrétiennes 58 bis), 2nd ed., Paris: Les Editions du Cerf, 1970; French trans. with intr. and bibliography by Maurice de Gandillac (Bibliothèque Philosophique), 1945 ♦ English translation, The Complete Works (by C. Luibheid and P. Rorem) (Classics of Western Spirituality), New York: Paulist Press, 1987 ♦ Critical ed. by B. R. Suchla, G. Heil, A. M. Ritter, Corpus Dionysiacum, 2 vols. (Patristische Texte und Studien 33 and 36), Berlin: De Gruyter, 1990-1.
Lit.: Y. de Andia (ed.), Denys l'Aréopagite et sa postérité en Orient et en Occident, Paris: Institut d'Etudes Augustiniennes, 1997 ♦ A. Louth, Denys the Areopagite, London: Geoffrey Chapman, 1989 ♦ D. Luscombe, "Denys the Pseudo-Areopagite in the Writings of Nicholas of Cusa, Marsilio Ficino and Pico della Mirandola", Néoplatonisme et philosophie médiévale (L. G. Benakis, ed.), Turnhout: Brepols, 1997, 93-107 ♦ René Roques, L'Univers dionysien: Structure hiérarchique du monde selon le Pseudo-Denys (Théologie 29), Paris: Aubier, Editions Montaigne, 1954 ♦ René Roques, Maiul Cappuyns and Roger Aubert, "Denys (14) le Pseudo-Aréopagite", Dictionnaire d'Histoire et de Géographie Ecclésiastiques 14 (1960), cols. 265-310 ♦ René Roques, Structures théologiques de la gnose à Richard de Saint-Victor (Bibliotheque de l'Ecole des Hautes Etudes, Section des Sciences Religieuses 72), Paris: Presses Universitaires de France, 1962 ♦ P. Rorem, Pseudo-Dionysius: A Commentary on the Texts and an Introduction to their Influence, Oxford: Oxford University Press, 1993 ♦ S. Toussaint, "L'influence de Marsile Ficin à Paris et le Pseudo-Denys des Humanistes: Traversari, Cusa, Lefèvre d'Etaples", Bruniana et Campanelliana 5:2 (1999), 381-414 ♦ C. Vasoli, "L' 'Un-Bien' dans le commentaire de Ficin à la mystica theologia du pseudo-Denys", in: Marsile Ficin: Les platonismes à la Renaissance (P. Magnard, ed.), Paris: Vrin, 2001, 181-93 ♦ P. M. Watts, "Pseudo-Dyonisius the Areopagite and three Renaissance Platonists: Cusanus, Ficino and Pico on Mind and Cosmos", in: Supplementum Festivum: Studies in honor of Paul Oskar Kristeller (J. Hankins, J. Monfasani & F. Purnell, Jr), Binghampton (N.Y.): Suny Press, 1987, 279-98 ♦ Frances A. Yates, Giordano Bruno and the Hermetic Tradition, London: Routledge and Kegan Paul, 1964.
— In: Wouter J. Hanegraaff: Dictionary of Gnosis and Western Esotericism. Leiden: Brill, 2006. pp. 312-313.
---
Kevin Corrigan and L. Michael Harrington: Pseudo-Dionysius the Areopagite ⮵
Dionysius, or Pseudo-Dionysius, as he has come to be known in the contemporary world, was a Christian Neoplatonist who wrote in the late fifth or early sixth century CE and who transposed in a thoroughly original way the whole of Pagan Neoplatonism from Plotinus to Proclus, but especially that of Proclus and the Platonic Academy in Athens, into a distinctively new Christian context. (...)
All of this looks so alien to the spirit of modern philosophy that we may well ask if there is anything really philosophical in Dionysius' practice? The answer has to be affirmative, for there is a perfectly reasonable pattern to the whole of Dionysius' works. In addition, Dionysius regards his own task as a kind of demonstration (apodeixis) or showing (deixai). In the Divine Names, such demonstration is given a Pauline resonance when Dionysius states that we should hold to the scriptural revelation of divine names "not in the persuasive words of human wisdom, but in demonstration of the power granted by the Spirit" (DN 585b; cf. Paul 1 Cor 2–4). In other words, Dionysius here sees scripture as providing the basis for a deeper understanding of attribution or predication that will lead us beyond our own merely human capacities. That such a demonstration involves the unpacking of the symbolic, contemplative, and mystical significances of ordinary things by the aid of scriptural testimony is clear in the Ecclesiastical Hierarchy, which again starts from Dionysius' purpose of demonstrating what the hierarchy comprises; and that this includes arguments, reasons, the possibility of debate and even improvement upon Dionysius' demonstrations by his interlocutor becomes clear too at the end of the work, when the literary humility that is characteristic of his writing (cf. EH 568a ff.; DN 981c–984a; CH 340b) shows itself to be philosophically justified by Dionysius' ability to set out both sides of the case for and against infant baptism in the understanding that he may not fully be in possession of the most complete view of the situation and that his interlocutor should "use" what he has said "as steps (epanabathmois) to a higher ray of light" (EH 568d–569a). This is a thought couched in terms very reminiscent of Socrates' wish in the Republic to subvert or destroy hypotheses and use them as stepping stones to something better, and it is also a thought not unworthy of Wittgenstein's similar view at the end of the Tractatus. The words immediately following make clear the connection between charity of interpretation, open-endedness and demonstration: "Be generous with me then, my dear friend,… and show (deixon) to my eyes that more beautiful and unified beauty which you may be able to see". Demonstration in this sense, then, includes much of what we might consider to be properly philosophical, but at root it is also a form of "divine reading" (lectio divina, or meditative, prayerful reading) of nature and word, a receptive recognition as a kind of method or making one's way "to hear the sacred words as receptively as possible, to be open to the divine workings of God, to clear an uplifting path (hodopoiesis) toward that inheritance that awaits us in heaven, and to accept our most divine and sacred regeneration" (EH 392a).
— The Stanford Encyclopedia of Philosophy.
---
Kurt Ruh: Die mystische Gotteslehre des Dionysius Areopagita ⮵
Das "überlichthafte Dunkel" kann von da aus weiter bestimmt werden. Es ist natürlich nicht falsch, es als "paradox" zu bezeichnen, nur fuhrt der rhetorische Terminus technicus hier keineswegs zur Sache, sondern deckt sie eher zu59. Entscheidend ist, daß das "Überlicht" der apophatischen Theologie mit der Dunkelheit der Henosis zusammenfällt. Nicht als coincidentia oppositorum, weil es die Gegensätze Licht-Dunkelheit bei Dionysius weder auf der ontologischen noch der gnoseologischen Ebene gibt, sondern als eine schon immer vorhandene Koinzidenz. Das "überlichthafte Dunkel" ist bis zu Meister Eckhart der äußerste Versuch, Gottes absolute Transzendenz anzudeuten, und diesem Versuch gilt überhaupt die Aufgipfelung der dionysischen Theologie in der "Mystica theologia". Mit Recht hat sie in der abendländischen Rezeption allergrößte Beachtung gefunden.
— München: Verlag der bayerischen Akademie der Wissenschaften, 1987. p. 42.
Meister Eckhart: Missus est Gabriel angelus etc. ⮵
Ez schrîbet sanctus Lucas in dem ewangeliô "ein engel wart gesant von gote in ein lant, hiez Galylêâ, in ein stat, hiez Nazareth, zuo einer juncvrouwen, hiez Mariâ, diu was von dem ingesinde Dâvîdes". Bêdâ, ein meister, sprichet: "diz was ein begin unsers heiles". Ich hân etwenne gesprochen unde sprich ez noch: allez daz unser herre ie getet, daz tet er niwan umbe diu, daz got mit uns sî und wir ein mit ime werden, und dar umbe ist got mensche worden. Die meister sprechent, daz got è was geborn in unser vrouwen geistlichen ê er liplich von ir geborn würde, unde von der überflüzzikeit der gebürte, dô der himelsche vater gebar sînen eingeborenen sun in der sêle, dannen abe enpfienc daz ewige wort menschlîche nâtûre in ir unde si wart liplich berhaftic.
Nû sprichet er "ein engel wart gesant von gote". Ez versmâhte der sêle zenpfâhende des engels lieht, ez würde ir denne von gole gesant, unde då enklebte inne daz götlîche lieht verborgen, daz irsmachaftic mahte des engels lieht, anders si enwolde sîn niht.
Nů sprichet er "ein engel". Waz ist ein engel? Ez sprechent drie meister drigerleie rede, waz ein engel sî. Dionysius sprichet: ein engel ist ein spiegel âne flecken, geliuteret ûf daz hœhste, der in sich enpfâhet den widerslac gotlîches liehtes. Augustinus sprichet: der engel ist nâhen bî gote unde diu materie ist nâhen bî ime. Johannes Damascênus sprichet: ein engel ist ein bilde gotes und ist durchbrehende allez, daz sîn ist, mit dem bilde gotes. Diu sêle hât daz bilde an irm obersten zwîge, dâ gotlich lieht âne underlâz an liuhtet. Daz ist daz êrste stüke, daz er sprichet, waz ein engel sî. Dar nâch sprichet er, daz er sî ein durchsnidendiu scherpfe, infiuric von götlicher begirde, unde sprichet, daz der engel ist vrî, daz er vînt ist der materien.
Nû sprichet er "ein engel wart gesant von gote". War zuo? Dionysius sprichet, daz der engel habe drîgerleige werc. Daz êrste: er veget, daz ander: er liuhtet, daz dritte: er vollebringet. Er veget die sêle von den flecken, daz ist, er veget sî von materie unde sament sî zuo ir selber unde veget sî von unwassentheit, als ouch ein engel den andern tuot. Zem andern mâle: er erliuhtet sî in zweigerhande wîse. Gotlich lieht daz ist sô überswenkic, daz ez diu sêle niht gelîden mac, ez enwerde getempert in des engels liehte und alsô getragen in die sêle. Dar nâch erliuhtet er sî mit glîchnüsse. Der engel lât sîn verstentnisse an die sêle unde kreftiget sî, daz si lîden mac götlich lieht.
Wère ich in einer wüestenunge aleine, dâ mich grüwelte, hiete ich dâ bî mir ein kint, sô vergienge mir der grûwel unde würde gekreftiget; sô edel unde sô lustic ist daz leben. Unde möhte ich niht ein kint haben, hête ich ein tier, ich würde getrœstet. Dar umbe die in den swarzen buochen vil wunders würkent, die nement ein tier, einen hunt, unde daz leben an dem tiere sterket sie. Berlicheit sterket an allen dingen. Dar umbe leitet sî der engel an die sêle unde bereitet sî, daz si enpfâhen mac götlich lieht.
Nù sprichet er "ein engel wart gesant von gote". Diu sèle muoz gelîch sîn dem engel an disen stüken, diu ich gesprochen hån, sol ir der sun gesant werden und in ir geborn werden. Nû blîbet daz stüke underwegen, wie si der engel vollebringet. Daz uns got sinen engel sende, des helfe uns got. Âmen.
— Franz Pfeiffer: Deutsche Mystiker des vierzehnten Jahrhunderts:. Leipzig; Göschen, 1857. II, pp. 103-104.
प्रज्ञापारमिताहृदय

— Buddhistisches Herzsutra ⮵

आर्यावलोकितेश्वरो बोधिसत्त्वो गंभीरायां प्रज्ञापारमितायां चर्यां चरमाणो व्यवलोकयति स्म ।
पंचस्कन्धाः ।
तांश्च स्वभावशून्यान्पश्यति स्म ।
इह शारिपुत्र रूपं शून्यता शून्यतैव रूपं रूपान्न पृथक्शून्यता शून्यताया न पृथग्रूपं यद्रूपं सा शून्यता या शून्यता तद्रूपं ।
एवमेव वेदनासंज्ञासंस्कारविज्ञानानि ।
इह शारिपुत्र सर्वधर्माः शून्यतालक्षणा अनुत्पन्ना अनिरुद्धा अमला न विमला नोना न परिपूर्णाः ।
तस्माच्छारिपुत्र शून्यतायां न रूपं न वेदना न संज्ञा न संस्कारा न विज्ञानानि ।
न चक्षुःश्रोत्रघ्राणजिह्वाकायमनांसी ।
न रूपशब्दगंधरसस्प्रष्टव्यधर्माः ।
न चक्षुर्धातुर्यावन्न मनोविज्ञानधातुः ।
न विद्या नाविद्या न विद्याक्षयो नाविद्याक्षयो यावन्न जरामरणं न जरामरणक्षयो न दुःखसमुदयनिरोधमार्गा न ज्ञानं न प्राप्तिः ॥
तस्मादप्राप्तित्वाद्बोधिसत्त्वाणां प्रज्ञापारमितामाश्रित्य विहरत्यचित्तावरणः ।
चित्तावरणनास्तित्वादत्रस्तो विपार्यासातिक्रान्तो निष्ठनिर्वाणः ॥
त्र्यध्वव्यवस्थिताः सर्वबुद्धाः प्रज्ञापारमितामाश्रित्यानुत्तरां सम्यक्सम्बोधिमभिसंबुद्धाः ॥
तस्माज्ज्ञातव्यं प्रज्ञापारमिता महामन्त्रो महाविद्यामन्त्रो ऽनुत्तरमन्त्रो ऽसमसममन्त्रः सर्वदुःखप्रशमनः ।
सत्यममिथ्यत्वात् ।
प्रज्ञपारमितायामुक्तो मन्त्रः ।
तद्यथा
गते गते पारगते पारसंगते बोधि स्वाहा ॥

Avalokiteshvara (अवलोकितेश्वर) der Bodhisattva, der edle, bewegte sich auf dem tiefen Pfad überschreitender vollkommener Weisheit; niederblickend erschaute er die fünf Skandhas (स्कन्ध) und nahm sie wahr als aus sich leer.

Hier, o Shāriputra (शारिपुत्र) ist Form Leere, und ist Leere Form, Form ist nicht verschieden von Leere, Leere ist nicht verschieden von Form, wasimmer Form ist, ist Leere, wasimmer Leere ist, ist Form. Dasselbe gilt für Gefühl, Wahrnehmung, Gestaltungsimpuls wie Bewußtsein.

Hier, o Shāriputra, ist allen Dharmas Leere eigen; weder sind sie entstanden noch erloschen, weder sind sie rein noch unrein, weder sind sie mangelhaft noch vollkommen.

Daher, o Shāriputra, ist in Leere weder Form noch Gefühl, noch Wahrnehmung, noch Gestaltungsimpuls, noch Bewußtsein; weder Auge, Ohr, Nase, Zunge, Haut noch Geist; weder Formen, Töne, Gerüche, Geschmäcke, Berührbares, noch Geistobjekte; weder ein Element des Gesichtsinnes, bis zu: noch ein Element des Geistsinnes. Es ist weder Unwissenheit noch Auslöschen von Unwissenheit, bis zu: weder Alter-Tod noch Auslöschen von Alter-Tod. Es ist weder Leiden, Entstehen, Vergehen noch Weg; weder Erkenntnis noch Erreichen, noch Nichterreichen.

Daher, o Shāriputra, wegen seines Nichterreichens, verweilt ein Bodhisattva, indem er sich auf die vollkommene Weisheit gestützt hat, ohne Geisthindernisse. In Abwesenheit von Geisthindernissen ist er ohne Furcht, er hat die Irrtümer überwunden und wird durch Nirvāna getragen.

Alle, die als Buddhas in den drei Zeiten erscheinen, erlangen die rechte, höchste, vollkommene Erleuchtung, da sie sich auf die vollkommene Weisheit gestützt haben.

Daher wisse die vollkommene Weisheit als das große mystische Mantra, das Mantra großen Erkennens, das höchste Mantra, das unvergleichliche Mantra, das von allem Leiden befreit; wahrlich, was könnte falsch sein. Durch die vollkommene Weisheit wird dieses Mantra überliefert, es lautet:

gate gate pāragate pārasamgate bodhi svāhā.
— Diese Übersetzung folgt einer japanischen Version.
Daniel Jugrin: The Dionysian negative theology between Neoplatonism and Christianity ⮵
The mysterious Christian theologian who created the corpus of Dionysius the Areopagite is one of the most intriguing, puzzling and influential individuals in the history of Western theology. Areopagitic negative theology is the expression of an evolution over centuries: with Dionysius, apophatic tradition reaches its culmination and finds its most refined formulations. It seems that Dionysius writes from knowledge of the discussions on negation, which had taken place in the Athenian School. He shows particular sensitivity towards a series of issues debated over by Neoplatonic authors: the nature of negation, the relevance of privation, the positive character of negative statements, etc. It is not out of the question that Dionysius had been a careful reader of Plotinus, some specialists even framing the idea that "Dionysius, while composing his Mystical theology, must have had an open copy of Plotinus' treatise VI.9 on his desk." Of the Neoplatonic repertoire, Dionysius prefers, in some cases, Proclus' vocabulary and distinctions, hence balancing Plotinian borrowings. (...)
Here is a list of the major divergent accents between Dionysius and the Neoplatonists (Riordan 2008: 71-112):
1. The unity of God in Dionysius versus the Neoplatonic vision on the succession of the Hypostases emanating from the One: while the Dionysian thearchy is the sole cause of all, in Plotinus, there is a chain of Hypostases: the Intellect emanates from the One, and the Soul – from the Intellect, from a certain necessity.
2. The cosmos created by God is good. The Neoplatonic position, with the series of emanations of the Hypostases from one another, confers upon matter an evil character or, at most, negligible value. In Dionysius, God creates everything from love, including sensible things, by a direct act. Dionysius takes over the Neoplatonic próodos, but he resignifies it, giving it a Christian character. God is the source of all creatures and His intention is to bring His cosmos – by the work of salvation – to the perfection He intended for it from "the very beginning." The God of Dionysius is providential, in the sense that He knows and loves those whom He creates. It is difficult to say if the absolutely Neoplatonic One has any "direct" knowledge of particular beings.
3. The love of God for His cosmos. God's intimate involvement in His cosmos is the imprint of Dionysian theology. In full contrast with the Neoplatonic One – bearing the label of "the Alone" – the thearchy of the Areopagite is characterized by an "erotic" attraction to His creatures. In Dionysius, unlike Proclus, the eros includes all the providential acts of God.
4. The ascent of the mystic. Unlike the Neoplatonists, for Dionysius "the soul is an existence created in the uncreated God's image," and not as an emanation from the eternal Soul. The body in Dionysius is good and belongs to the soul. Despite the separation of the two in death, they will be reunited. Regarding the ascent towards the One, Neoplatonism has no intention to outline some personal relation of souls with the One. The soul achieves its condition as part of an enormous symphony of existences, arranged in a hierarchical form.
— Creativity 1(1), 2018. pp. 123-124, 127-128.
Edgar Wind: The concealed God ⮵
The doctrine that Pan is hidden in Proteus, that mutability is the secret gate through which the universal invades the particular, deserves credit for a peculiar philosophic achievement: it supplied a cogent mystical justification for an eminently sensible state of mind. 'It is written', Cusanus said, 'that God is hidden from the eyes of all sages.' But because the ultimate One is thus invisible, His visible manifestations must be manifold. Poetic pluralism is the necessary corollary to the radical mysticism of the One. To Renaissance Platonists, as to Plato himself, a generous and varied use of metaphor was essential to the proper worship of the ineffable god. 'All these names', wrote Cusanus about the many names given to the deity by the pagans, 'are but the unfolding of the one ineffable name, and in so far as the name truly belonging to God is infinite, it embraces innumerable such names derived from particular perfections. Hence the unfolding of the divine name is multiple, and always capable of increase, and each single name is related to the true and ineffable name as the finite is related to the infinite.'
Although stated in the terminology of the Docta ignorantia, the argument echoes a view current among ancient Neoplatonists: 'I have been initiated into many sacred mysteries in Greece,' said Apuleius, 'I learned worship on worship, rites beyond number, and various ceremonies in my zeal for truth and in my dutifulness to the gods.' The same praise was bestowed on Proclus by Marinus, on Julian by Libanius; and before them Philo had extended the same principle to a multiple Hebrew revelation: 'If ye meet with any of the initiated, press him closely and cling to him lest he conceal from you some newer Mystery. Cling to him until ye have mastered it clearly. For I myself have been initiated by the God-beloved Moses into the Greater Mysteries. Yet when I saw the prophet Jeremiah and recognized that he was not only an initiate but a capable hierophant, I did not shrink from his company.'
The charge has been made that these philosophers were illogical in their desire 'to be initiated into as many mysteries as possible', because 'logically, on the theory that the various divine names belonged to one unity, one mystery might suffice.' But exactly the opposite premise was assumed, logically, by the Neoplatonists; namely, that multiple revelation is the necessary counterpart to 'the One beyond Being'. With some justice they argued that a belief in the unique revelation of the One would be contrary to Plato's teaching. The Symposium had warned against worshipping transcendent Beauty in one embodiment only; and in the Parmenides (also in the Seventh Letter) Plato fought the danger, of confusing the One with one of its exemplars, by introducing the method of διαγωγή, the running through of all the possible alternatives of asserting and denying the One in the Many. The pathos of the Platonic position was expressed with remarkable force by Maximus of Tyre when he concluded his defence of idols by an invocation of the hidden God:
'God Himself, the father and fashioner of all that is, older than the Sun or the Sky, greater than time and eternity and all the flow of being, is unnameable by any lawgiver, unutterable by any voice, not to be seen by any eye. But we, being unable to apprehend His essence, use the help of sounds and names and pictures, of beaten gold and ivory and silver, of plants and rivers, mountain-peaks and torrents, yearning for the knowledge of Him, and in our weakness naming all that is beautiful in this world after His nature — just as happens to earthly lovers. To them the most beautiful sight will be the actual lineaments of the beloved, but for remembrance' sake they will be happy in the sight of a lyre, a little spear, a chair, perhaps, or a running-ground, or anything in the world that wakens the memory of the beloved. Why should I further examine and pass judgment about Images? Let men know what is divine (τὸ ϑεῖον γένος), let them know; that is all. If a Greek is stirred to the remembrance of God by the art of Pheidias, an Egyptian by paying worship to animals, another man by a river, another by fire — I have no anger for their divergences; only let them know, let them love, let them remember.
Very much the same reasoning pervades Cusanus's De pace seu concordantia fidei. Although indispensable to a finite mind, no finite image or ritual, he argued, can be adequate to represent the infinite. But the recognition that 'between the finite and the infinite there is no middle', should not only humble the believer but also supply him with a key to religious peace; for while all religions agree in acknowledging the infinite, it is only in the finite that their differences arise. Una religio in rituum varietate. The finite perfections of each rite, which are the cause of its collision with other rites, conceal and imply an infinite perfection, of which they are limited symbols. 'The signs vary, but not the signified.'
In meditating on the 'face of God' (De visione Dei) Cusanus marvelled, without distress, at the many different faces ascribed to God by his votaries. 'If the lion were to ascribe thee a face, he would imagine the face of a lion, the ox would imagine that of an ox, the eagle, of an eagle. Oh Lord, how marvellous is thy face, which youths cannot conceive but as youthful, men but as manly, and the aged as aged! ... Oh marvellous face, whose beauty all those who see it are insufficient to admire! The face of faces is veiled in all faces and seen in a riddle. Unveiled it is not found until one has entered, beyond all visions, into a state of secret and hidden silence, in which nothing is left of knowing or imagining a face. For so long as this obscurity is not reached, this cloud, this darkness — that is, the ignorance into which he who seeks thy face enters when he transcends all knowledge and understanding — so long can thy face be encountered only veiled. This darkness itself, however, reveals that it is here, in the transcending of all veils, that the face is present. ... And the more densely the darkness is felt, the truer and closer is the approach, by virtue of this darkness, to the invisible light.'
The union of contraries in the 'absconded God', whose blinding light is impenetrable darkness, is repeated by the multifarious 'visions of God' in minor and more imperfect degrees. Hence Cusanus did not object to polytheism, or to the polymorphic views of the deity. Like Proclus he regarded them as preparatory stages of initiation. 'Those who are introduced into the mysteries,' wrote Proclus, 'at first meet with manifold and multiform gods, but being entered and thoroughly initiated, ... they participate the very Deity.'🞯 In De ludo globi Cusanus compared this law of regression, from many outward images to the inward One, with a law of nature observed by Aristotle. 'Elemental forces, according to Aristotle, have the smallest extension and the greatest power. ... The force inherent in a spark is that of the whole fire. ... A small seed has the strength of many grains. ... The core of the apparent is in the occult, the outward depends on the inward. The skin and crust are there because of the muscles and marrow, and these because of the invisible force that is concealed in them.'
Erasmus repeated the argument in the Adagia, under the heading Sileni Alcibiadis: 'Thus the most important is always the least conspicuous. A tree flatters the eye with flowers and foliage, and exhibits the massiveness of its trunk: but the seed, from which these have their strength, what a small thing it is, and how hidden. ... Gold and gems have been concealed by Nature in the recesses of the earth. ... What is most divine and immortal in man is inaccessible to perception. ... And also in the temperament of the physical body, while phlegm and blood are familiar to the senses and tangible, that which contributes most to life is least patent, namely the spirit. And in the Universe the greatest things are invisible, like the so-called separate substances. And the supreme among these is furthest removed. ... God, unintelligible and unthinkable because He is the unique source of all.'
— Edgar Wind: Pagan Mysteries in the Renaissance. New and enlarged edition. London: Faber and Faber, 1968. pp. 218-222. [Die anderen Fußnoten sind hier fortgelassen.]
Frances Yates ⮵
Saint Dionysius the Areopagite was, for Ficino, both oilmen of Platonism, and the saint whom St. Paul had met at Athens, and whose vision of the nine angelic hierarchies, unquestioningly accepted by Thomas Aquinas and all the doctors of the Church, had become an integral part of orthodox Christian theology. Saint Dionysius is constantly referred to in Ficino's Theologia Platonica and De Christiana Religione, the two works in which he set out his synthesis of Platonism with Christianity, and indeed, not only for Ficino but also for all later Christian Neoplatonists, Dionysius was one of the main Christian allies.
The author of the Celestial Hierarchies was, of course, not really the Areopagite with whom St. Paul spoke but an unknown writer who composed under strong Neoplatonic influence his work on nine orders of angels which he grouped into triads, each group of three representing one of the Persons of the Trinity. These nine angelic orders have their abode far above, or beyond the spheres of the universe, being orders of a purely spiritual or divine nature. Nevertheless, though the Dionysian orders are not, strictly speaking, a cosmological religion, there is something in the whole idea of orders set out in this fashion which recalls the gnostic religion of the world, or religious experience in the setting of the cosmic orders. R. Roques has drawn attention to the parallels between the Dionysian mysticism and gnosticism, particularly of the Hermetic type, and has suggested a possible influence of Hermetism on the hierarchies.
Thus, once again the phenomenon of misdating comes into play in the Renaissance synthesis, and the great Christian apologist who is believed to have been contemporary with St. Paul really belonged to nearly the same period as the misdated prisci theologi, and came within the range of gnostic ways of thinking. In the fourteenth chapter of the De Christiana religione, Ficino sets out the cosmic order completed by the nine spiritual orders, as follows:
The four elements, which are mutable in substance and quality.
The seven planets, which are not mutable in substance, but are so in quality and disposition.
The eighth sphere, whose movement is opposite to that of the planets and which has the qualities of candor and splendor.
The Chrystalline sphere, which has simple motion and the quality of candor.
The Empyrean, where all is stable and the lumen of which is a quality of light superior to candor.
In the stable and lucens Empyrean is accommodated the Trinity expressed in the nine orders of angels of Dionysius. There are legions of angels in the orders and their number exceeds the faculty of human computation. The nine orders are:
Seraphim, Cherubim, Thrones; the hierarchy of the Father.
Dominions, Virtues, Powers; the hierarchy of the Son.
Principalities, Archangels, Angels; the hierarchy of the Spirit.
Ficino interprets Dionysius as having said that the first order drinks its liquor from the Trinity direct (liquorem suum a sola haurit Trinitate), the second gets it through the first, and the third through the second and first. There is also a division of activities among the hierarchies, as follows:
Seraphim speculate on the order and providence of God.
Cherubim speculate on the essence and form of God.
Thrones also speculate, though some descend to works.
Dominions, like architects, design what the rest execute.
Virtues execute, and move the heavens, and concur for the working of miracles as God's instruments.
Powers watch that the order of divine governance is not interrupted and some of them descend to human things.
Principalities care for public affairs, nations, princes, magistrates.
Archangels direct the divine cult and look after sacred things.
Angels look after smaller affairs and take charge of individuals as their guardian angels.
Ficino's notions on the celestial hierarchies have been modified by two intermediaries, namely Thomas Aquinas and Dante, and he has also introduced new modifications of his own. The differing activities of the hierarchies, which are not so specifically defined in Pseudo-Dionysius, he got from Thomas Aquinas. The linking of the hierarchies with the spheres of the cosmos he got from Dante who, in his Convivio correlates the hierarchies with the spheres and, above all, in the Paradiso, sets out the souls of the blest on the spheres of the seven planets; places the Apostles and the Church Triumphant in the eighth sphere; in the ninth sphere ranges the nine angelic hierarchies; and crowns all with the Trinity in the Empyrean.
Ficino was a great student of Dante, and was certainly thinking of the Paradiso in the passage on the hierarchies analysed above for he makes a reference to Dante's poem in it. The analysis of the varying quality of the light, expressed by different words for light, in Ficino's exposition may possibly be due to the influence of Dante. The notion that the supernal light is reflected down the angelic hierarchies, flashing as in mirrors from one to another, is a characteristically Dionysian conception, to which Dante had given a somewhat new turn by describing how, as he and Beatrice mount through the spheres of the planets, the light changes in quality at each ascent, reaching ever more dazzhng degrees of intensity in the eighth sphere, the ninth sphere and the Empyrean. Ficino, in the passage analysed above, seems to be definitely using, splendor of light in the eighth sphere, candor of a more intense light in the chrystalline sphere, and lumen of the supreme light in the Empyrean (beyond which there is perhaps an even higher lux in the divine mind). He also uses such many varying terms for light in his De sole and De lumine, though I am not sure that the terms are always used consistently with the same degrees of meaning.
Ficino has intensified the continuity between hierarchies and spheres by introducing an almost astrological suggestion into the relationships between the hierarchies, which are said to "drink" the influences from the Trinity, a word wrhich recalls the expression used in the De vita coelitus comparanda where the spiritus of the world is thought of as poured out through the stars and drunk by its recipients here below. And if we add one more term to the light series, the term "Sol" for the planet Sol or the Sun, the drinking in of spiritus from the Sun would connect with the higher series, the higher "liquor" drunk by the hierarchies, and the higher forms of light flashed down from the light supernal. Thus Ficino's natural or spiritus magic, aiming no higher than the planets and particularly at the Sun, would yet have an angelic continuation stretching out beyond and above it. Though Ficino, or so I believe, would make no attempt to "operate" with angels, beyond the normal Christian prayers and supplications, nor try to reach the Virtues which move the heavens in order to become a worker of miracles. (...)
As Pseudo-Dionysius was immensely important to Ficino for the synthesis of Neoplatonism with Christianity so, too, he helped Pico to build the bridge between Jewish Cabala and Christianity. Pico's Heptaplus, which is a commentary on Genesis in the Cabalistic manner, is full of references to Dionysius.
In this work, Pico frequently has occasion to mention the "three worlds" as understood by the Cabalists, who divided the universe into the elemental world or terrestrial world, the celestial world or the world of the stars, and the supercelestial world. Between all these worlds there was continuity of influences. Pico found no difficulty in linking this concept both with Neoplatonism and with the Christian or Pseudo-Dionysian mysticism.
He makes the link with Neoplatonism by identifying (as Ficino had also done) the angelic world with what the philosophers call the intelligible world. The highest of the three worlds is called "by the theologians angelic, and by the philosophers, intelligible"; then comes the celestial world, and last the sublunar world which we inhabit. He then goes on to draw the parallel with the three worlds of the Cabalists, which Moses represented symbolically when he divided the tabernacle into three parts. Particularly in the third book of the Heptaplus Pico devotes himself to assimilating the doctrines of the "ancient Hebrews" to those of Dionysius. Here he repeats the Thomistic definitions of the functions of the hierarchies and relates their three triadic groups to the three worlds (...)
Another way in which Pseudo-Dionysius was immensely important in the Renaissance synthesis was through his negative theology. Besides his positive adumbration of aspects of the Godhead, in the nine hierarchies of angels in their relation to the Trinity, Dionysius also sets forth a "negative way". There are no words for God in His actual essence; no names for Him as He really is; therefore He is at the last best defined by negatives, by a kind of darkness, by saying that He is not goodness, not beauty, not truth, meaning by this that He is nothing that we can understand by those names. The mysticism of the Dionysian negative way brought forth some very beautiful spiritual fruits in the course of the ages, for example the English fourteenth-century Cloud of Unknowing, in which the unknown author, following the Hid Divinity of Denis, puts himself under a cloud of unknowing within which, with a blind stirring of love, he reaches forth towards the Deus Absconditus. And the learned philosopher Nicholas of Cusa found in the "learned ignorance" of Dionysius the only final solution, or mode of approach to the divine, as he expounds in his famous work the De docta ignorantia. The negative theology or the idea of the negative way reached Ficino not only through Dionysius but also through Cusanus, of whom he was a great admirer, and whom he regarded as an important link in the great chain of Platonists. (...)
There is a negative theology also in the Hebrew Cabalistic mysticism, for the Ensoph, out of which the ten Sephiroth emerge, is the Nothing, the unnameable, unknown Deus Absconditus, and the highest and most remote of the Sephiroth, Keter or the Crown, disappears into the Nothing. So that here, too, though there are as it were Ten Names in the Sephiroth, the highest is the Nothing or the No Name.
We have seen that Bruno always puts the Hermetic or Egyptian revelation first, but this does not mean that the other ingredient of the personality of the Renaissance Magus, Cabala, does not come in. In the Eroici furori, too, the element of Hebrew mysticism is not lacking. The dedication states, as we have seen, that the loves are to be likened to the mysticism of the Song of Songs, and in the text, Bruno twice alludes to the mystical "death of the kiss" of the Cabalists as an experience comparable to those which he is describing. The Eroici furori is thus still, in a manner, within hail of Pico della Mirandola's synthesis, though the balance has been radically altered.
Moreover the Christian, or at least the Pseudo-Dionysian, element in the Renaissance Magus, is also not lacking in Bruno's work. There is a Christian influence in his mysticism when he speaks, as he often does, of the divine influences as "divine love". This, with his frequent quotations from the Psalms, lends an accent to his mysticism which is not to be found in the pagan gnosis of the Hermetica. And he compares his ineffable experiences to the negative teaching, not only of Pythagoras, but also of Dionysius (the Areopagite):
"... the most profound and divine theologians say, that God is more honoured and loved by silence than by words; as one sees more by shutting the eyes to the species represented, than by opening them, therefore the negative theology of Pythagoras and of Dionysius is more celebrated than the demonstrative theology of Aristode and the scholastic doctors."
Thus the negative theology of Pseudo-Dionysius, which was so important to Ficino and to Pico in their efforts to achieve a Christian synthesis in their outlook, is not absent from the mysticism of the Eroici furori, though used with a difference (as a "negative" attitude to the divine revelation in the species or in nature). And the mention of the Areopagite comes within the curious episode of the "nine blind men" which is the conclusion and the culmination of the whole work. These nine blind men bewail their blindness in nine poems, and then, when a sacred urn is opened by nymphs, they receive their sight, and as nine illuminati, sing nine songs to the accompaniment of nine different instruments of music. Beyond the obvious allusion to the nine spheres, there is in the nine illuminati, so Bruno explains in the dedication to Sidney, a reference to the "nine orders of spirits" of the Christian theologians, that is, to the Pseudo-Dionysian celestial hierarchies. Thus Bruno's work builds up at its close to the angelic harmonies as the apex of the edifice, reflecting the scheme of the Christian Magus, in which Magia and Cabala are included within the Pseudo-Dionysian angelic hierarchies. Nevertheless, as usual, Bruno is not using the scheme in the normal way. The nine blind men who become the illuminati seem to be, not a system of external "metaphysics", like the angelic hierarchies, but all ingredients of one personality who becomes illumined with their illumination. Bruno, however, makes his concession to the normal scheme by putting the highest and final illumination of the heroic enthusiast in this form.
— Frances A. Yates: Giordano Bruno and the Hermetic Tradition. London: Routledge and Kegan Paul, 1964. pp. 117-125 and 284-285.
Dermot Moran and Adrian Guiu: John Scottus Eriugena ⮵
Eriugena's thought is best understood as a sustained attempt to create a consistent, systematic, Christian Neoplatonism from diverse but primarily Christian sources. Eriugena had a unique gift for identifying the underlying intellectual framework, broadly Neoplatonic but also deeply Christian, assumed by the writers of the Christian East. Drawing especially on Basil, Gregory of Nyssa, Pseudo-Dionysius the Areopagite, Maximus Confessor, as well as on the more familiar authorities (auctores) of the Latin West (e.g., Cicero, Augustine, Macrobius, Martianus Capella, Boethius), he developed a highly original cosmology, where the highest principle, "the immovable self-identical one" (unum et idipsum immobile, Periphyseon, Patrologia Latina 122: 476b), engenders all things and retrieves them back into itself. Contrary to what some earlier commentators supposed, it is most unlikely that Eriugena had direct knowledge of the original texts of Plotinus, Porphyry, Proclus, or other pagan Neoplatonists, but he did have some direct knowledge of Plato (a portion of Timaeus in the translation of Calcidius) as well as familiarity with the pseudo-Augustinian Categoriae decem.
Overall, Eriugena develops a Neoplatonic cosmology according to which the infinite, transcendent, and "unknown" God, who is beyond being and non-being, through a process of self-articulation, procession, or "self-creation", proceeds from his divine "darkness" or "non-being" into the light of being, speaking the Word who is understood as Christ, and at the same timeless moment bringing forth the Primary Causes of all creation. These causes in turn proceed into their Created Effects and as such are creatures entirely dependent on, and will ultimately return to, their sources, which are the Causes or Ideas in God. These Causes, considered as diverse and infinite in themselves, are actually one single principle in the divine One. The whole of reality or nature, is involved in a dynamic process of outgoing (exitus) from and return (reditus) to the One. God is the One or the Good or the highest principle, which transcends all, and which therefore may be said to be "the non-being that transcends being". In an original departure from traditional Neoplatonism, in his dialogue Periphyseon, this first and highest cosmic principle is called "nature" (natura) and is said to include both God and creation.
— The Stanford Encyclopedia of Philosophy.

Dermot Moran: A Western Thinker of Nothingness ⮵
Eriugena was — following the Neoplatonist tradition — a believer in a transcendent first principle which is the source of everything. He thought of this highest principle as the "divine One" and identified with the Christian Creator God. He also called this One "Nothingness" or "Non-Being" and this was most unusual — and followed the radical Greek Christian thinking of Dionysius the Areopagite. The central thought here is that God's transcendence, uniqueness and infinite nature are so different from everything in the created universe of being, that God is better thought of as "non-being" or "nothingness" (Latin: nihil, nihilum). Eriugena's theology centers on the notion of an infinite, incomprehensible, transcendent God--'the immovable self-identical one' (unum et idipsum immobile, Periphyseon I. 476b) — whose freely willed theophanies (Greek: "theophaniai", divine manifestations) alone can be apprehended by created intellects such as angels and humans. The One, as highest principle, engenders all things timelessly, allows them to proceed into their genera and species in space and time and then retrieves them back into itself.
As a Christian Eriugena accepts the creation from nothingness of the entire universe. But he regarded all creation, all being, as having come forth not from some inferior nothingness (such as matter without form) but as coming from this divine nothingness. For Eriugena, the Christian conception of creation from nothing (creatio ex nihilo) had to be understood as creation from out of God (creatio ex Deo), understood as the infinite nothingness that transcends all things. Therefore ex nihilo really means ex deo, out of God. There is no other source or principle of all things except the infinite transcendent One.
Eriugena's analysis of divine creation was also very much based on his understanding of Neoplatonism. In all Neoplatonists, the lower levels of the universe flow out from or emanate from the One and depend on the One and seek to return to it again (become one with the One). Eriugena therefore thought of the creation of all things as the emanation (emanatio, exitus) of the divine Goodness. All things are what they are as manifestations (theophaniae) of the divine. All things are "divine willings" (diuinae uoluntates) or divine appearances. There is no external principle needed. The One seeks to spread itself everywhere. It is an overflowing of goodness.
Eriugena thought that ultimately all things come together and are unified in the divine nothingness. However, he did not think of the infinite divine One as simply equal to nothingness. He has a sense of the divine as involved in a dialectic of self-affirmation and self-negation, manifestation and hiddenness. The divine One unfolds from nothingness into being, from divine darkness into light, from hiddenness to manifestation. There the divine One has to be understood not simply as nothingness or as being but as nothingness that manifests itself as being and that returns again to nothingness. Eriugena distinguishes many different kinds of nothingness. Things can be said not to be in many senses. Something that is in the future or the past, or is in some sense possible or potential, can be said not to be. But Eriugena also thinks that something that out of its infinite richness transcends all the categories of being (basically the Aristotelian categories: substance, accident, time, place, etc.) can also be said not to be. This is what he calls "nothingness through excellence" (nihil per excellentiam) rather than "nothingess through privation" (nihil per privationem). All things, including human nature, are eternal ideas or causes in the mind of God. Humans fail to understand their true nature as image of God, because they are distracted by created, fleeting temporal appearances (phantasiai), which entrap the intellect in the clouded spatio-temporal realm of sense. However, through intellectual contemplation (theoria, intellectus) and divine illumination (which is the receiving of a divine self-manifestation, theophania), humans may achieve unification (henosis) with God, and the select few will even undergo deification (deificatio, theosis). Salvation, or return to the One, involves the corporeal body being resolved into its original incorporeal essence. Both heaven and hell are maintained to be states of mind not actual places (loci). Paradise is nothing other than perfect human nature. Eriugena often quotes Augustine to the effect that God became man (inhumanatio) so that humans can become God (deificatio). In this cosmological process, there is a dialectic of outgoing and return, of affirmation and negation, of non-being and being. (...)
To understand the Eriugenian conception of "nothingness" or non-being it is useful to have something to compare it with. Normally, the concept of "nothingness" found in Buddhism is invoked. According to TU Weiming, Confucianism as a tradition lacks the idea of radical transcendence. This is something that perhaps is better understood in Taoism and Buddhism. Eriugena has a conception of the divine as infinite — and as radically transcendent — to the point of best being understood as nothingness.
— Dermot Moran: A Western Thinker of Nothingness: John Scottus Eriugena. World Congress of Sinology, Renmin University, Beijing 5-7 Sept 2014. pp. 4-5 & 15.
Johannes Scottus Eriugena:
Periphyseon (De Diuisione Naturae). Liber Primus. Edited by I. P. Sheldon Williams with the Collaboration of Ludwig Bieler.
Dublin: Institute for Advanced Studies, 1978. Reprint of the edition 1968.
Large Octavo. Frontispiece, x, 269 pp.
Original green cloth, spine gilt with title. No dust-jacket, as issued.
Critical edition of the Latin text, and the only English translation of this work available, includes scholarly apparatus and notes. The magnum opus of John (Johannes) Scottus (or Scotus) Eriugena (c. 810-c. 877), an Irish Christian Neoplatonist and translator of the writings of Dionysius the Areopagite (Ps. Dionysius), has been of enormous influence. The Periphyseon is a synthesis and systematisation of his Latin and Greek Christian Neoplatonist predecessors: Augustine, Maximus the Confessor, Gregory of Nyssa, Gregory Nazianen, and Pseudo-Dionysius. The work divides Nature ("all that is and all that is not") into four aspects: 1. that which is not created but creates i. e. God; 2. that which creates and is created i. e. the world of primordial causes or Platonic Ideas; 3. that which is created and does not create i. e. the physical world; and 4. that which does not create and is not created i. e. God, to whom all things in the end will return. Eriugena's influence on Christian mysticism and philosophy has been immense. — Small stamp on title, some marginal annotations, otherwise good. — "Scriptores Latini Hiberniae Volume VII".
Drei weitere Bände folgten bis 1995 in gleicher Ausstattung: Scriptores Latini Hiberniae Volume IX, XI, XIII.

Einige der zahlreichen Bände Sekundärliteratur:
Johann Gottfried Gruber & Ernst Mylius:
Scotus Erigena particula I. Quid Scotus Erigena de malo docuerit.
Halle: Heynemann für Ch. Graeger, 1843.
Octavo. 213 × 129 mm. 27, [1] Seiten.
Geheft mit neuem Kleisterpapierumschlag.
Der Lexikograph Johann Gottfried Gruber (1774 – 1851) wurde 1793 nach polyhistorischen Studien an der Universität zu Leipzig Magister, habilitierte 1803 und ging zwei Jahre später nach Weimar, wo er sich Wieland anschloß, zu dessen Herausgeber, Interpret und Biograph er wurde. Während der Napoleonischen Kriege arbeitete er für die 'Allgemeine Literaturzeitung'; 1811 wurde er Professor der historischen Hilfswissenschaften in Wittenberg. Als Unterhändler der preußischen Regierung wirkte er mit bei den Verhandlungen zur Zusammenlegung der Universitäten Wittenberg und Halle. Ab 1815 lehrte er an der Universität Halle/Saale, deren Rektorat er von 1817 bis 1821 innehatte. Gruber war seit 1812 lexikographischer Mitarbeiter an Brockhaus' Konversationslexikon; ab 1818 war er neben Johann Samuel Ersch Mitherausgeber, für die Bände 28-54 sogar alleiniger Herausgeber der 'Allgemeinen Encyklopädie der Wissenschaften und Künste'. Sein Vorliebe galt universalhistorischen Studien, nebenbei schrieb er auch Romane, cf. Kosch: Literatur-Lexikon VI,912-913. Vorliegende Dissertation basiert auf den Arbeiten von P. Hjort und F. A. Raudenmayer, die einige Jahre zuvor erschienen, und untersucht Begriff, Ursprung, Existenz, Beschaffenheit und Bestrafung des Bösen anhand der Schriften Eriugenas 'De divina praedestinatione' und 'De divisione naturae'. Titel etwas angestaubt und minimal gebräunt, oben etwas eselsohrig. Sehr selten. Erste Ausgabe.
Johannes Huber:
Johannes Scotus Erigena. Ein Beitrag zur Geschichte der Philosophie und Theologie im Mittelalter.
Hildesheim: Georg Olms, 1970. Nachdruck der Ausgabe: München: Lentner, 1861.
Octavo. XVI, 442, [1], [1 weiße] Seiten.
Original-Leinwandband mit schwarzgeprägtem Titel auf Rücken und Vorderdeckel.
Enthält: Die Anfänge der Wissenschaft im Mittelalter; Leben und Schriften des Johannes Scotus Erigena; Die formalen Voraussetzungen des Systems; Die Entwicklung des Systems: Natura creans et non creata, Natura creata et creans; Natura creata et non creans; Natura nec creata nec creans. Der Hauptteil des vorliegenden Werkes beschäftigt sich also mit Eriugenas "Periphyseon". Kleine, unauffälliger Rasur auf Titel, sonst sehr gut. Zweiter, unveränderter Nachdruck. Cf. Ziegenfuß/Jung I,558.
Werner Beierwaltes:
Eriugena Redivivus. Zur Wirkungsgeschichte seines Denkens im Mittelalter und im Übergang zur Neuzeit. Vorträge des V. Internationalen Eriugena-Colloquiums Werner-Reimers-Stiftung Bad Homburg, 26.-30. August 1985.
Heidelberg: Winter, 1987.
Octavo. 356 Seiten. Mit insgesamt 17 s/w Abbildungen.
Blaue Original-Leinwand mit goldgeprägtem Titel auf Rücken und Vorderdeckel.
Die Texte in Englisch, Deutsch, Französisch und Italienisch. Kleiner Stempel auf Titel, sonst wohlerhalten. Erste Ausgabe. "Abhandlungen der Heidelberger Akademie der Wissenschaften. Philosophisch-historische Klasse. Jahrgang 1987. 1. Abhandlung."
John J. O'Meara & Ludwig Bieler:
The Mind of Eriugena. Papers of a Colloquium Dublin, 14-18 July 1970.
Dublin: Irish University Press for The Royal Irish Academy, 1973.
Octavo. xiii, [1 blank], 199, [1] pp.
Original blue cloth, spine gilt with title.
Erste Ausgabe. Die Texte in Englisch, Deutsch und Französisch.
Eine andere Sichtweise — Plutarch: Über Isis und Osiris ⮵
"οὐϰ ἂν γένοιτο χωϱὶς ἐσϑλὰ ϰαὶ ϰαϰά,
ἀλλ᾽ ἔστι τις σύγϰϱασις ὥστ᾽ ἔχειν ϰαλῶς." [Euripides: Aeolus]
"Gutes und Übles können nicht getrennt bestehn.
Sie sind gleichsam verschmolzen — und so ist es gut."
Διὸ ϰαὶ παμπάλαιος αὕτη ϰάτεισιν ἐϰ ϑεολόγων ϰαὶ νομοϑετῶν εἴς τε ποιητὰς ϰαὶ φιλοσόφους δόξα, τὴν ἀϱχὴν ἀδέσποτον ἔχουσα, τὴν δὲ πίστιν ἰσχυϱὰν ϰαὶ δυσεξάλειπτον, οὐϰ ἐν λόγοις μόνον οὐδ᾽ ἐν φήμαις, ἀλλ᾽ ἔν τε τελεταῖς ἔν τε ϑυσίαις ϰαὶ βαϱβάϱοις ϰαὶ Ἕλλησι πολλαχοῦ πεϱιφεϱομένη, ὡς οὔτ᾽ ἄνουν ϰαὶ ἄλογον ϰαὶ ἀϰυβέϱνητον αἰωϱεῖται τῷ αὐτομάτῳ τὸ πᾶν, οὔϑ᾽ εἷς ἐστιν ὁ ϰϱατῶν ϰαὶ ϰατευϑύνων ὥσπεϱ οἴαξιν ἤ τισι πειϑηνίοις χαλινοῖς λόγος, ἀλλὰ πολλὰ ϰαὶ μεμιγμένα ϰαϰοῖς ϰαὶ ἀγαϑοῖς: μᾶλλον δὲ μηδὲν ὡς ἁπλῶς εἰπεῖν ἄϰϱατον ἐνταῦϑα τῆς φύσεως φεϱούσης, οὐ δυεῖν πίϑων εἷς ταμίας ὥσπεϱ νάματα τὰ πϱάγματα ϰαπηλιϰῶς διανέμων ἀναϰεϱάννυσιν ἡμῖν ἀλλ᾽ ἀπὸ δυεῖν ἐναντίων ἀϱχῶν ϰαὶ δυεῖν ἀντιπάλων δυνάμεων τῆς μὲν ἐπὶ τὰ δεξιὰ ϰαὶ ϰατ᾽ εὐϑεῖαν ὑφηγουμένης, τῆς δ᾽ ἔμπαλιν ἀναστϱεφούσης ϰαὶ ἀναϰλώσης, ὅ τε βίος μιϰτὸς ὅ τε ϰόσμος, εἰ ϰαὶ μὴ πᾶς, ἀλλ᾽ ὁ πεϱίγειος οὗτος ϰαὶ μετὰ σελήνην ἀνώμαλος ϰαὶ ποιϰίλος γέγονε ϰαὶ μεταβολὰς πάσας δεχόμενος;. εἰ γὰϱ οὐδὲν ἀναιτίως πέφυϰε γίγνεσϑαι, αἰτίαν δὲ ϰαϰοῦ τἀγαϑὸν οὐϰ ἂν παϱάσχοι, δεῖ γένεσιν ἰδίαν ϰαὶ ἀϱχὴν ὥσπεϱ ἀγαϑοῦ ϰαὶ ϰαϰοῦ τὴν φύσιν ἔχειν. [46] ϰαὶ δοϰεῖ τοῦτο τοῖς πλείστοις ϰαὶ σοφωτάτοις. νομίζουσι γὰϱ οἱ μὲν ϑεοὺς εἶναι δύο ϰαϑάπεϱ ἀντιτέχνους, τὸν μὲν ἀγαϑῶν, τὸν δὲ φαύλων δημιουϱγόν. οἱ δὲ τὸν μὲν ἀμείνονα ϑεόν, τὸν δὲ ἕτεϱον δαίμονα ϰαλοῦσιν: ὥσπεϱ Ζωϱοάστϱης ὁ μάγος, ὃν πενταϰισχιλίοις ἔτεσι τῶν Τϱωιϰῶν γεγονέναι πϱεσβύτεϱον ἱστοϱοῦσιν. οὗτος οὖν ἐϰάλει τὸν μὲν Ὡϱομάζην, τὸν δ᾽ Ἀϱειμάνιον ϰαὶ πϱοσαπεφαίνετο τὸν μὲν ἐοιϰέναι φωτὶ μάλιστα τῶν αἰσϑητῶν, τὸν δ᾽ ἔμπαλιν σϰότῳ ϰαὶ ἀγνοίᾳ, μέσον δ᾽ ἀμφοῖν τὸν Μίϑϱην εἶναι: διὸ ϰαὶ Μίϑϱην Πέϱσαι τὸν μεσίτην ὀνομάζουσιν. ἐδίδαξε δὲ τῷ μὲν εὐϰταῖα ϑύειν ϰαὶ χαϱιστήϱια, τῷ δ᾽ ἀποτϱόπαια ϰαὶ σϰυϑϱωπά. πόαν γάϱ τινα ϰόπτοντες Μῶλυ ϰαλουμένην ἐν ὅλμῳ, τὸν Ἅιδην ἀναϰαλοῦνται ϰαὶ τὸν σϰότον: εἶτα μίξαντες αἵματι λύϰου σφαγέντος; εἰς τόπον ἀνήλιον ἐϰφέϱουσι ϰαὶ ῥίπτουσι. ϰαὶ γὰϱ τῶν φυτῶν νομίζουσι τὰ μὲν τοῦ ἀγαϑοῦ ϑεοῦ, τὰ δὲ τοῦ ϰαϰοῦ δαίμονος εἶναι ϰαὶ τῶν ζῴων ὥσπεϱ ϰύνας ϰαὶ ὄϱνιϑας ϰαὶ χεϱσαίους ἐχίνους τοῦ ἀγαϑοῦ, τοῦ δὲ φαύλου τοὺς ἐνύδϱους μῦς εἶναι: διὸ ϰαὶ τὸν ϰτείναντα πλείστους εὐδαιμονίζουσιν.
— Πεϱὶ Ἴσιδος ϰαὶ Ὀσίϱιδος 45-46.
Darauf beruht auch jene uralte Lehre, die von religiösen Lehrern und Gesetzgebern her auf Dichter und Denker gekommen ist, eine Lehre, deren Beginn keinem Urheber zuzuschreiben ist, die aber einen festen und unaustilgbaren Glauben findet, der nicht nur in Reden und Sprüchen, sondern in Mysterienweihen und Opferriten bei Barbaren wie bei Griechen vielerorts im Umlauf ist. Sie besagt, daß weder das All ohne Vernunft, Denken und Lenkung dahintaumelt, seinen eigenen Impulsen überlassen, noch daß ein einziges Vernunftwesen herrscht und lenkt, gleichsam mit Steuerruder und einem »Gehorsam heischenden Zügel«, sondern daß die Natur hier bei uns vielerlei bringt, gemischt aus Gutem und Üblem, ja, mit einem Wort, schlechthin nichts Ungemischtes. So gibt es denn nicht einen einzigen Hausverwalter mit zwei Krügen, der uns die Schicksale, so wie ein Schankwirt ein Getränk, mischt und austeilt, sondern es gibt zwei gegensätzliche Prinzipien, zwei widerstreitende Mächte, deren eine nach rechts und in gerader Richtung den Weg weist, die andere in die Gegenrichtung umzulenken und abzubiegen sucht.🞯 Das Leben ist gemischt, und der Kosmos - wenn auch nicht ganz, so doch hier im irdischen Bereich, diesseits des Mondes - ist von Grund auf ungleichmäßig, vielgestaltig und allen möglichen Wechselfällen ausgesetzt. Denn wenn nach der Natur der Dinge nichts ohne Ursache geschieht, das Gute aber keinen ursächlichen Anlaß für Übles geben kann, muß es in der Natur ein eigenes Prinzip des Entstehens, wie für das Gute, so auch für das Übel geben. [46] Dieser Meinung sind die meisten und klügsten Denker. Sie glauben entweder, daß es zwei Götter gibt, die wie Handwerker in Konkurrenz zueinander stehen: der eine als Hersteller des Guten, der andere des Schlechten; oder sie nennen den Guten einen Gott, den anderen einen Daimon, wie Zoroaster der Magier', der 5000 Jahre älter sein soll als der Trojanische Krieg. Er nannte den einen Horomazes, den anderen Areimanios, und erklärte dazu, der erstere gleiche unter allen wahrnehmbaren Dingen am meisten dem Licht, der letztere umgekehrt der Dunkelheit und Unwissenheit; zwischen beiden stehe Mithres. Darum nennen die Perser Mithres auch »den Mittler«. Zoroaster lehrte, dem einen solle man Bitt- und Dankopfer darbringen, dem anderen düstere Abwehr-Opfer. Sie zerstoßen ein Kraut namens Omomi in einem Mörser und rufen dabei Hades und die Finsternis an; dann mischen sie Blut von einem geschlachteten Wolf dazu, bringen es hinaus an einen sonnenlosen Ort und schütten es fort. Sie glauben nämlich, die Pflanzen seien teils dem guten Gott, teils dem bösen Daimon zu eigen, und bei den Tieren seien, wie Hunde, Vögel und Land-Igel dem guten, so die Wassermäuse dem bösen zugeordnet; darum preisen sie einen Menschen, der möglichst viele von diesen tötet.
— Drei Religionsphilosophische Schriften: Über den Aberglauben. Über die späte Strafe der Gottheit. Über Isis und Osiris. Übersetzt von Herwig Görgemanns u. a. Düsseldorf: Artemis, 2003. pp. 213-215.